Manu here again – your 3x Madden Champ and Madden gameplay coach. In case you missed my last post, best offensive playbooks for you in Madden 23  I covered a very valuable lesson that you won't want to miss.
In summary, Madden is no different from learning Algebra or learning a new instrument. You'll need a mentor to fast-track your path to competency. Or else you'll fall trapped to committing careless mistakes that you won't even realize you are making.
Stay till the end and I'll share with you a shocking discovery that'll make your after-work life 10x easier and 10x more enjoyable. But as promised here are the best defensive Playbooks in Madden 23.
Best Defensive Playbooks For You On Madden 23:
1.Giants
2. 46
3. Steelers
1. Giants
The Giants defensive playbook is LOADED in Madden 23. When looking for a scheme to run on the new Madden, start by checking what was good on last year's game. If you aren't sure what was good about last year's game, no worries.
The Giants have FIVE great defensive schemes: 245 Dbl A gap, Nickel 335 Odd, Big Nickel Over G, and Big Dime 146. All of these forms were highly used last year (besides 335 odd) and were still effective on the Madden 23 beta.
What makes these schemes stand out is their ability to present the threat of pressure. Take 245 Double A Gap for example. It has 6 blitzers stacked on the line. Even if you don't blitz, your opponent has to account for the blitz because of the look.
2. 46 Defense
What is unique about the 46 playbook is you can sub in safeties at outside linebacker in Nickel 3-5-5 then audible to Nickel 335 sam.
Linebackers do not react to passes nearly as well as safeties and are not as fast. So, it is a huge benefit to run 46 if you want to run Nickel 335 sam. 335 wide has been a top formation due to the pressure it generates.
3. Steelers
The Steelers is the only playbook with the Nickel 1-5-5 double a-gap scheme. Double a gap was very effective in Madden 22 due to the blitz pressure it generated.
It is a Madden defensive playbook strategy that will work every year. Remember what you learned above about generating pressure. Expect many to try out this formation.
What makes this scheme better than the Nickel 2-4-5 double a-gap is the ability to sub in an extra safety. You can sub in an extra safety by selecting a player at the formation menu in-game.
Now you may be asking, why these specific formations? My newer students always ask me, "how do I know what makes a good formation?"
As I promised earlier, here's the shocking discovery I made years back that no one has ever told you…
The Secret Strategies Behind The "Money Formation/Plays"
Now, the strategic aspects of next-gen Madden of how to best utilize these specific formations is much easier to describe via video.
I could easily type 10,000 words on Madden's 12 strategic fundamentals but let us be real me nor you would want to read all that.
Quick backstory on me back when I was a beginner (I promise I won't bore you with useless details):
Tell me if you've had a similar experience to me. Like you, 12 years ago (beginner) I was on Youtube and Google searching for help on the game. I was made to believe learning money plays was the best way to go to become competitive.
Shit, that was all you saw on Youtube back then "UNSTOPPABLE 1 PLAY TD GLITCH VS. EVERY COVERAGE." And sadly, that is all creators post while not teaching you the strategic aspects of Madden.
It wasn't until I met a mentor 9 years ago that my entire view of Madden shifted. Up until meeting my mentor, "AthleticCedes" – winner of tens of thousands from money games, I was convinced all I needed was money plays to succeed. And for those 3 years before becoming a top player, those money plays I ran worked vs. EVERYONE.
The Importance Of You Finding A Mentor
Then when I played my first ever true competitive player, who then became my mentor… I learned I didn't know SHIT. My competition sucked. I wasn't nearly as good as I thought I was.
AthleticCedes won by 354023941234098 points the first time we played. Luckily, he was nice enough to talk with me in party chat after. He taught me everything he knew.
He introduced me to an entirely new world of players (the competitive scene) and got me in the door. Without ever talking to him, I doubt I ever go on to win 3 world titles at the professional level.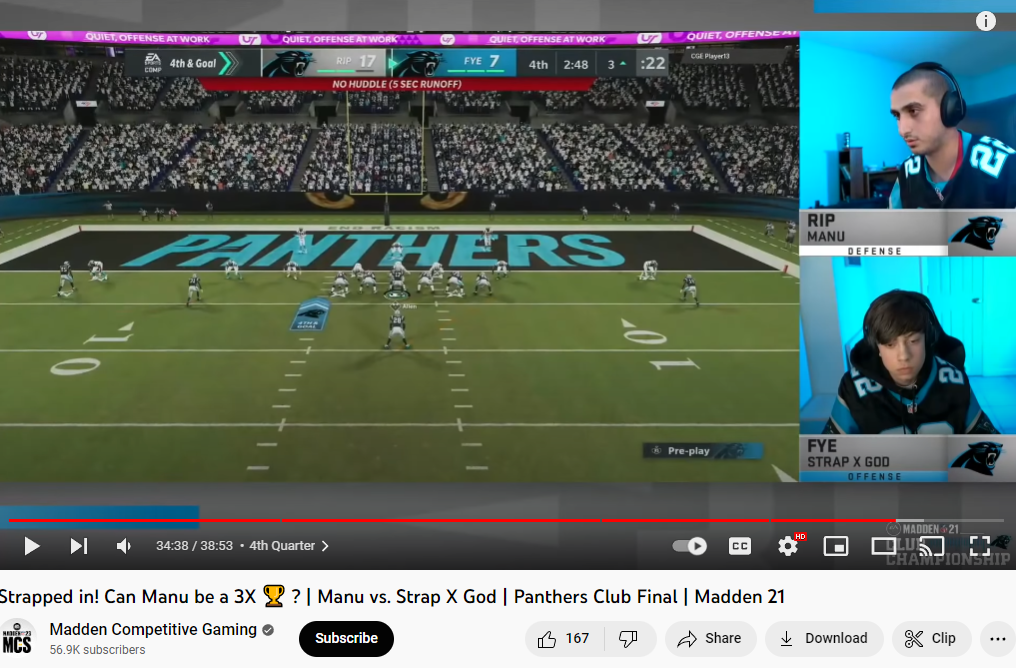 I wasted over 3 years of my time seeing Madden the wrong way. I had the skills but wasn't aware of the 12 strategic fundamentals at the time. Not to mention the frustration it would have prevented if I met a true mentor earlier.
The untold truth is: EA's game has become so complex they can't even teach it themselves. That skills trainer has been outdated for years. So it's not your fault that you haven't been aware of the 12 strategic fundamentals.
Head To TheMaddenAcademy For Your Free Chase For Competitive Contender Course
But today is your lucky day because you finally found yourself in the right place at the right time. Your days of getting off work just to get home and be pissed at the game are over.
No more "I'M OFFICIALLY RETIRED FROM THIS DUMBASS GAME." *Comes back to it 2 days later* What my mentor did for me years ago, I will do for you right now. Let you in the door, for free.
I created a Madden 101 course (originally $95) for you for free but only for a limited time so sign up now. This is your once-in-a-lifetime ticket into the world of competitive Madden.
I reveal to you a step-by-step plan that I used to win $57,653 off Madden professionally that you can apply to your game immediately.
To be blunt with you, if you walk away from a free opportunity like this, you WILL regret it for the rest of your playing time. You will always be left guessing if you are doing things the right way. I am bringing you certainty.
I am so confident you will love the free course and find immediate benefit in it that I will send you $25 if for whatever reason you don't love it.
________________________________________________________________________________________________________________
Want to talk sports and/or games with the fastest-growing community in gaming? Join the conversation by joining us on Discord, and check out our Twitter and Facebook pages as well as our growing YouTube Channel!