Right now, San Diego Studio (SDS) is offering players a variety of ways to acquire free diamond players in MLB The Show 20 Diamond Dynasty. There are new moments and showdowns, free packs, Twitch packs and more.  This is a complete breakdown of everything you need to know to unlock the free players.
FREE DIAMOND IN PACK STORE
Right now, you can go into the pack market inside Diamond Dynasty and get a pack absolutely free. The pack contains a live series diamond player (85-89 overall). The pack will be available for at least one week, according to SDS.
FREE PACK: Baseball Is Back so celebrate with this FREE 💎 Live Series 85-89 OVR player item.
Available today around noon (PT).#TheShow20 #WelcomeToTheShow #TheShow #MLBTheShow20 #MLBTheShow pic.twitter.com/tPFPdxayZ8

— MLB The Show (@MLBTheShow) July 24, 2020
OPENING DAY MOMENTS
Opening Day moments are available now. There are a total of eight, and completing all of them will earn you a live series diamond player (85-89 overall). The moments are part of the 5th Inning Program, so if you still need to get to 300 stars, this is a great way to catch up.
STARTER 2 SHOWDOWN
The Starter 2 Showdown is available now from the Showdown menu inside Diamond Dynasty. Starter 2 contains a total of five moments, and completing the final showdown earns you 95 overall Signature Series Edwin Encarnacion. Below is a look at the attributes and card art for Encarnacion.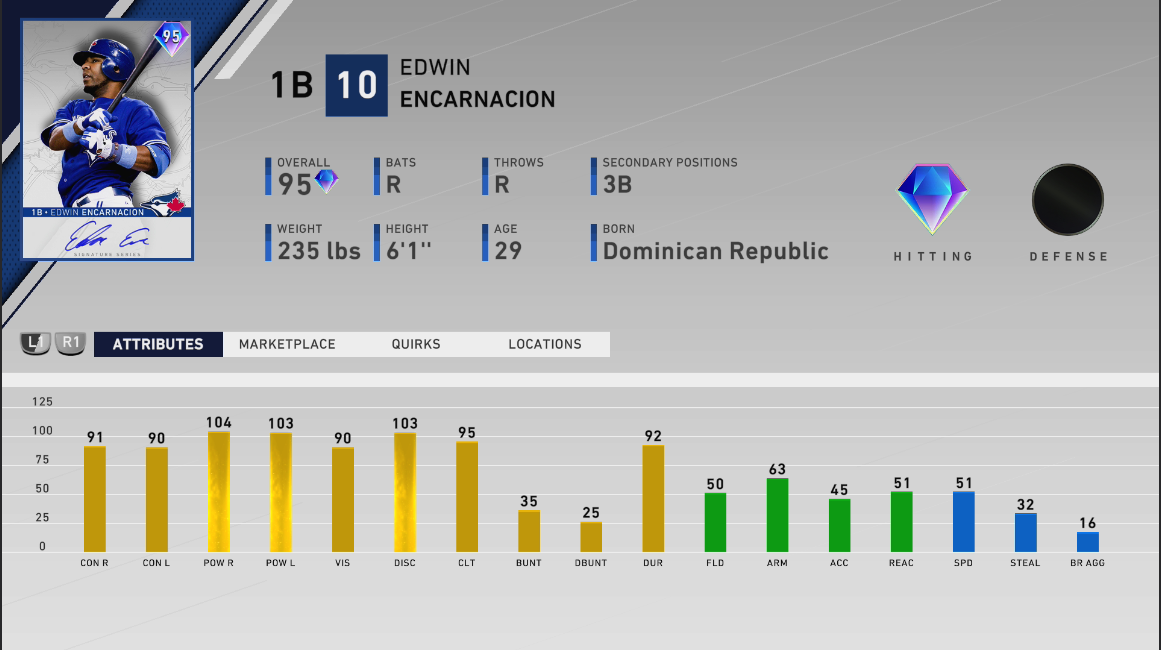 OPENING WEEKEND TWITCH DROPS
Per TheShowNation, "Starting Friday at 12 PM PT and ending Sunday at 11:59 PM PT, you can go watch some of your favorite MLB The Show streamers and get Twitch Packs just by watching. The longer you watch, the more packs you can earn."
The list of streamers is as follows:
OTHER OFFERS AND PROMOTIONS
MLB The Show 20 is currently on sale for $29.99 (50% off) in the PlayStation Store. This offer is part of PlayStation's Summer Sale.
Additionally, stubs are heavily discounted right now in the Diamond Dynasty shop. The most popular bundle (150,000 stubs) is on sale for $59.99 (40% off).
You can read more about all of the new promos here.
What do you think of these new offers and promos? What was the best card you pulled from free packs? Let us know in the comment section below, and don't forget to subscribe to SGO.
---
Want to talk sports and/or games with the fastest growing community in gaming? Join the conversation by registering at the official Sports Gamers Online Forums, and check out our Twitter and Facebook pages as well as our growing YouTube Channel!