Today, San Diego Studio (SDS) released a massive content update for MLB The Show 19 Diamond Dynasty. This update includes changes to roster attributes, over a dozen new cards, the new 4th Inning program, new moments and more. Here's a complete breakdown.
Today's roster update features attribute upgrades and downgrades, as well as team changes as a result of recent trades or signings. Below are some of the major attribute changes.
NOTABLE UPGRADES
Christian Yelich, Brewers RF – 89 to 91
Aroldis Chapman, Yankees CP – 85 to 86
Ronald Acuna Jr., Braves LF – 84 to 85
Mike Moustakas, Brewers 3B – 79 to 81
Jake Odorizzi, Twins SP – 79 to 81
Edwin Encarnacion, Mariners 1B – 79 to 80
Kyle Hendricks, Cubs SP – 79 to 80
Max Muncy, Dodgers 1B – 79 to 80
NOTABLE DOWNGRADES
Mookie Betts, Red Sox RF – 92 to 90
Manny Machado, Padres 3B – 87 to 86
Noah Syndergaard, Mets SP – 86 to 85
Jose Ramirez, Indians 3B – 86 to 84
Vladimir Guerrero Jr., Blue Jays 3B – 82 to 80
You can find all of this week's changes here.
Next, the 4th Inning Program is now open. Earn 300 points in the program to select one of the following exclusive players from a choice pack: 99 Cal Ripken Jr., 99 Billy Wagner and 98 Andrew McCutchen. All three players are Signature Series cards. Below is a look at all three players' attributes and card art.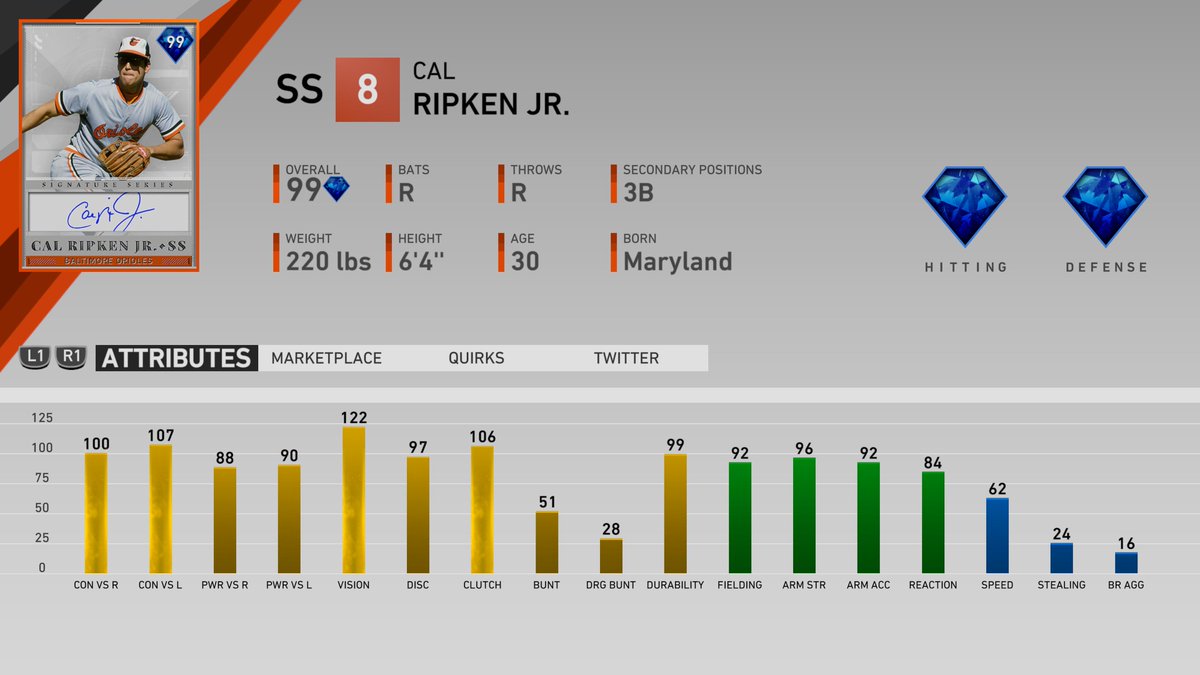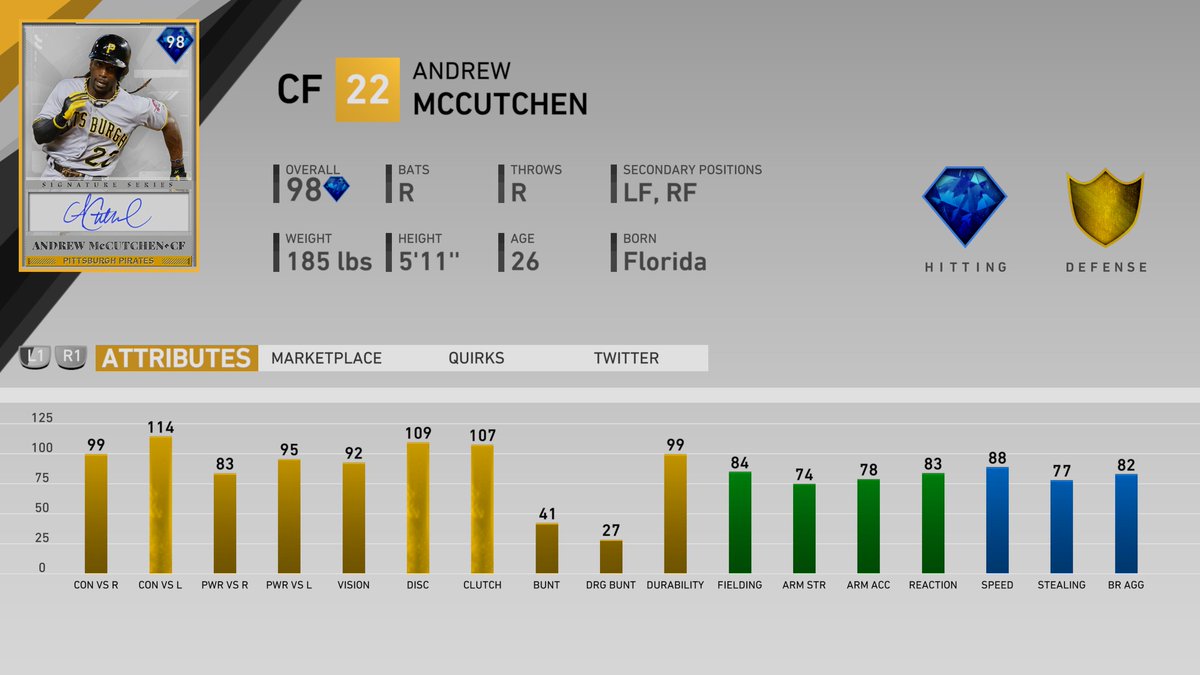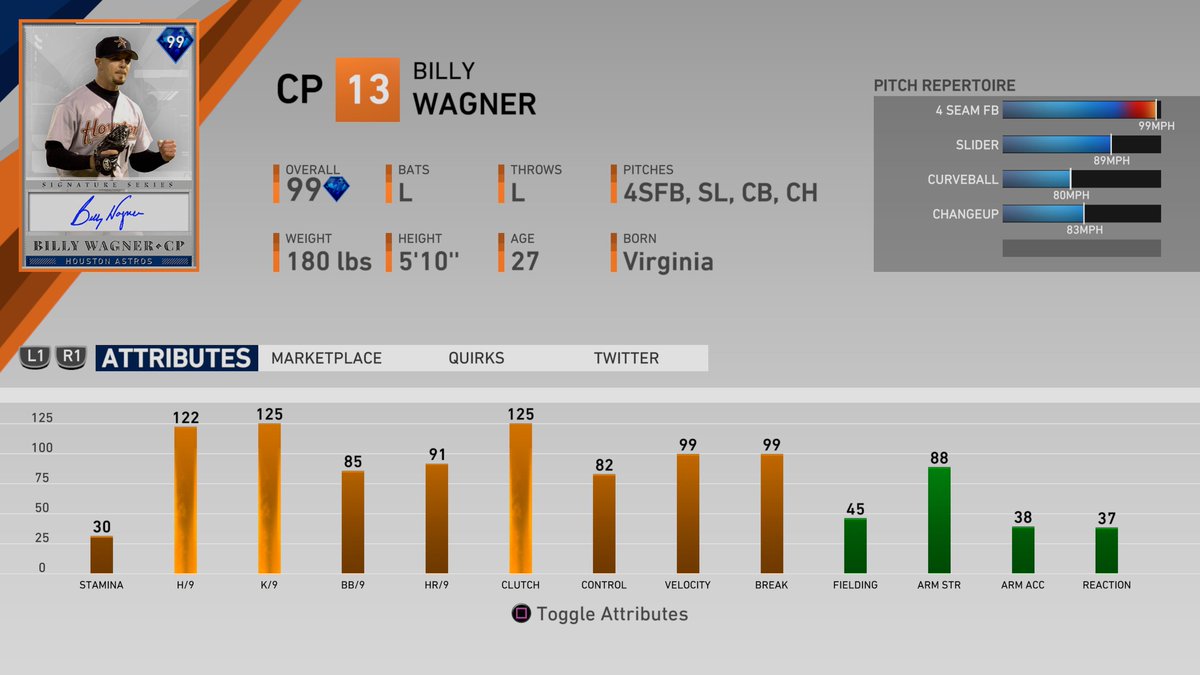 Overall, Diamond Dynasty is welcoming 11 new legends and flashback cards today. All of these cards are obtainable by either completing 4th Inning Program milestones, opening packs or buying them from the marketplace. The six below are from the 4th Inning Program.
Whitey Ford, Diamond 93 OVR, Signature Series, Yankees SP
Aubrey Huff, Diamond 91 OVR, Signature Series, Rays 3B
Greg Holland, Diamond 91 OVR, All-Star Flashback, Royals CP
Eric Hosmer, Diamond 85 OVR, Veteran Flashback, Royals 1B
Corey Knebel, Diamond 85 OVR, All-Star Flashback, Brewers CP
Hunter Pence, Diamond 85 OVR, Veteran Flashback, Giants RF
Additionally, Headliners Set 12 packs are in the pack shop, featuring two new Signature Series diamonds. Lou Brock (96 overall) and Dennis Eckersley (97 overall) are the featured players. Check out their ratings and card art below.
Lastly, SDS released a schedule for upcoming news, broadcasts and content drops. Below is the schedule through the upcoming week.
You can read more about all of the new content here.
What do you think of today's roster update? Are you already grinding the 4th Inning Program? Which of the new cards do you need on your team right away? Let us know in the comment section below, and don't forget to subscribe to SGO.
---
Want to talk sports and/or games with the fastest growing community in gaming? Join the conversation by registering at the official Sports Gamers Online Forums, and check out our Twitter and Facebook pages as well as our growing YouTube Channel!