San Diego Studio (SDS) just released another extensive content update for MLB The Show 19 Diamond Dynasty. This update includes nearly a dozen new cards, the new 9th Inning program, new collection rewards, new Finest cards, new moments and more. Here's a complete breakdown of all the new content.
9TH INNING PROGRAM
Next, the 9th Inning Program is now open. Earn 300 points in the program to select one of the following Signature Series players from a choice pack: 99 Ronald Acuna Jr., 99 D.J. LeMahieu, or 99 Jacob deGrom. Below is a look at all three players' attributes and card art.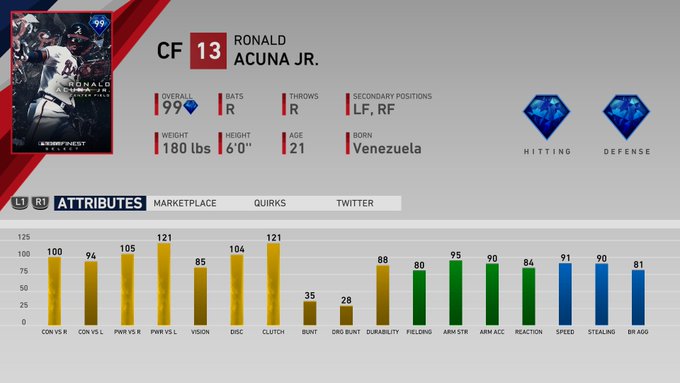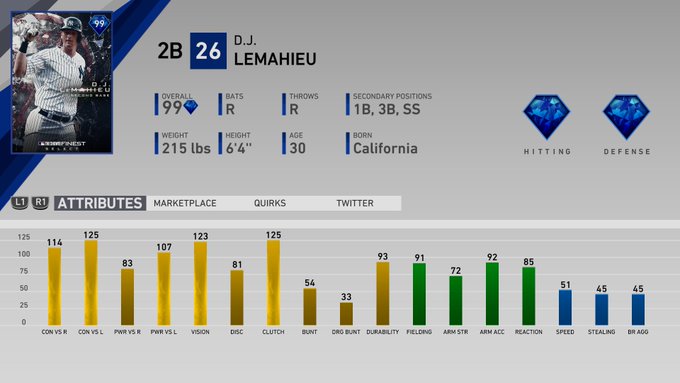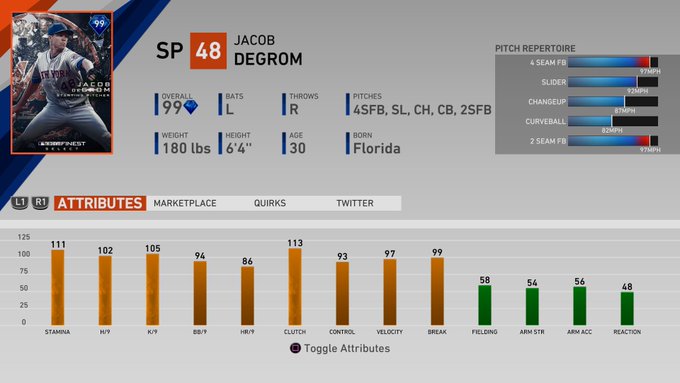 After over seven months, SDS has finally released Babe Ruth last week as a World Series reward in ranked seasons. Signature Series cards like Mike Schmidt, Albert Pujols, Jimmie Foxx and Mike Trout, among others, have still not been released to this point.
Overall, Diamond Dynasty is welcoming 10 new Finest cards. All of these cards are obtainable by either completing 9th Inning Program milestones, completing new moments, opening packs or buying them from the marketplace. Here's a list of new cards that haven't been mentioned so far.
Alex Bregman, Diamond 99 overall, The Show Finest, Astros 3B
Cody Bellinger, Diamond 99 overall, The Show Finest, Dodgers RF
Josh Hader, Diamond 99 overall, The Show Finest, Brewers CP
Christian Yelich, Diamond 99 overall, The Show Finest, Brewers RF
Juan Soto, Diamond 98 overall, The Show Finest, Nationals LF
Charlie Morton, Diamond 97 overall, The Show Finest, Rays SP
Liam Hendriks, Diamond 97 overall, The Show Finest, Athletics CP
FINEST ELITE CHOICE PACK
Additionally, you can now purchase Finest Elite Choice Packs from the pack store. Each pack costs 40,000 stubs and there is no purchasing limit. The top available players from the pack are all Finest cards: 99 Alex Bregman, 99 Josh Hader and 99 Cody Bellinger.
Lastly, MLB The Show released a schedule for upcoming content drops, live streams and much more. There will be just one more SDS live stream for the rest of MLB The Show 19. In a broadcast Thursday, developers confirmed there will be a 10th Inning program. Here is the full schedule for the upcoming week.
You can read more about all of the new content here.
What do you think of the recent content updates? Are you already grinding the 9th Inning Program? Which of the new cards do you need on your team right away? Let us know in the comment section below, and don't forget to subscribe to SGO.
---
Want to talk sports and/or games with the fastest growing community in gaming? Join the conversation by registering at the official Sports Gamers Online Forums, and check out our Twitter and Facebook pages as well as our growing YouTube Channel!