Today, San Diego Studio (SDS) released a massive content update for MLB The Show 19 Diamond Dynasty. This update includes changes to roster attributes, over a dozen new cards (including Ken Griffey Jr.), the new 6th Inning program, a new patch, new moments and more. Here's a complete breakdown of all the new content.
ROSTER UPDATE
Today's roster update features attribute upgrades and downgrades, as well as team changes as a result of recent trades or signings. Below are some of the major attribute changes.
NOTABLE UPGRADES
Anthony Rendon, Nationals 3B – 87 to 88
Ronald Acuna Jr., Braves LF – 86 to 88
Justin Verlander, Astros SP – 87 to 88
Clayton Kershaw, Dodgers SP – 86 to 87
Gerrit Cole, Astros SP – 86 to 87
Jose Altuve, Astros 2B – 86 to 87
Walker Buehler, Dodgers SP – 85 to 86
Trevor Story, Rockies SS – 84 to 85
Jose Ramirez, Indians 3B – 84 to 85
Michael Conforto, Mets RF – 79 to 80
Sonny Gray, Reds SP – 79 to 80
Jack Flaherty, Cardinals SP – 79 to 80
NOTABLE DOWNGRADES
Kenley Jensen, Dodgers CP – 87 to 86
Andrelton Simmons, Angels SS – 85 to 84
Blake Treinen, Athletics RP – 81 to 79
Elvis Andrus, Rangers SS – 80 to 79
You can find all of this week's changes here.
6TH INNING PROGRAM
Next, the 6th Inning Program is now open. Earn 300 points in the program to select one of the following Signature Series players from a choice pack: 99 Ken Griffey Jr., 99 Mike Piazza and 99 Jackie Robinson. Below is a look at all three players' attributes and card art.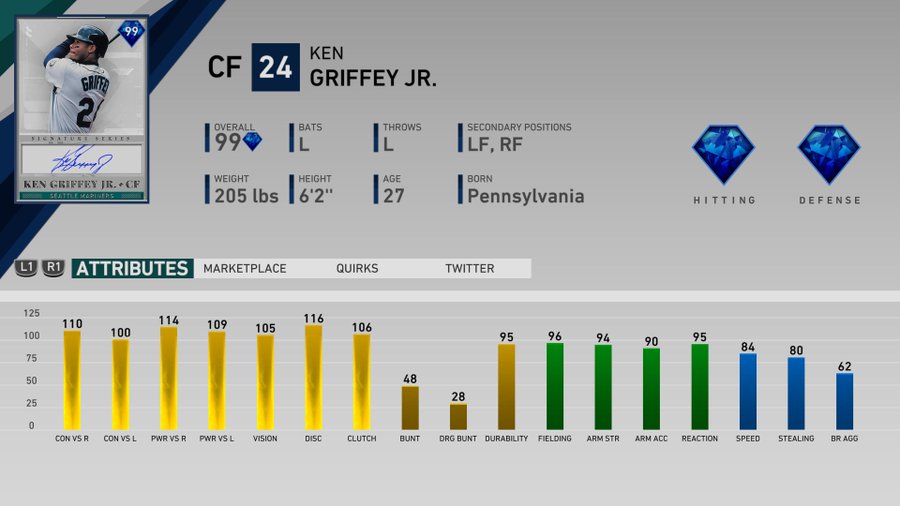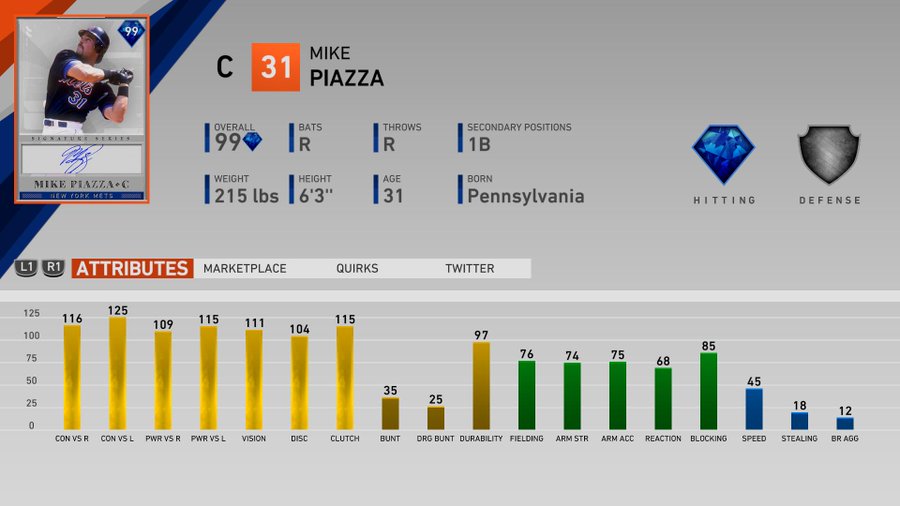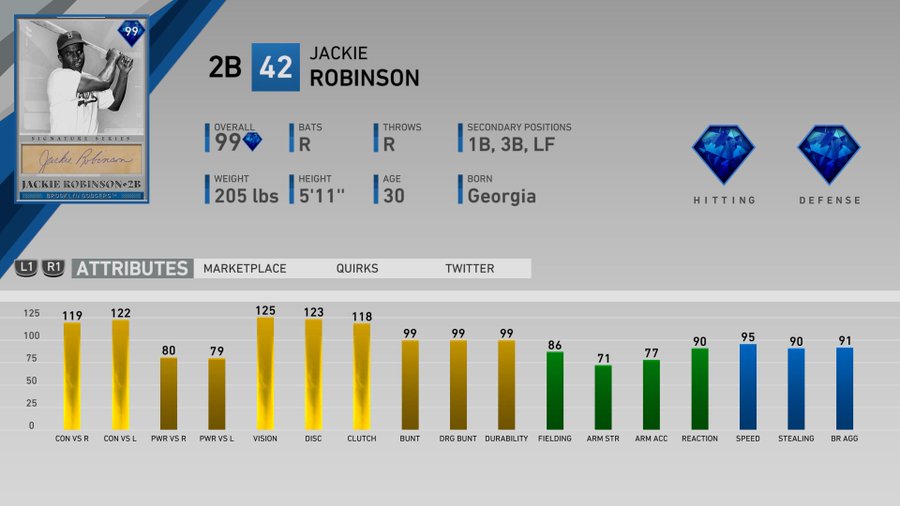 After nearly five months, SDS has finally given players an end-game Ken Griffey Jr. card. While the player base for MLB The Show 19 is still formidable, it's certainly declined since the release of Madden 20. Signature Series cards like Babe Ruth, Tom Seaver, Albert Pujols and Chipper Jones, among others, have still not been released to this point.
Overall, Diamond Dynasty is welcoming 11 new legends and flashback cards today. All of these cards are obtainable by either completing 6th Inning Program milestones, opening packs or buying them from the marketplace. The six below are from the 6th Inning Program.
Matt Carpenter, Diamond 95 overall, Signature Series, Cardinals 3B
Catfish Hunter, Diamond 95 overall, Signature Series, Athletics SP
Dante Bichette, Diamond 95 overall, Signature Series, Rockies RF
Lefty Grove, Diamond 87 overall, Veteran Flashback, Red Sox SP
Mark Melancon, Diamond 85 overall, All-Star Flashback, Pirates CP
Eric Davis, Diamond 85 overall, Veteran Flashback, Giants RF
HEADLINERS SET 19
Additionally, Headliners Set 19 packs are in the pack shop, featuring two new diamonds. Signature Series Fergie Jenkins and Nelson Cruz are this set's featured players. Both cards sit at 97 overall. Check out their ratings and card art below.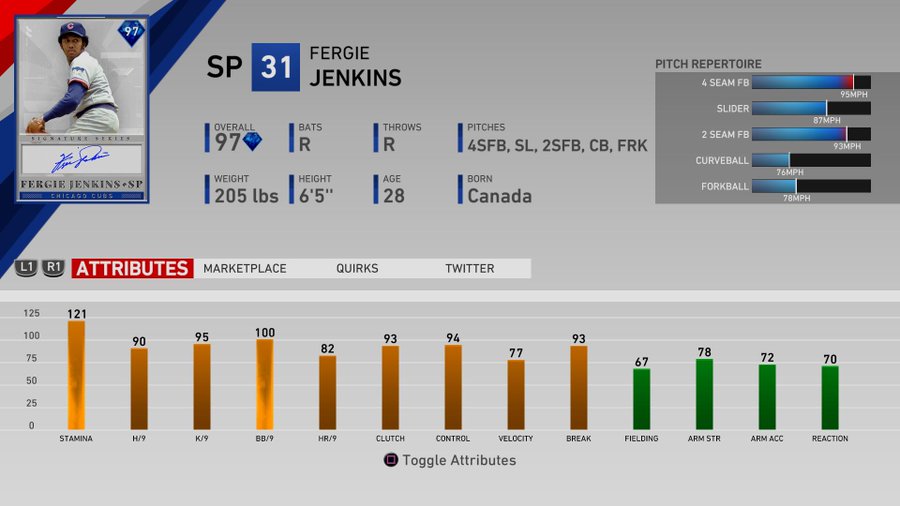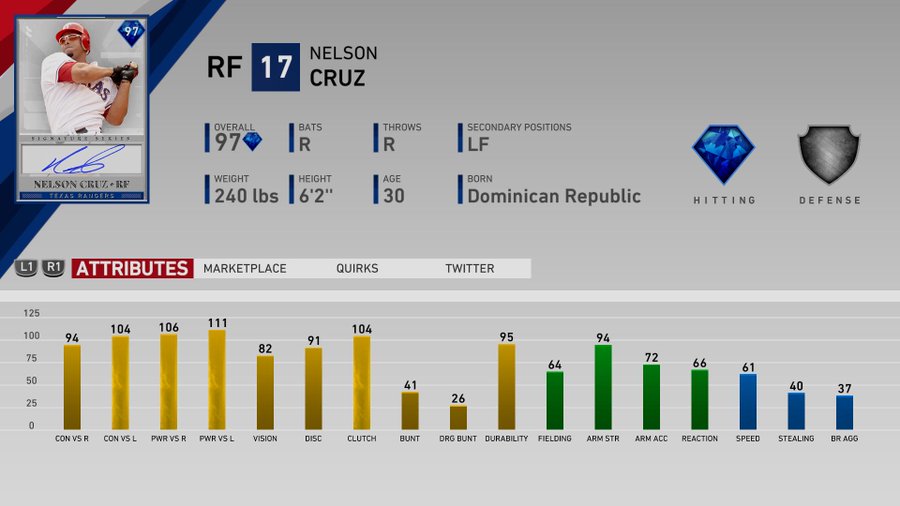 PATCH 1.16 NOTES
Early this morning, SDS released Patch 1.16. Today's patch is small in size and unlikely to have a major impact on the game. However, it does fix a few bugs that were certainly frustrating during online play. Per TheShowNation, here are the key points of the patch notes:
Fixed an issue that would trigger a pitcher ejection on a pitch on the inside part of the plate.
Fixed an issue that would result in the 2nd baseman not immediately being able to throw after catching a ball from the catcher during a steal or rundown attempt. (specific to Button Accuracy)
Fixed a specific occurrence where the catcher would not attempt to tag a runner crossing home plate.
You can read the complete notes for Patch 1.16 by clicking here.
Lastly, MLB The Show released a schedule for upcoming content drops, live streams and much more. With #GriffeyWeek now in the rear-view mirror, here is the full schedule for the upcoming week.
You can read more about all of the new content here.
What do you think of today's roster update? Are you already grinding the 6th Inning Program? Which of the new cards do you need on your team right away? Let us know in the comment section below, and don't forget to subscribe to SGO.
---
Want to talk sports and/or games with the fastest growing community in gaming? Join the conversation by registering at the official Sports Gamers Online Forums, and check out our Twitter and Facebook pages as well as our growing YouTube Channel!