Today, San Diego Studio (SDS) released another massive content update for MLB The Show 19 Diamond Dynasty. This update includes over 20 new cards, a new pack, a new event, new moments and more. Here's a complete breakdown.
JUNE PLAYER OF THE MONTH SET
With the month of July in full swing and the All-Star Break in the rear view, MLB The Show's Diamond Dynasty is set to honor the best players from the month of June with exclusive Player of the Month (POTM) cards. To no one's surprise, Rockies outfielder Charlie Blackmon is the Player of the Month hero, at 95 overall. Below are his ratings.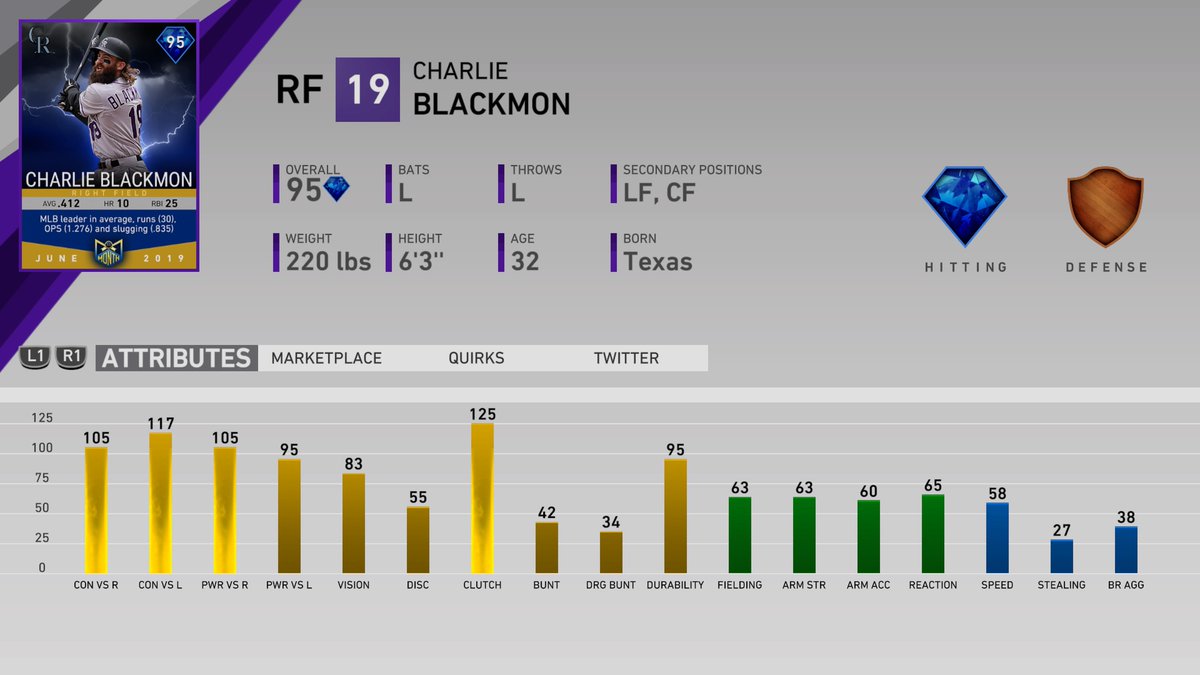 To earn Blackmon, users must collect all 20 June flashback cards. Twelve of these are Topps Now cards, and the other eight are Player of the Month (POTM) cards. Below is a list of the 20 cards needed to acquire Charlie Blackmon.
Ketel Marte, 90 overall, Diamondbacks 2B (Topps Now)
DJ LeMahieu, 90 overall, Yankees 2B (POTM)
Lance Lynn, 89 overall, Rangers SP (POTM)
Shohei Ohtani, 89 overall, Angels RF (Topps Now)
Max Kepler, 89 overall, Twins OF (Topps Now)
Liam Hendriks, 88 overall, Athletics RP (POTM)
Luke Voit, 87 overall, Yankees 1B (Topps Now)
Yordan Alvarez, 87 overall, Astros LF (POTM)
Alex Verdugo, 84 overall, Dodgers CF (Topps Now)
Scott Kingery, 83 overall, Phillies CF (POTM)
Nick Pivetta, 83 overall, Phillies SP (POTM)
Lourdes Gurriel Jr., 82 overall, Blue Jays LF (Topps Now)
Giovanny Gallegos, 82 overall, Cardinals RP (POTM)
Eric Sogard, 81 overall, Blue Jays 2B (POTM)
Cavan Biggio, 81 overall, Blue Jays RF (Topps Now)
Jordan Yamamoto, 81 overall, Marlins SP (POTM)
Pedro Severino, 79 overall, Orioles C (Topps Now)
Zach Plesac, 78 overall, Indians SP (Topps Now)
Nicky Lopez, 77 overall, Royals 2B (Topps Now)
Adrian Sampson, 76 overall, Rangers SP (Topps Now)
Player of the Month packs are now available in the pack shop for 15,000 stubs each. There is a limit of five packs per person.
NEW MOMENTS
Topps Now moments and Player of the Month moments are available now. Completing all of the POTM moments earns a free POTM pack. Completing all of the All-Star Game Topps Now moments earns a free All-Star Game pack, which guarantees one of the following All-Star Game cards:
Shane Bieber, 97 overall, Indians SP
Aroldis Chapman, 95 overall, Yankees CP
Joey Gallo, 94 overall, Rangers LF
Michael Brantley, 92 overall, Astros LF
Luis Castillo, 92 overall, Reds SP
Max Muncy, 91 overall, Dodgers 2B
NEW EVENT
The third All-Star Summer event, Moonshot, opened Monday. Games are three innings long, and there is no team max overall. To build a lineup, use common right-handed pitchers and any hitters on the game. Earn four more All-Star Summer vouchers en route  to unlocking Signature Series cards Travis Hafner and Omar Vizquel, as well as a 20-pack bundle.
Below is a look at the cart art and ratings for Hafner and Vizquel.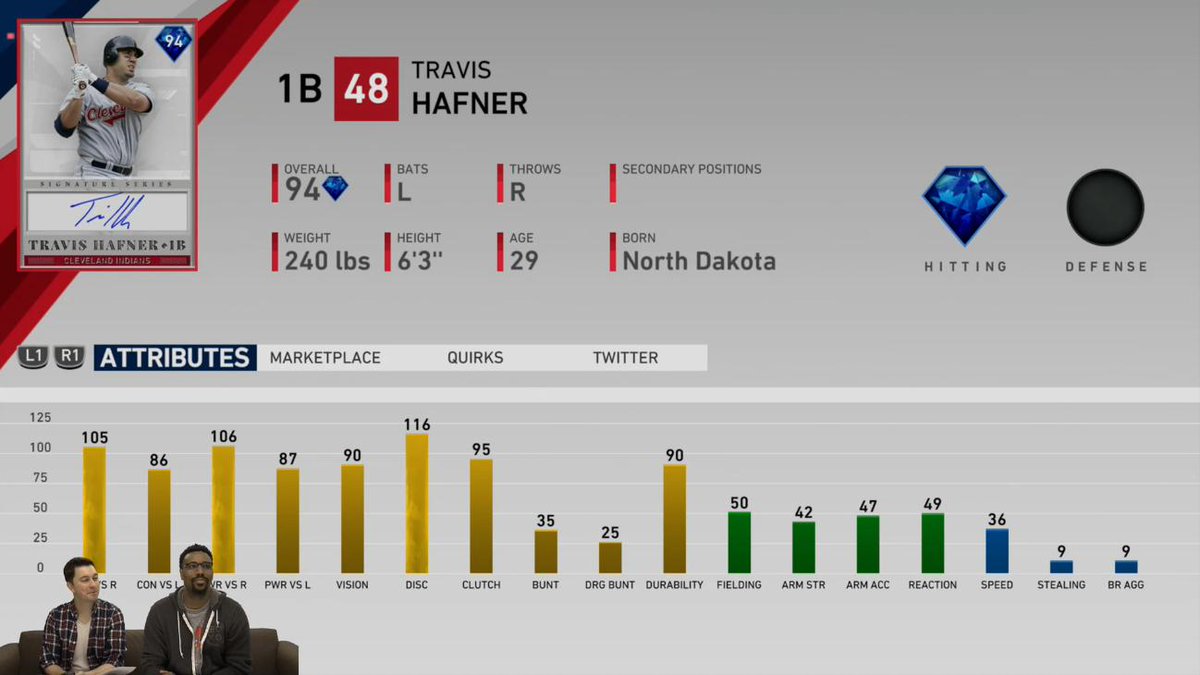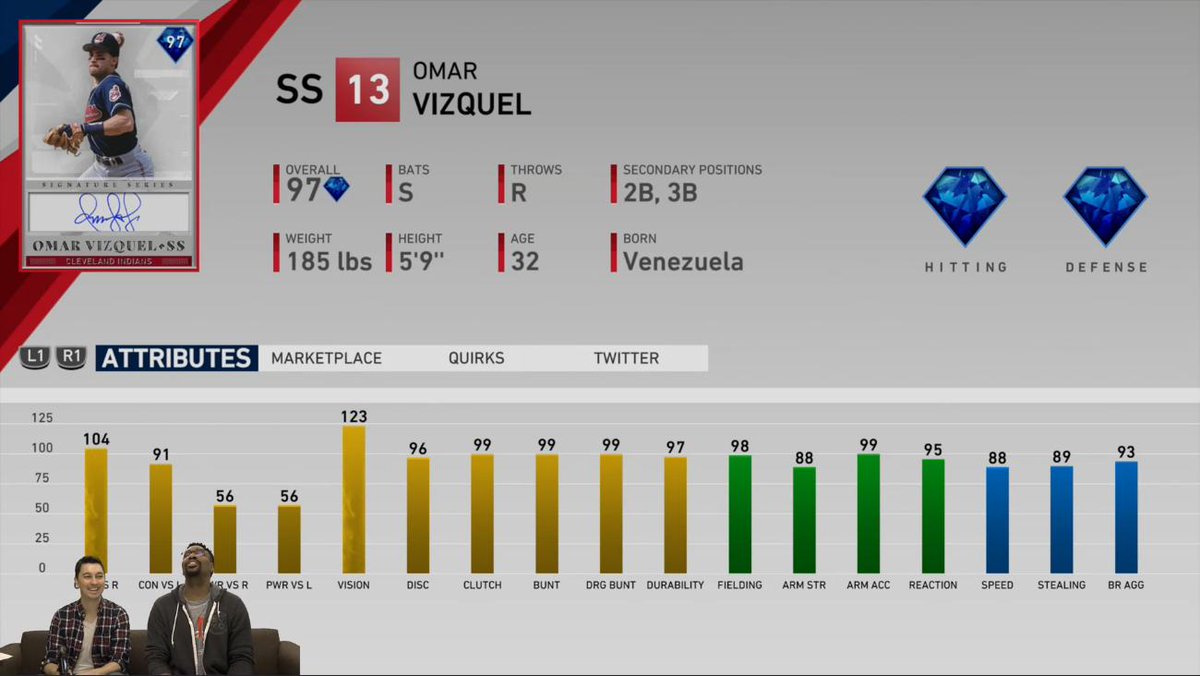 Lastly, SDS released a schedule for upcoming news, broadcasts and content drops. Below is the schedule through the upcoming week.
You can read more about all of the new content here.
What do you think of today's content update? Which card did you get from the Signature Series Choice Pack?  Let us know in the comment section below, and don't forget to subscribe to SGO.
---
Want to talk sports and/or games with the fastest growing community in gaming? Join the conversation by registering at the official Sports Gamers Online Forums, and check out our Twitter and Facebook pages as well as our growing YouTube Channel!