Today, San Diego Studio (SDS) released yet another large content update for MLB The Show 19 Diamond Dynasty. This update includes changes to roster attributes, over a dozen new cards, new moments, new packs, a patch, a new ranked season and more. Here's a complete breakdown.
Today's roster update features attribute upgrades and downgrades, as well as team changes as a result of recent trades or signings. Below are some of the major attribute changes.
NOTABLE UPGRADES
Nolan Arenado, Rockies 3B – 90 to 91
Alex Bregman, Astros 3B – 86 to 87
Freddie Freeman, Braves 1B – 86 to 87
Cody Bellinger, Dodgers RF – 85 to 87
Anthony Rendon, Nationals 3B – 86 to 87
Anthony Rizzo, Cubs 1B – 83 to 85
Matt Chapman, Athletics 3B – 84 to 85
Josh Bell, Pirates 1B – 78 to 81
Joey Gallo, Rangers LF – 79 to 80
Carlos Santana, Indians 1B – 79 to 80
Matt Barnes, Red Sox RP – 78 to 80
Gary Sanchez, Yankees C – 78 to 80
Gleyber Torres, Yankees 2B – 78 to 80
Matthew Boyd, Tigers SP – 78 to 80
NOTABLE DOWNGRADES
Jacob deGrom, Mets SP – 89 to 88
Andrew Miller, Cardinals RP – 85 to 83
Andrew Benintendi, Red Sox LF – 81 to 80
Yasiel Puig, Reds RF – 80 to 79
Daniel Murphy, Rockies 1B – 81 to 79
Pat Neshek, Phillies RP – 78 to 76
You can find all of this week's changes here.
Next, four new Signature Series cards have made their way into MLB The Show 19's Diamond Dynasty: 98 Dustin Pedroia, 96 Felix Hernandez, 99 Willie McCovey and 97 Larry Doby. McCovey and Hernandez can be earned by going a on a flawless 12-0 Battle Royale run, while Doby and Pedroia can be opened via the new Headliners Set 10 packs in the store. All four players can be bought and sold on the marketplace. Below is a look at all four players' attributes and card art.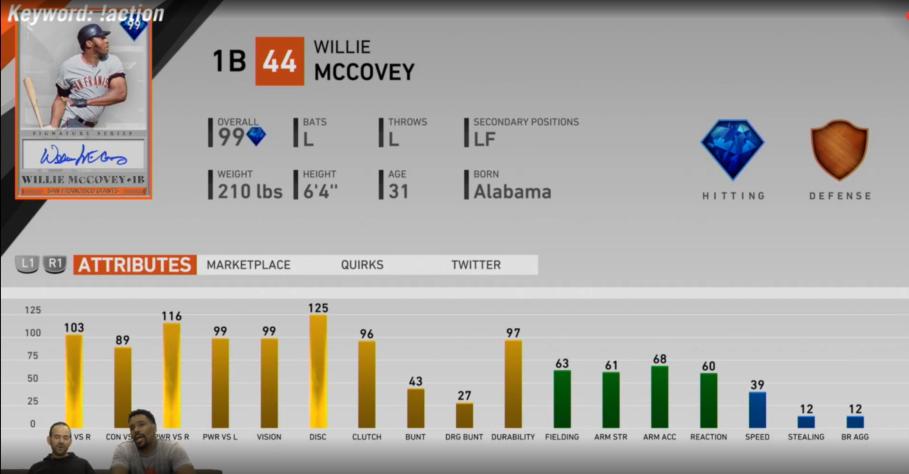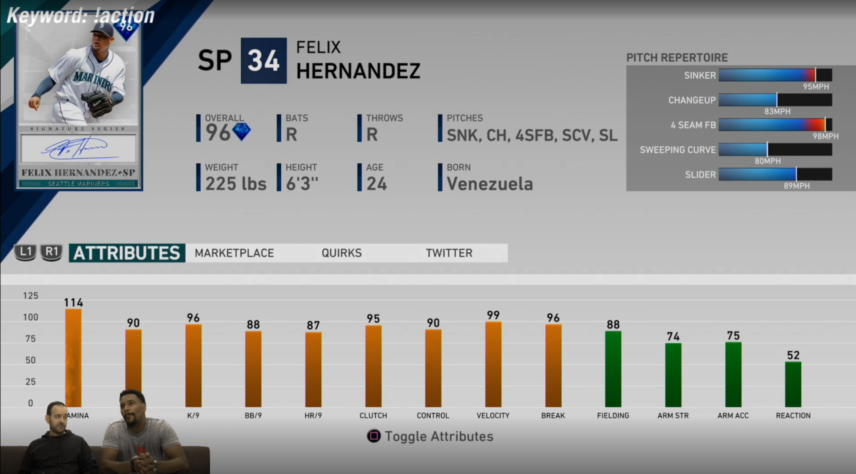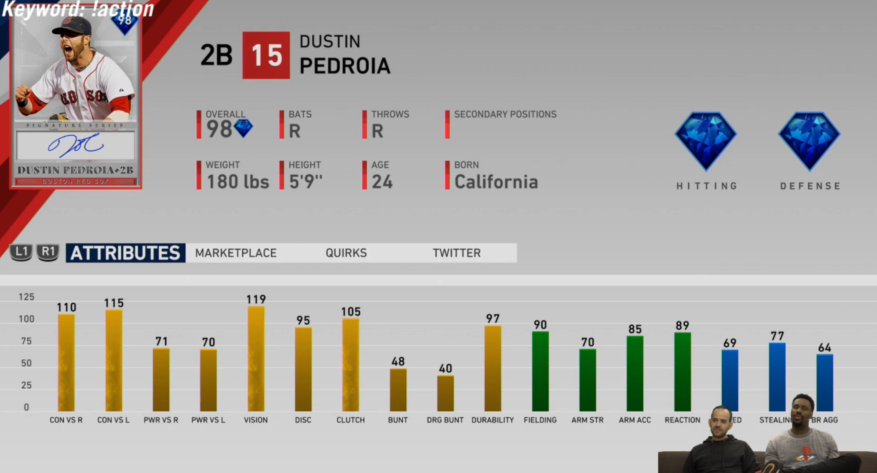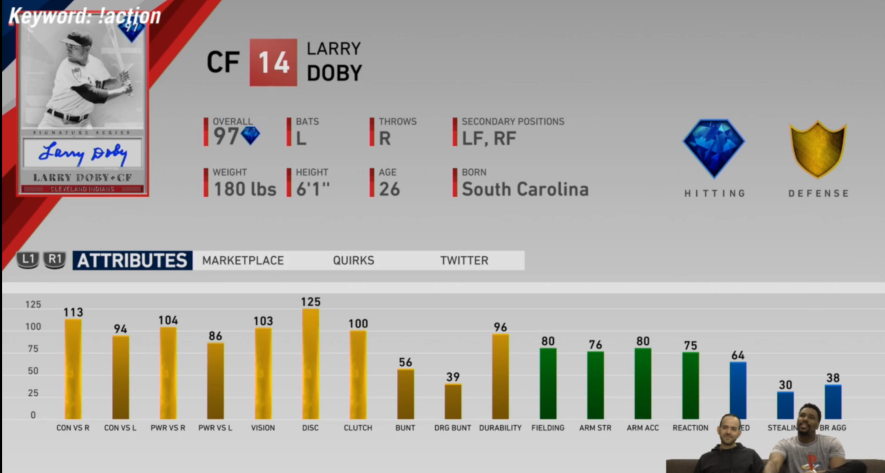 Additionally, a new ranked season opened Monday. The exclusive World Series rewards are 98 overall Matt Williams and 98 overall Yadier Molina. Both are Signature Series cards. Check out both below.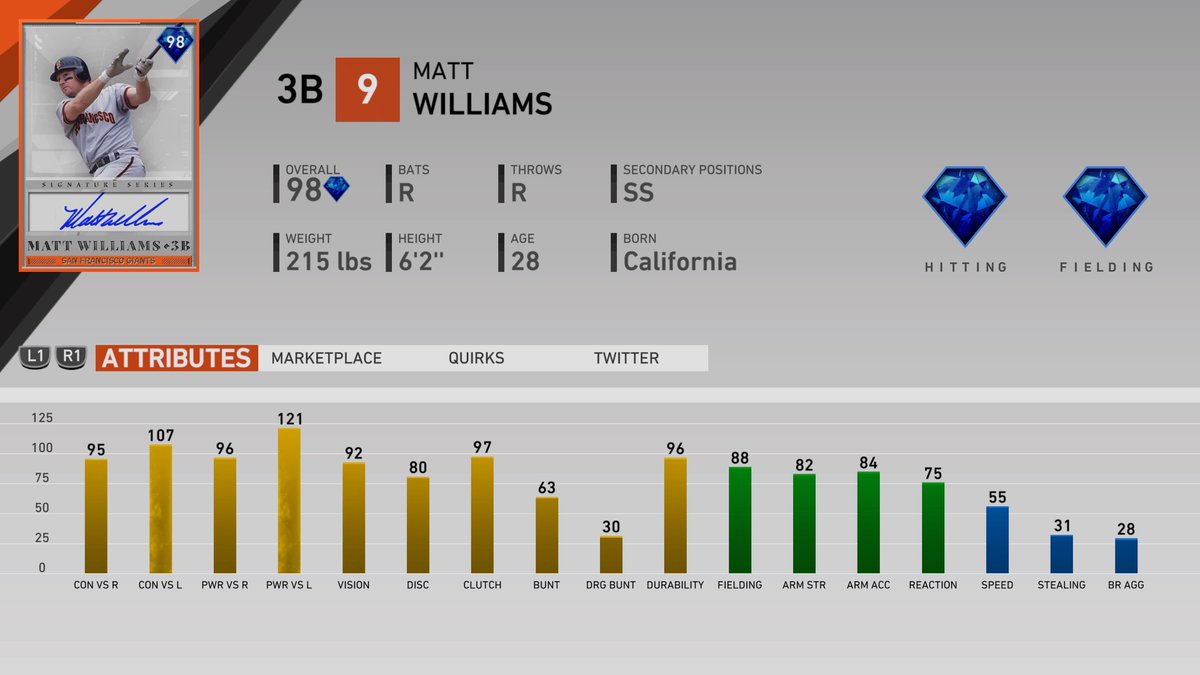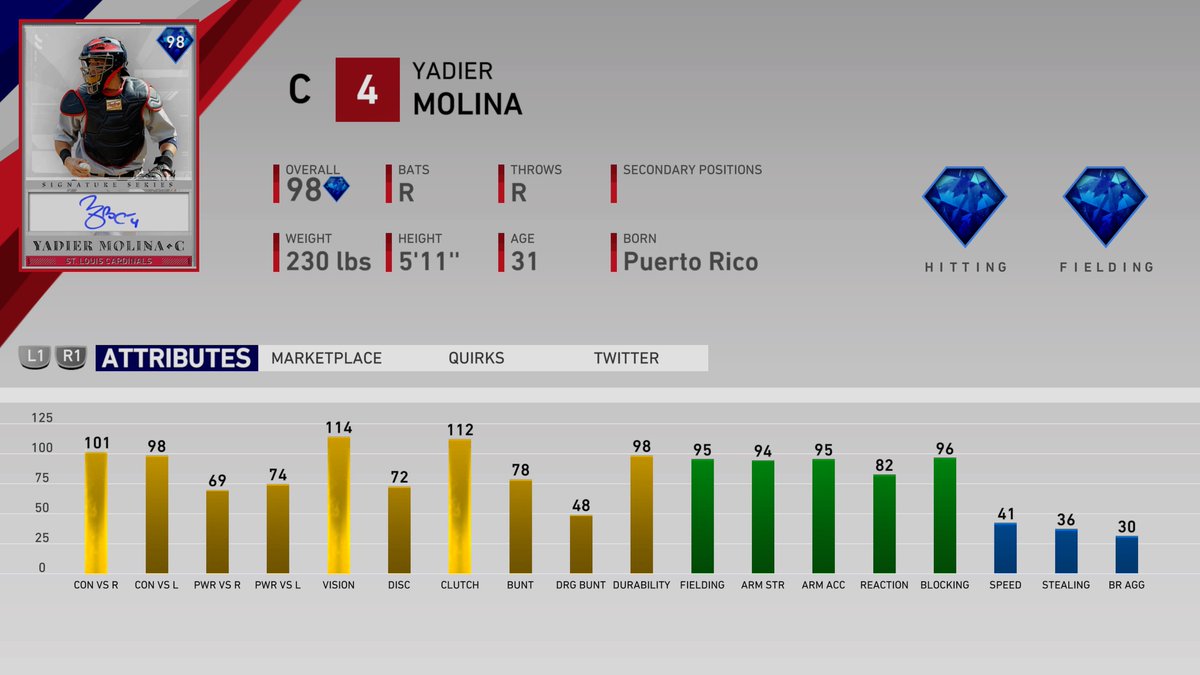 Early this morning, SDS released Patch 1.11, making a total of three patches in less than two weeks. Today's patch is vital to online gameplay, specifically in higher levels and in competitive play. Per TheShowNation, here are the key points of the patch notes:
Adjustments made to exit velocities in Diamond Dynasty. High power batters should now see higher average exit velocities.
Addressed an issue where the Catcher Throw Meter would not display upon initial button press when using Button Accuracy.
Preloaded throws will now transfer when switching players.
Wind speed set to 0 MPH in Battle Royale, Events, and Ranked Seasons.
You can read more about Patch 1.11 by clicking here.
New moments are available. More Topps Now moments, 3rd Inning Program moments and Sony Partner moments are available. The featured Sony Partner is Paul Sporer. Completing all of his moments earns you a 90 overall Future Stars Nick Senzel! Below is a look at the card art and attributes for Senzel.
You can read more about all of the new content here.
What do you think of today's roster update? What are your best pulls from the new Headliners packs? Which of the new cards do you need on your team right away? Let us know in the comment section below, and don't forget to subscribe to SGO.
---
Want to talk sports and/or games with the fastest growing community in gaming? Join the conversation by registering at the official Sports Gamers Online Forums, and check out our Twitter and Facebook pages as well as our growing YouTube Channel!