Today, San Diego Studio (SDS) released an enormous content update for MLB The Show 19 Diamond Dynasty. This update includes changes to roster attributes, over a dozen new cards, the new 5th Inning program, a new patch, new moments, a new event and more. Here's a complete breakdown.
ROSTER UPDATE
Today's roster update features attribute upgrades and downgrades, as well as team changes as a result of recent trades or signings. Below are some of the major attribute changes.
NOTABLE UPGRADES
Nolan Arenado, Rockies 3B – 91 to 92
Max Scherzer, Nationals SP – 91 to 92
Cody Bellinger, Dodgers RF – 89 to 91
Alex Bregman, Astros 3B – 87 to 88
Aaron Judge, Yankees RF – 86 to 87
Ronald Acuna Jr., Braves LF – 85 to 86
Gerrit Cole, Astros SP – 85 to 86
Xander Bogaerts, Red Sox SS – 84 to 85
Charlie Morton, Rays SP – 84 to 85
Shane Bieber, Indians SP – 79 to 82
Liam Hendriks, Athletics RP – 79 to 80
Eduardo Escobar, Diamondbacks 3B – 79 to 80
Hunter Renfroe, Padres RF – 79 to 80
Jorge Polanco, Twins SS – 79 to 80
Fernando Tatis Jr., Padres SS – 78 to 80
NOTABLE DOWNGRADES
Chris Sale, Red Sox SP – 90 to 89
Jose Altuve, Astros 2B – 87 to 86
Clayton Kershaw, Dodgers SP – 87 to 86
Anthony Rizzo, Cubs 1B – 85 to 84
Edwin Diaz, Mets CP – 85 to 83
Andrew Benintendi, Red Sox LF – 80 to 78
Paul DeJong, Cardinals SS – 80 to 78
Matt Barnes, Red Sox RP – 80 to 78
Jose Alvarado, Rays CP – 80 to 77
You can find all of this week's changes here.
5TH INNING PROGRAM
Next, the 5th Inning Program is now open. Earn 300 points in the program to select one of the following exclusive Signature Series players from a choice pack: 99 Bob Gibson, 99 Lou Gehrig and 99 Josh Donaldson. Below is a look at all three players' attributes and card art.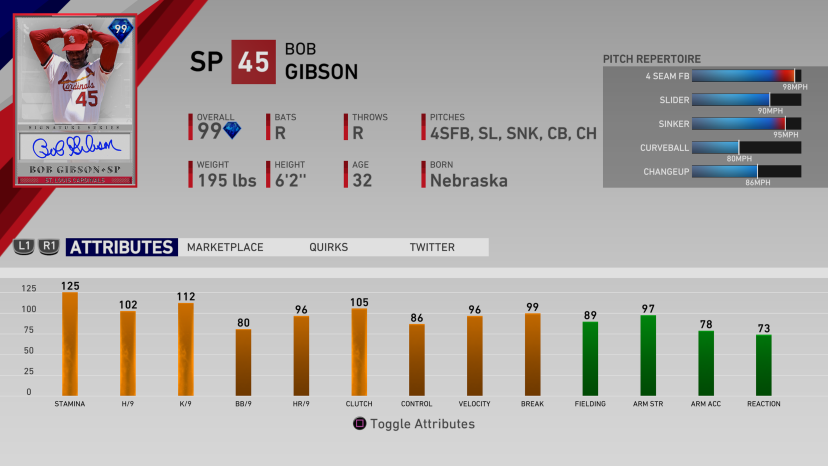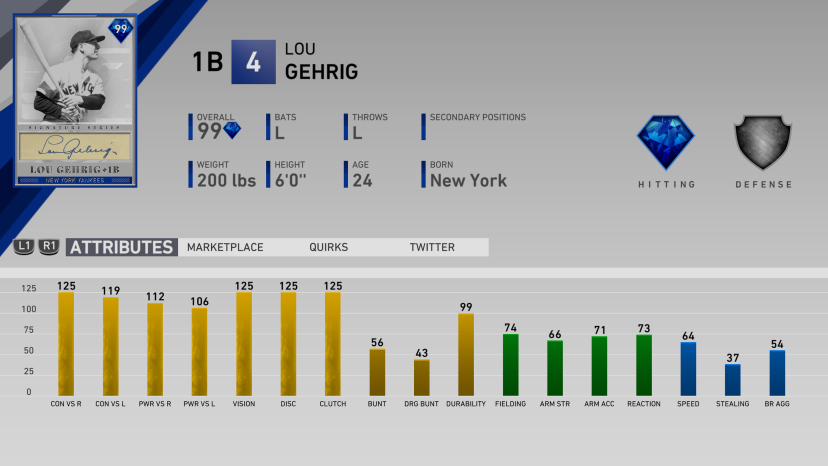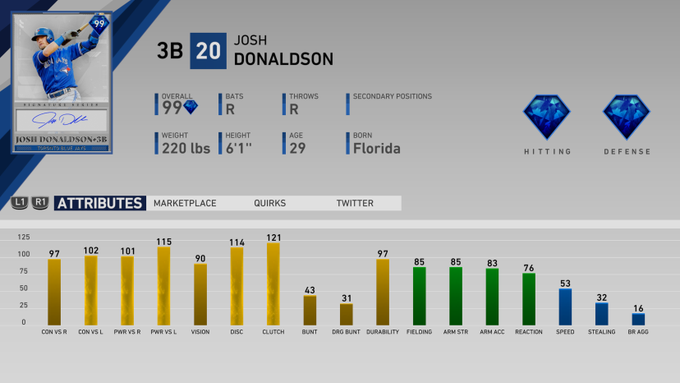 Overall, Diamond Dynasty is welcoming 11 new legends and flashback cards today. All of these cards are obtainable by either completing 5th Inning Program milestones, opening packs or buying them from the marketplace. The six below are from the 5th Inning Program.
Garrett Anderson, Diamond 95 overall, Signature Series, Angels LF
Jack Morris, Diamond 95 overall, Signature Series, Tigers SP
Brandon Phillips, Diamond 95 overall, Signature Series, Reds 2B
Matt Williams, Diamond 86 overall, All-Star Flashback, Diamondbacks 3B
Seung-Hwan Oh, Diamond 86 overall, Rookie Flashback, Cardinals CP
Gio Gonzalez, Diamond 85 overall, All-Star Flashback, Nationals SP
HALL OF FAME EVENT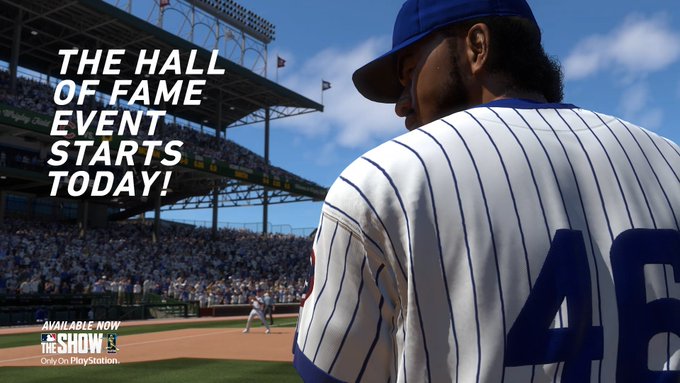 With the All-Star Summer trio of events ending Monday, the Hall of Fame Event is now underway. The structure is the same as All-Star Summer: three events that earn a max of four vouchers for each. The exclusive event rewards are 94 overall Lee Smith (redeemable with 6 vouchers) and 98 overall Edgar Martinez (redeemable with 9 vouchers). Both are are Signature Series cards. Below is a look at the ratings and card art for Smith and Martinez.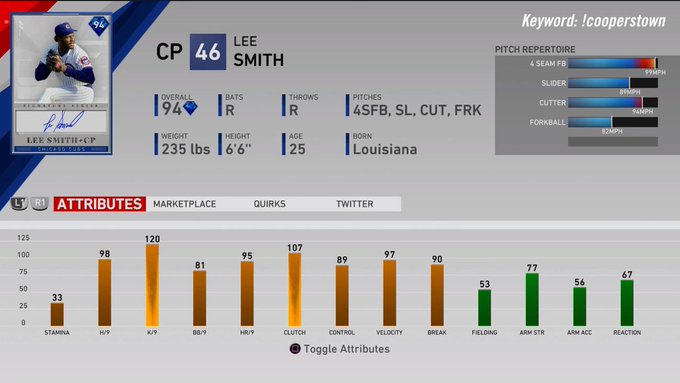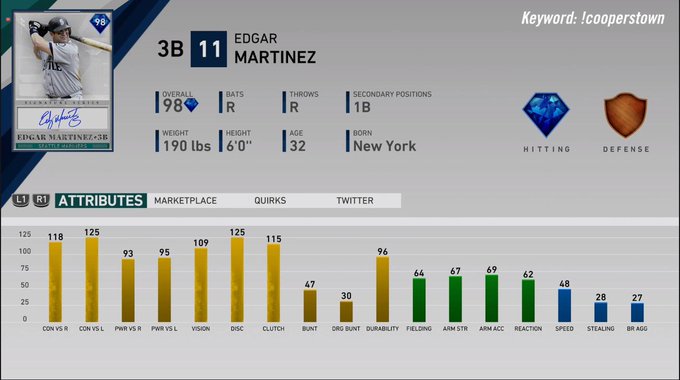 HEADLINERS SET 16
Additionally, Headliners Set 16 packs are in the pack shop, featuring two new diamonds. Signature Series Willie Stargell (97 overall) and Signature Series Benito Santiago (95 overall) are the featured players. Check out their ratings and card art below.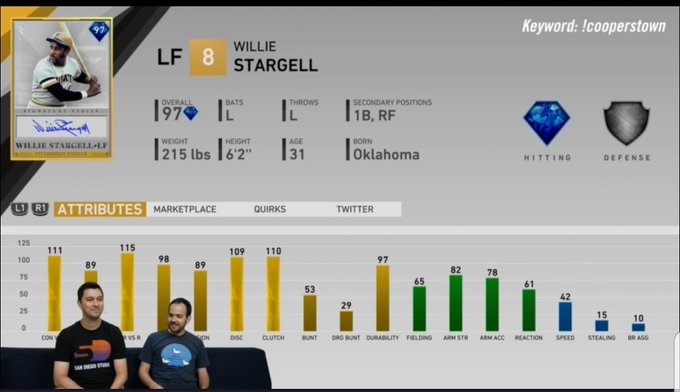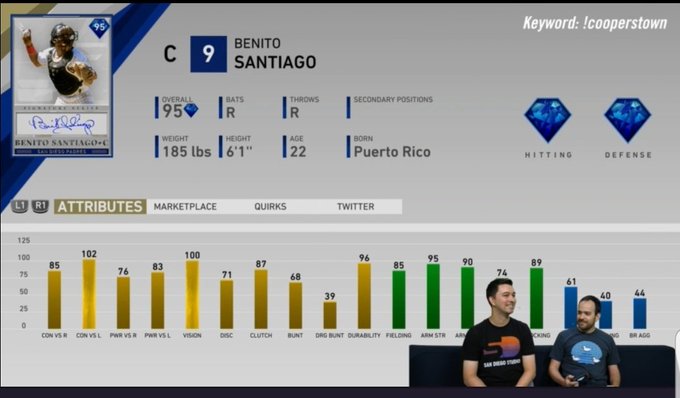 PATCH 1.15 NOTES
Early this morning, SDS released Patch 1.15. Today's patch is small in size and unlikely to have a major impact on the game, but could alter a few things for ranked seasons games played on legend difficulty. Per TheShowNation, here are the key points of the patch notes:
Minor gameplay tuning on Legend difficulty in Diamond Dynasty: Smaller timing window resulting in some tipped fouls being converted into a swing and miss. This is in addition to the changes made to the timing window in update 1.13.
Fixed an issue that would result in the catcher not being able to immediately throw the ball after a pitch out. This issue was specific to the Button Accuracy setting within Online Games.
You can read more about Patch 1.15 by clicking here.
Lastly, MLB The Show released a schedule for upcoming content drops, live streams and much more. Below is the full schedule for the upcoming week.
You can read more about all of the new content here.
What do you think of today's roster update? Are you already grinding the 5th Inning Program? Which of the new cards do you need on your team right away? Let us know in the comment section below, and don't forget to subscribe to SGO.
---
Want to talk sports and/or games with the fastest growing community in gaming? Join the conversation by registering at the official Sports Gamers Online Forums, and check out our Twitter and Facebook pages as well as our growing YouTube Channel!