Today, San Diego Studio (SDS) dropped an extensive content update for MLB The Show 20 Diamond Dynasty. This update includes nearly a dozen new cards (including 99 overalls Mariano Rivera, David Ortiz and Larry Walker), the new 5th Inning program, new moments and more. This is a complete breakdown of all the new content.
The 5th Inning Program is now open. Earn 300 points in the program to select one of the following players from a choice pack: 99 David Ortiz, 99 Mariano Rivera and 99 Larry Walker. Below is a look at all three players' attributes and card art.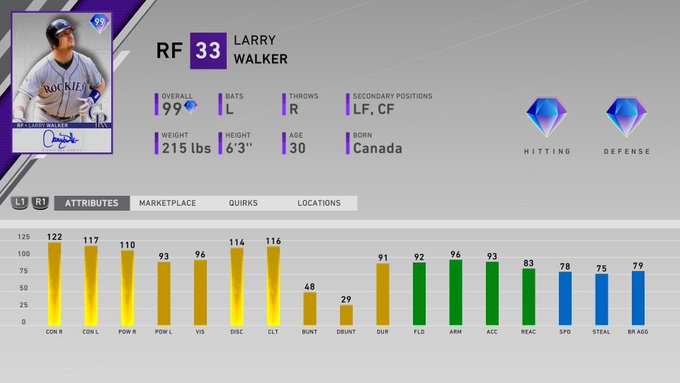 Additional notable rewards in the 5th Inning Program are as follows:
100 Program Stars – Headliners Set 5 pack
150 Program Stars – Diamond legend choice pack
200 Program Stars – Ballin' Is A Habit pack (guaranteed gold or better player)
300 Program Stars – 5th Inning Program boss choice pack
500 Program Stars – 5 The Show packs
650 Program Stars – Ballin' Is A Habit pack (guaranteed gold or better player)
700 Program Stars – 5 The Show packs
750 Program Stars – Ballin' Is A Habit pack (guaranteed gold or better player)
800 Program Stars – 10 The Show packs
850 Program Stars – 2 Ballin' Is A Habit packs (guaranteed gold or better player)
900 Program Stars – 20 The Show packs
Overall, Diamond Dynasty is welcoming new seven legends and flashback cards. All of these cards are obtainable by either completing 4th Inning Program milestones, completing new moments/programs, opening packs or buying them from the marketplace.
The 5th Inning Showdown and conquest map are also available. Completing the showdown rewards 70 program stars, and completing the conquest map rewards 30 program stars. Here is a sneak preview.
Additionally, you can now purchase Headliner Set 31 Packs from the pack store. There is a limit of five per account, and each pack costs 7,500 stubs. The featured card in this set is  97 overall Future Stars Dylan Carlson. Here is the card art and attributes.
Lastly, MLB The Show released a schedule for upcoming content drops, live streams and much more. Here is the full schedule for the upcoming week and beyond.
You can read more about all of the new content here.
What do you think of today's content update? Are you already grinding the 5th Inning Program? Which of the new cards do you need on your team right away? Let us know in the comment section below, and don't forget to subscribe to SGO.
---
Want to talk sports and/or games with the fastest growing community in gaming? Join the conversation by registering at the official Sports Gamers Online Forums, and check out our Twitter and Facebook pages as well as our growing YouTube Channel!