Today, San Diego Studio (SDS) released an extensive content update for MLB The Show 20 Diamond Dynasty. This update includes over a dozen new cards (including 99 overall Fernando Tatis Jr.), the new August Monthly Rewards program, new Topps Now cards, new moments, a roster update and more. This is a complete breakdown of all the new content.
The August Monthly Awards Program is now live in Diamond Dynasty. The August Player of the Month is Fernando Tatis Jr., a 99 overall shortstop. Tatis batted .313 with 11 home runs and 24 runs batted in during the month of August. Below is a look the attributes and card art for Tatis, along with the prestige version.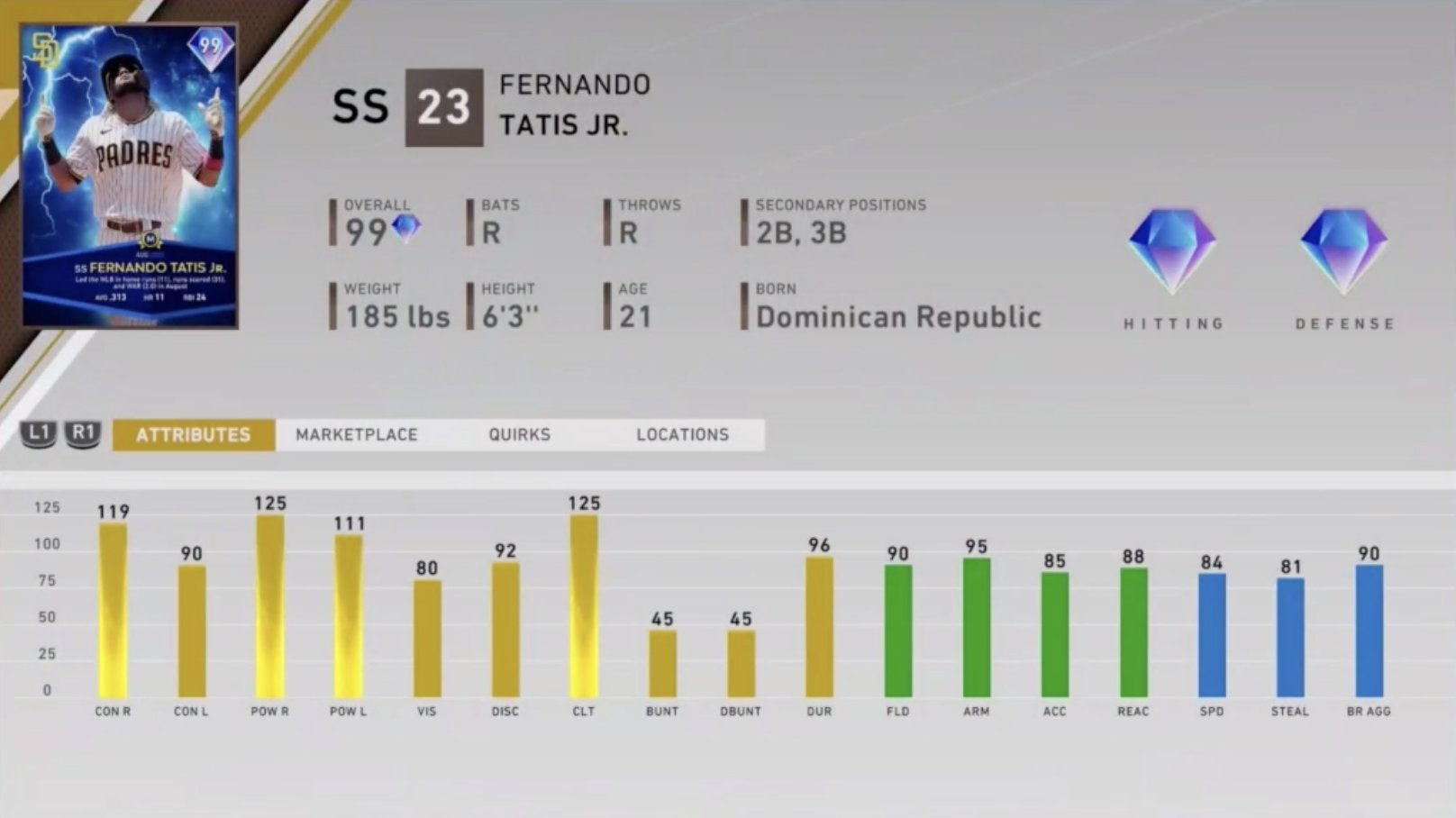 Player rewards in the August Monthly Awards Program are as follows:
10 Program Stars – 92 overall Kyle Lewis, Mariners CF
20 Program Stars – 92 overall Max Fried, Braves SP
30 Program Stars – 94 overall Teoscar Hernandez, Blue Jays LF
40 Program Stars – 94 overall James Karinchak, Indians RP
50 Program Stars – 95 overall Brandon Lowe, Rays 2B
70 Program Stars – 97 overall Luke Voit, Yankees 1B
90 Program Stars – 97 overall Jesse Winker, Reds LF
100 Program Stars – 99 overall Fernando Tatis Jr., Padres SS
Overall, Diamond Dynasty is welcoming 15 new diamond cards. All of these cards are obtainable by either completing August Monthly Awards Program milestones, completing new moments/programs, opening packs or buying them from the marketplace.
ROSTER UPDATE
Today's roster update features attribute upgrades and position changes, as well as team changes as a result of recent trades or signings following Monday's MLB Trade Deadline. Below are some of the major attribute changes.
NOTABLE UPGRADES
Paul Goldschmidt, Cardinals 1B – 84 to 86
Seth Lugo, Mets SP – 83 to 85
Liam Hendriks, Athletics CP – 84 to 85
Marcell Ozuna, Braves LF – 83 to 85
Jake Cronenworth, Padres SS – 79 to 81
Wil Myers, Padres RF – 79 to 81
Marco Gonzales, Mariners SP – 77 to 80
Rhys Hoskins, Phillies 1B – 79 to 80
Brandon Belt, Giants 1B – 76 to 80
Michael Brantley, Astros LF – 79 to 80
Zach Plesac, Indians SP – 76 to 80
Adam Duvall, Braves LF – 76 to 80
Tony Gonsolin, Dodgers SP – 79 to 80
Lourdes Gurriel Jr., Blue Jays SS – 78 to 80
NOTABLE DOWNGRADES
Whit Merrifield, Royals 2B – 85 to 84
Ketel Marte, Diamondbacks CF – 85 to 83
Patrick Corbin, Nationals SP – 81 to 79
Carlos Santana, Indians 1B – 80 to 77
Yoan Moncada, White Sox 3B – 80 to 76
SDS will be issuing roster updates every Friday during the MLB regular season. You can find all of this week's changes here.
Additionally, you can now purchase Headliners Set 50 Packs from the pack store. There is a limit of five per account, and each pack costs 7,500 stubs. The featured card in this set is  99 overall Cy Young Award Max Scherzer. Here is the card art and attributes.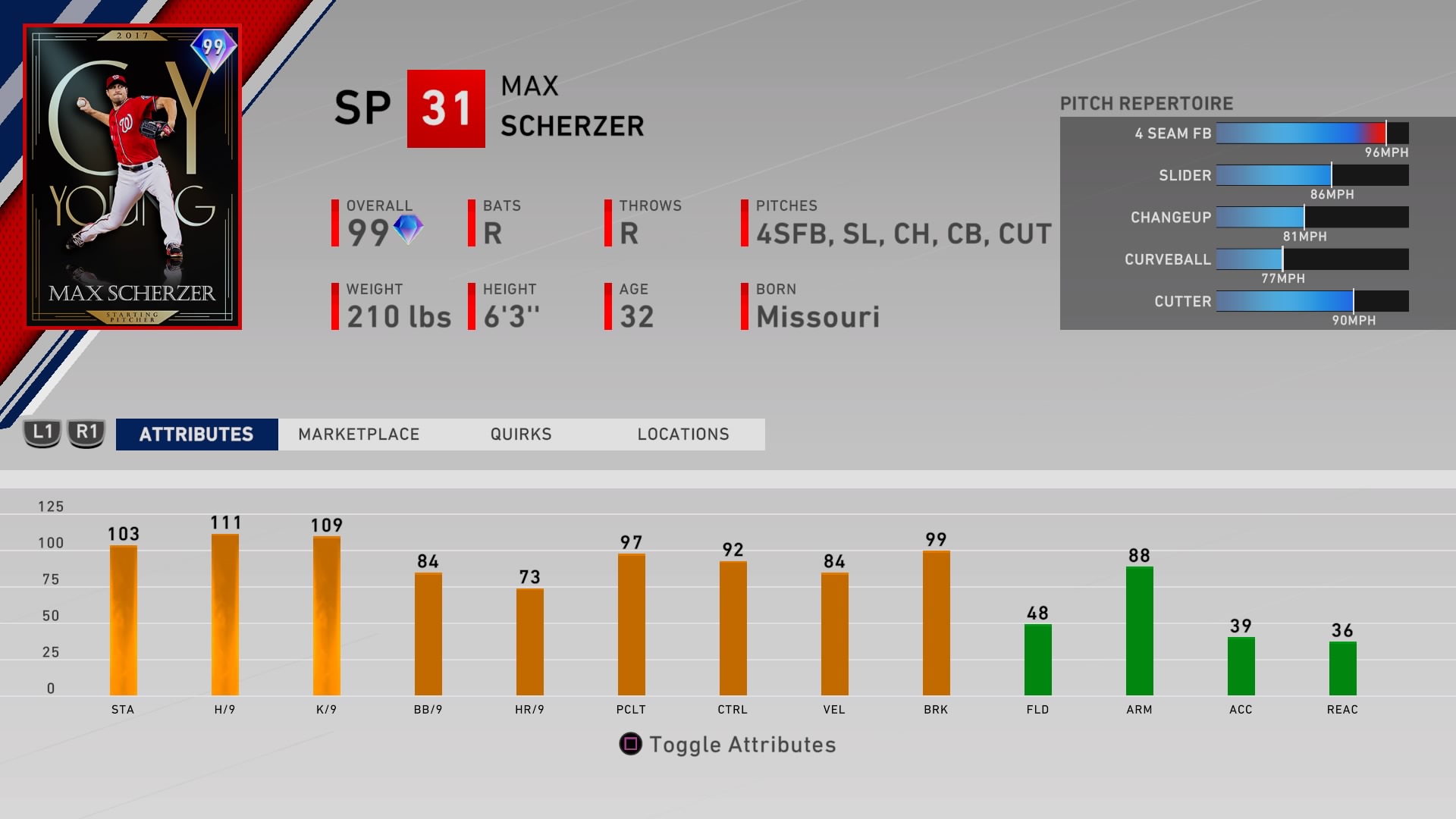 Set 50 is the final set of Headliners packs for the year, according to SDS.
TOPPS NOW
New Topps Now cards and moments are also available. Complete all six of the past week's moments to earn a Topps Now choice pack, good for two Topps Now players. Today's release includes the following Topps Now cards:
99 overall Trea Turner, Nationals SS
98 overall Adam Duvall, Braves LF
97 overall Eugenio Suarez, Reds 3B
96 overall Brad Miller, Cardinals 3B
96 overall Franmil Reyes, Indians RF
95 overall Alex Dickerson, Giants LF
Lastly, MLB The Show released a schedule for upcoming content drops, live streams and much more. Here is the full schedule for the upcoming week and beyond.
You can read more about all of the new content here.
What do you think of today's content update? Are you already grinding the August Monthly Awards Program? Which of the new cards do you need on your team right away? Let us know in the comment section below, and don't forget to subscribe to SGO.
---
Want to talk sports and/or games with the fastest growing community in gaming? Join the conversation by registering at the official Sports Gamers Online Forums, and check out our Twitter and Facebook pages as well as our growing YouTube Channel!