Today, San Diego Studio (SDS) released an extensive content update for MLB The Show 20 Diamond Dynasty. This update includes nearly a dozen new cards (including three Signature Series pitchers), a new player program, a new event, new packs, new moments and more. This is a complete breakdown of all the new content.
Overall, Diamond Dynasty is welcoming 10 new diamond cards. All of these cards are obtainable by either completing 7th Inning Program milestones, playing the new event, completing new moments/programs, opening packs or buying them from the marketplace.
ROSTER UPDATE
Today's roster update features attribute upgrades and position changes, as well as team changes as a result of recent trades or signings. Below are some of the major attribute changes.
NOTABLE UPGRADES
Shane Bieber, Indians SP – 89 to 92
Fernando Tatis Jr., Padres SS – 85 to 88
Zack Greinke, Astros SP – 84 to 85
Whit Merrifield, Royals 2B – 84 to 85
Aaron Nola, Phillies SP – 84 to 85
Brandon Lowe, Rays 2B – 78 to 82
Robinson Cano, Mets 2B – 78 to 81
Alex Verdugo, Red Sox RF – 78 to 81
Max Fried, Braves SP – 78 to 80
Luke Voit, Yankees 1B – 78 to 80
Jose Iglesias, Orioles SS – 79 to 80
NOTABLE DOWNGRADES
Javier Baez, Cubs SS – 86 to 85
Max Muncy, Dodgers 1B – 81 to 79
Willson Contreras, Cubs C – 81 to 79
Christian Vazquez, Red Sox C – 80 to 78
Emilio Pagan, Padres RP – 80 to 78
Craig Kimbrel, Cubs RP – 80 to 76
SDS will be issuing roster updates every Friday during the MLB regular season. You can find all of this week's changes here.
The brand new Signature Event I is open now until August 28. Pee Wee Reese (30 wins) and Madison Bumgarner (45 wins) are this event's featured card rewards. Games in this event are three innings and on all-star difficulty. The ratings for Reese and Bumgarner are below.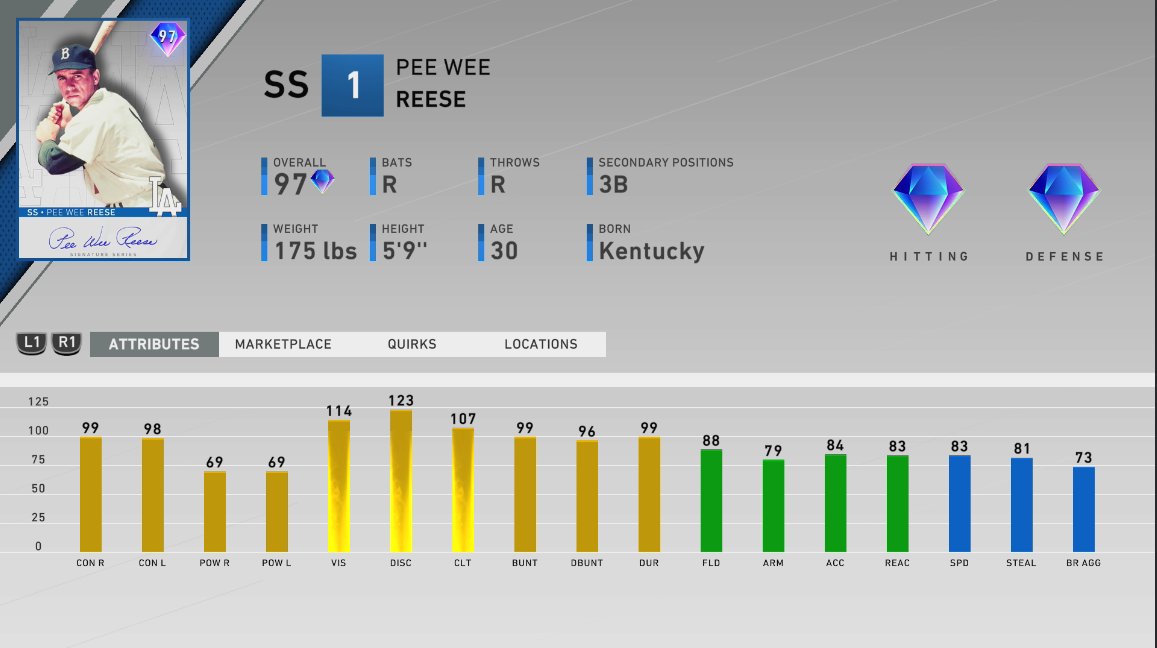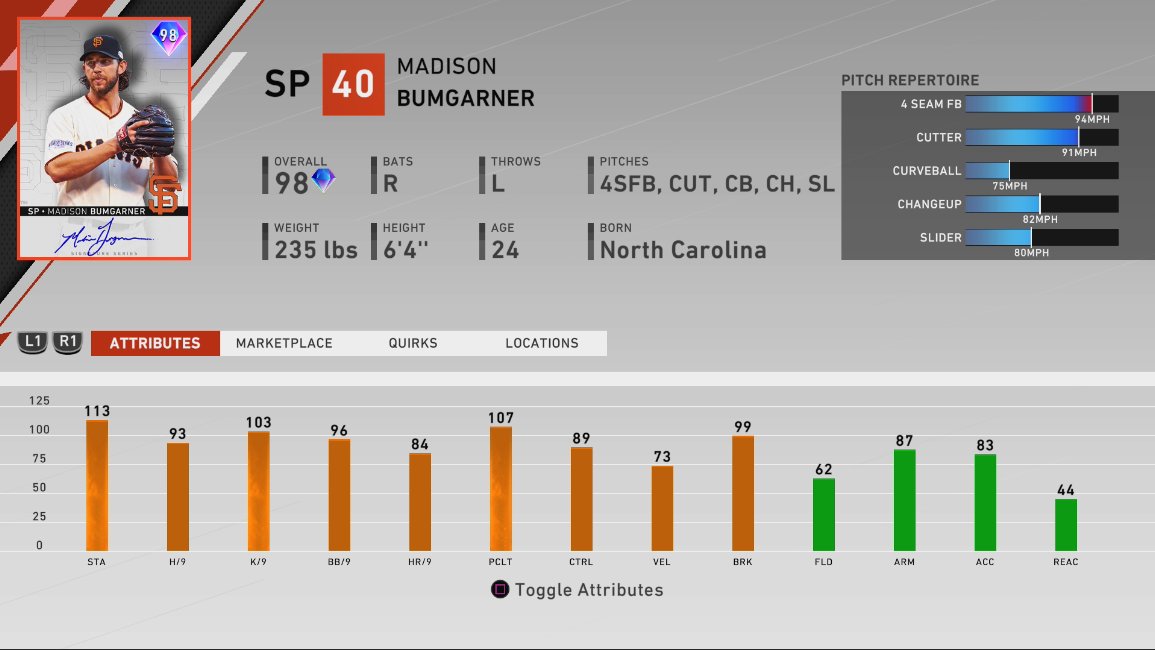 Additionally, you can now purchase Headliner Set 45 Packs from the pack store. There is a limit of five per account, and each pack costs 7,500 stubs. The featured card in this set is  96 overall Signature Series John Smoltz. Here is the card art and attributes.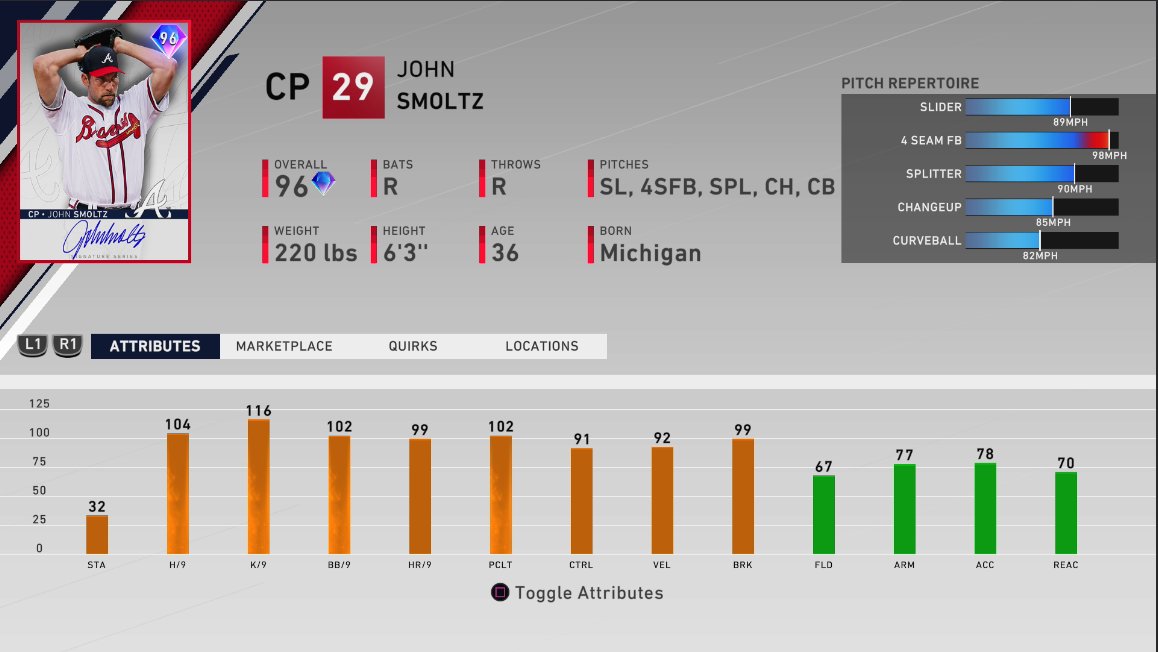 TOPPS NOW
New Topps Now cards and moments are also available. Complete all six of the past week's moments to earn a Topps Now choice pack, good for two Topps Now players. Today's release includes the following Topps Now cards:
98 overall Bo Bichette, Blue Jays SS
96 overall Yordan Alvarez, Astros LF
95 overall Clint Frazier, Yankees RF
95 overall Travis Shaw, Blue Jays 3B
94 overall Austin Hays, Orioles CF
93 overall Thomas Nido, Mets C
JON LESTER PLAYER PROGRAM
A quick way to earn points in the 7th Inning Program is by completing the new Jon Lester player program. Completing the program and collecting this card will earn you 20 points in the 7th Inning Program. Here is a look at the card art and attributes for Lester.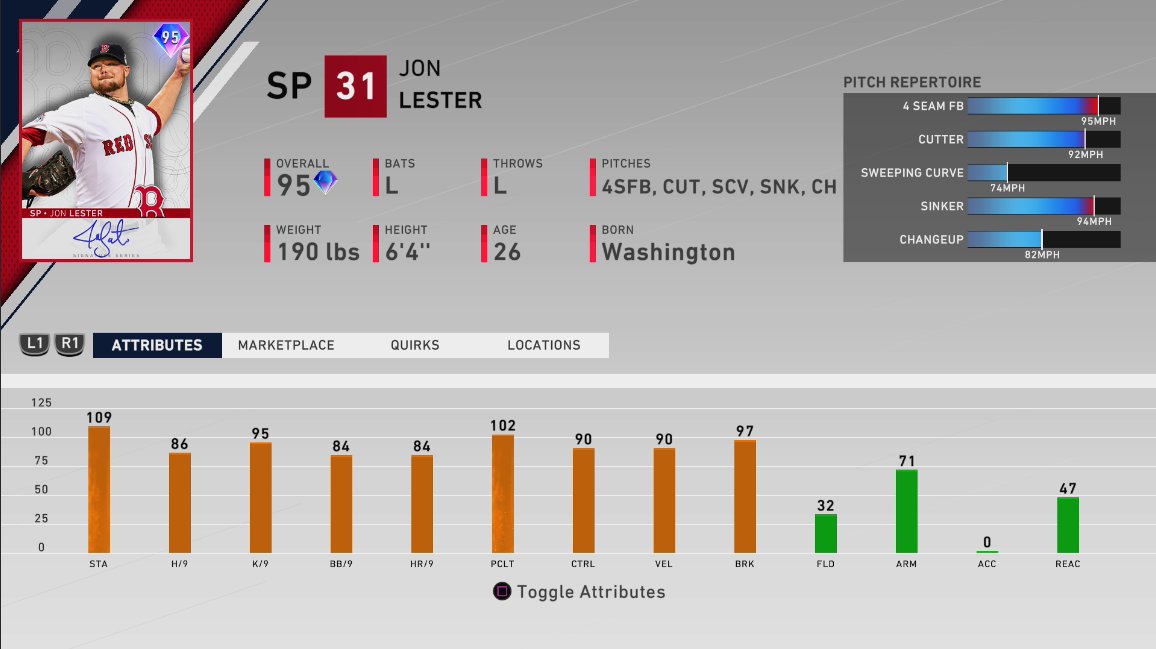 Lastly, MLB The Show released a schedule for upcoming content drops, live streams and much more. Here is the full schedule for the upcoming week and beyond.
You can read more about all of the new content here.
What do you think of today's content update? Are you already grinding the 7th Inning Program? Which of the new cards do you need on your team right away? Let us know in the comment section below, and don't forget to subscribe to SGO.
---
Want to talk sports and/or games with the fastest growing community in gaming? Join the conversation by registering at the official Sports Gamers Online Forums, and check out our Twitter and Facebook pages as well as our growing YouTube Channel!