Today, San Diego Studio (SDS) released a colossal content update for MLB The Show 20 Diamond Dynasty. This update includes over 30 new diamond cards, new Team Affinity rewards, new programs, new moments and more. Here's a complete breakdown of all the new content.
Team Affinity Stage 2: Future Stars is LIVE!
🌠 New Future Stars Player Item For All 30 Teams
🌠 New AL & NL Showdowns
🌠 Future Stars Collections
🌠 MORE!

Read about the content update here: https://t.co/QF56M7cuwH#TheShow20 #WelcomeToTheShow #MLBTheShow20 #MLBTheShow pic.twitter.com/zDYApTCnCB

— MLB The Show (@MLBTheShow) April 24, 2020
With Team Affinity Stage 2 officially out, you can now earn a maximum of 120 points in each team affinity program. The "stage" aspect is important to remember, because you'll need to complete Stage 1 missions and showdowns in order to even access Stage 2 rewards.
Showdown mode has been updated for Stage 2, with American League and National League as the only options. This will mean a wider variety for final showdowns.
The new Team Affinity rewards for each team are as follows:
80 points – team nameplate
90 points – 3 Team Affinity packs
100 points – Ballin' Is A Habit pack (guaranteed gold player)
110 points – 3,000 stubs
120 points – Future Stars diamond player
Check out our earlier article for all of the Future Stars Team Affinity cards and a link to screenshots. 
Each Team Affinity program also has a new playable moment. Completing a Team Affinity moment will earn three points each. 
Additionally, the April Monthly Awards program has been updated. 88 overall diamond Tim Anderson can now be unlocked with 75 program points. Here is a look at the attributes and card art for Anderson.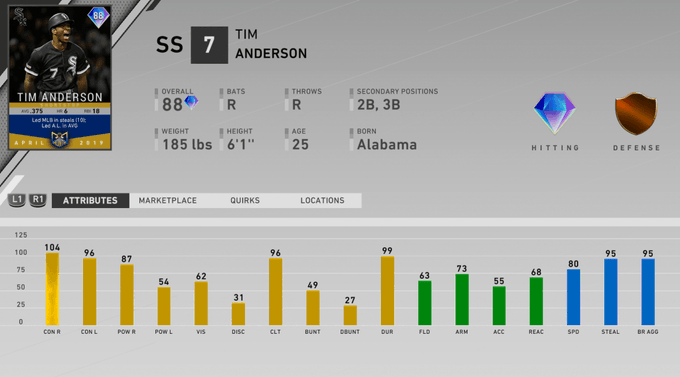 Additionally, you can now purchase Headliner Set 13 Packs from the pack store. There is a limit of two per person, and each pack costs 7,500 stubs. The featured card in this set is  96 overall Luis Patino. Here is the card art and attributes.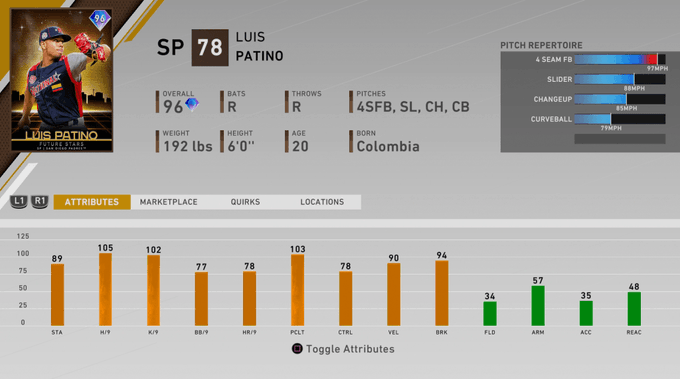 Lastly, MLB The Show released a schedule for upcoming content drops, live streams and much more. Here is the full schedule for the remainder of April.
You can read more about all of the new content here.
What do you think of the recent content updates? Are you already grinding the 2nd Inning Program? Which of the new cards do you need on your team right away? Let us know in the comment section below, and don't forget to subscribe to SGO.
---
Want to talk sports and/or games with the fastest growing community in gaming? Join the conversation by registering at the official Sports Gamers Online Forums, and check out our Twitter and Facebook pages as well as our growing YouTube Channel!