Today, EA Sports broke news that some expected for months: NBA Live 20 has been cancelled and will not be released. The future of the series is now in major doubt, as EA told Polygon the game wouldn't be revisited until the PS5 and Xbox Scarlett hit the market. Here is everything we know about NBA Live 20's cancellation.
NBA LIVE 20 CANCELLED
This summer, EA Sports announced that NBA Live 20 would be delayed until at least "late 2019," which led experts and fans alike to doubt a release would ever come.
Amid today's developments, EA released the following statement.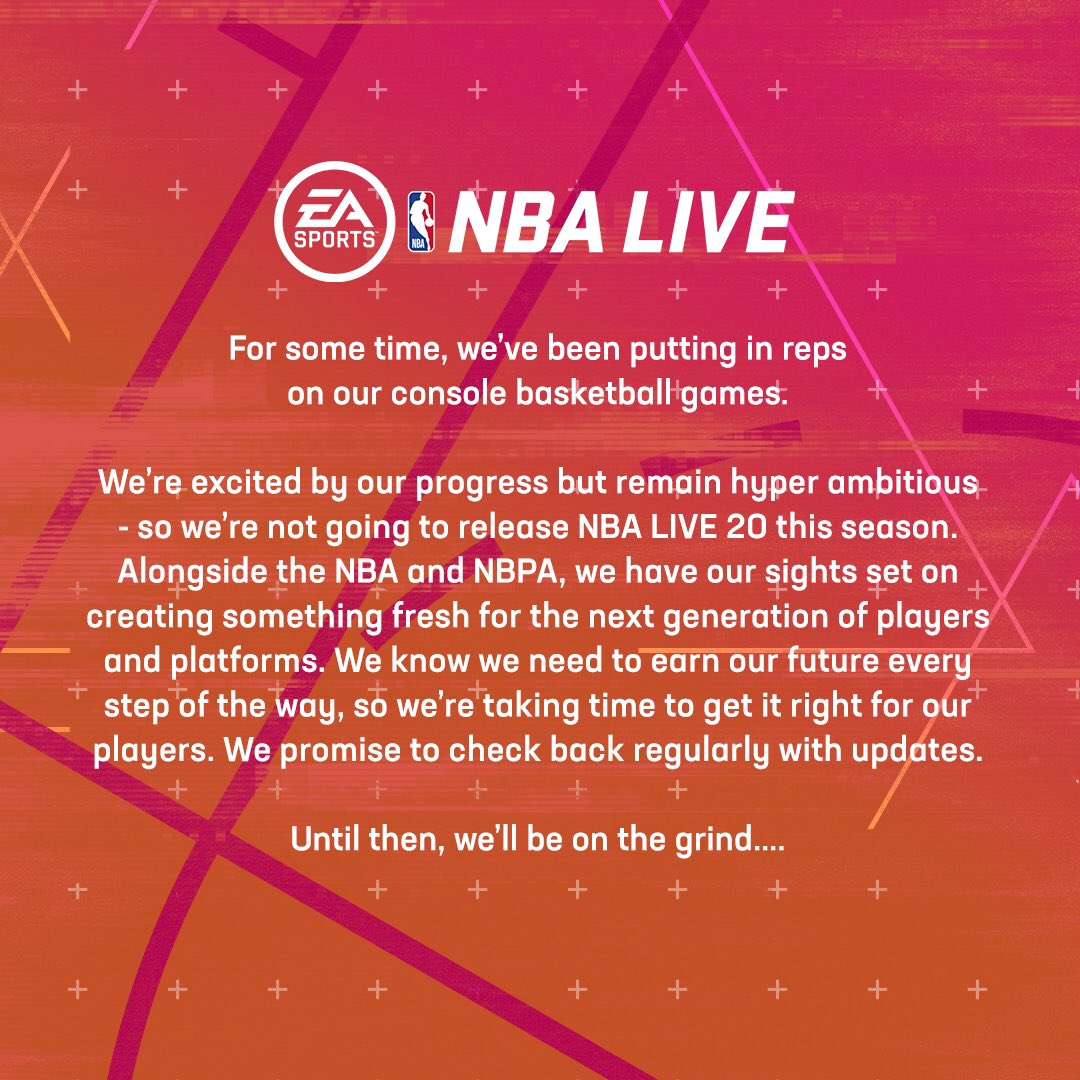 It's an extremely vague and troubling message from EA. Phrases like "putting in reps" and "we'll be on the grind" say almost nothing, and nowhere in the statement does EA guarantee a new NBA Live game in the future.
"We're not launching a new NBA Live HD product this season. Instead, we're expanding our vision, leaning hard into the new leading-edge platforms, and taking the time to ensure we deliver against the opportunity for our players," EA chief executive Andrew Wilson told Polygon.
The simple fact is that NBA Live has never been able to recover since the NBA Elite 11 fiasco, and NBA 2K has controlled the market ever since. NBA 2K20 has dominated the  video game market this year, as the NPD Group announced recently that 2K20 is currently the best-selling video game in 2019.
It is possible EA will use the resources from NBA Live and put them towards a possible NCAA Football game. Earlier today, the NCAA voted to begin paying college athletes for use of their name and likeness, meaning a new video game could be on the horizon.
You can read more about NBA Live 20's cancellation here.
What do you think of today's news? Were you expecting NBA Live 20 to be cancelled, or were you looking forward to playing the game next year? What does this mean for the future of the NBA Live franchise? Let us know in the comment section below, and don't forget to subscribe to SGO.
---
Want to talk sports and/or games with the fastest growing community in gaming? Join the conversation by registering at the official Sports Gamers Online Forums, and check out our Twitter and Facebook pages as well as our growing YouTube Channel!