What up, I did some of these for 2k14 and y'all liked it so Imma try and start doing these again now that MyTeam is IMO a looooot better. . If y'all have any suggestions or feedback let me know. This first episode probably isn't gonna be too good because I haven't done these in a while but don't worry I'll heat up soon.
*Lineup I'll be using:
Starters: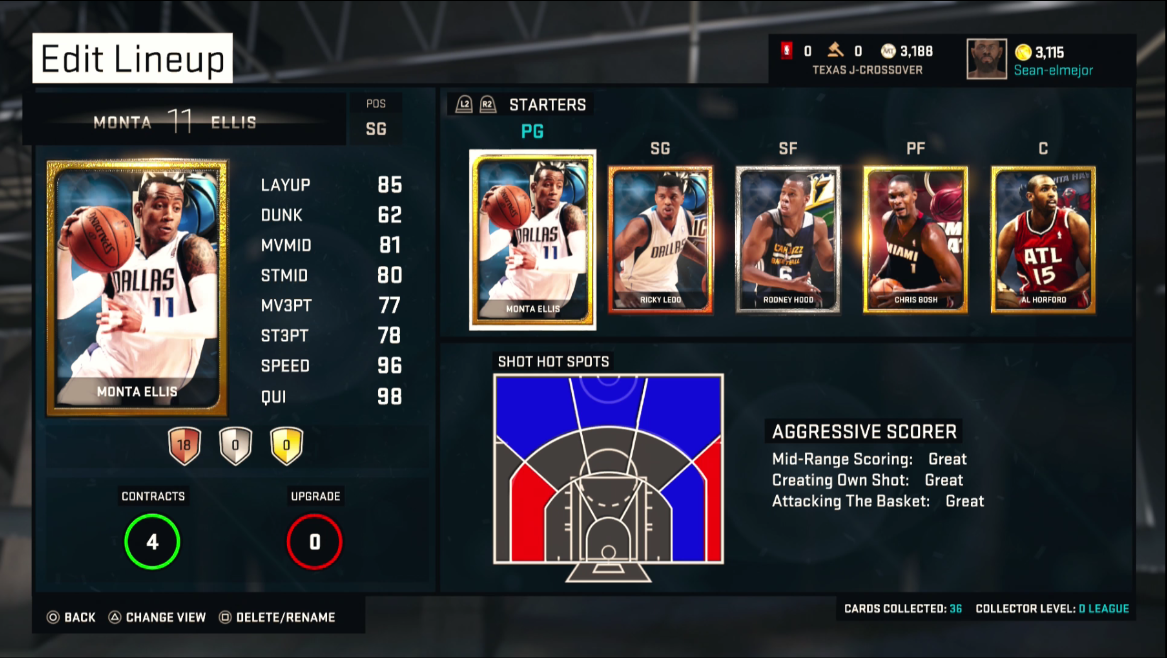 Bench: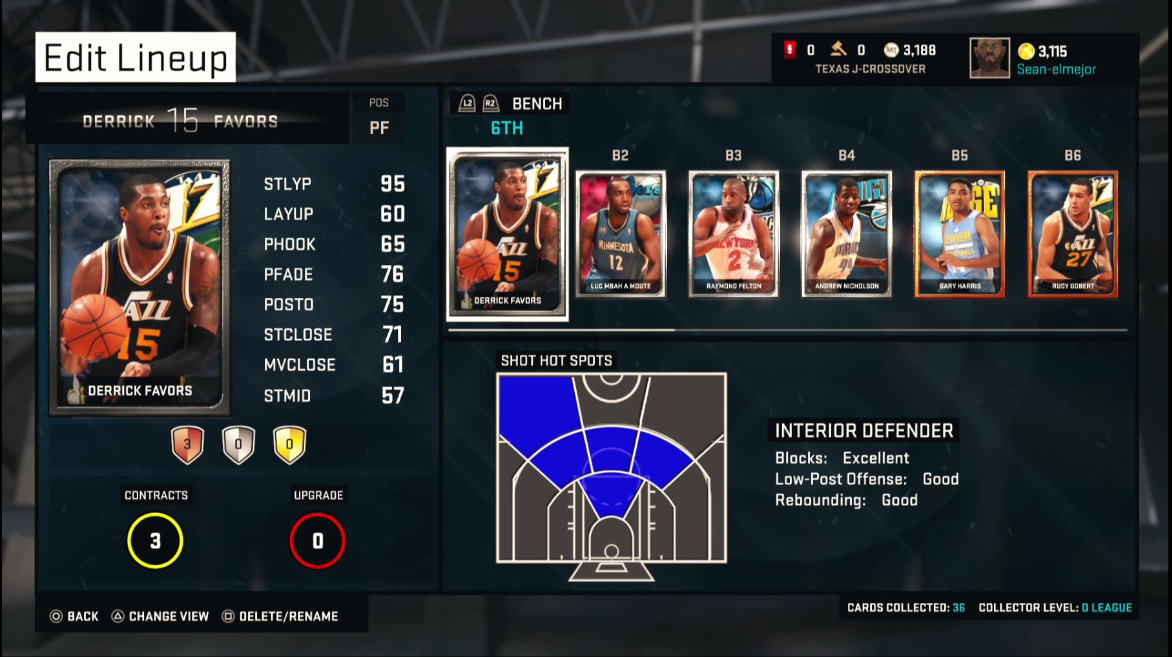 Player:   Chris Bosh
Position: PF/C
Ratings: First Half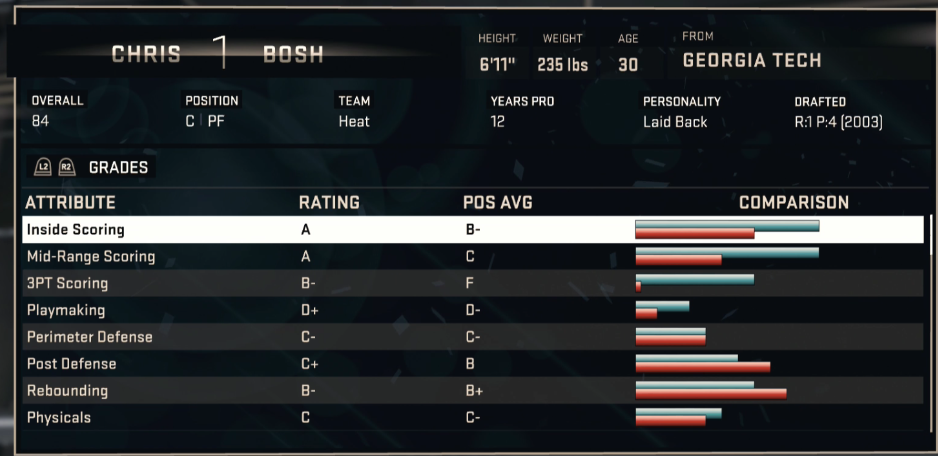 Badges:

Price Range: (probably not acurate): Anywhere from 5500 to 10000 MT.
Player Overview & Strategies: Was looking for steals in the Auction Market and luckily somehow got Chris for 4500 MT. It's surprising the he goes for so low considering how good of a player he is. The dude can score in so many ways, rebound (averages around 9 rebounds a game for me) play defense and again, score. I'd recommend playing him at PF along side a defensive C such as Noah, Horford or if you have the money, Shaq/Dwight. His post moves are money, and I almost always get perfect A+ releases on his post fadeaways, his jumpshot is incredibly easy to get used to so he can shoot from anywhere. In defense, he has such long arms that he contests a LOT of shots, and can like I said earlier, Rebound. So basically, to best utilize him, pair him up with a good PG and do a lot of pick and pop's and pick and rolls. Also you can always just post up with him, and use his variety of moves.
Recommended Badges: Bank Is Open, Fade Ace, Post Spin Technician, Post Lock-down Defender, Closer.
Strengths: Shooting, Rebounding and Blocking.
Weaknesses: Defending against quick players, sometimes doesn't rebound as good as he should, passing.
Use Bosh if: You need a big man who can score from anywhere in a variety of ways, #1 Scoring Option if needed, Pick and Roll master.
Don't use Bosh If: You need a defensive minded big man who can pass well and is a monster rebounding.
Examples on how to use him:
Fadeaway #1 
Fadeaway #2 
Post Hook 
---
Player: Monta Ellis
Position: PG/SG
Ratings: First Half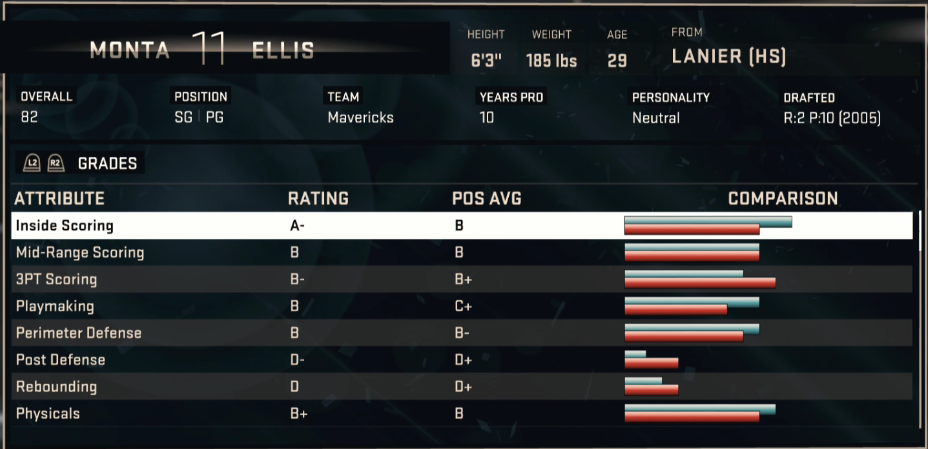 Badges:

Price Range: 5500 to 7500 MT
Player Overview & Strategies: Also stole Monta in the last minute in Auction Market. Decided to play him at PG since he is faaaaast and has a lot of PG skills. Monta is probably the best 2k15 player going to the rim IMO. The dude will make LITERALLY every shot somehow even if he gets killed while laying it up. He's basically Lavine but better. Anyway, I recommend playing him at PG since he needs the ball to be effective, and pairing him up with a good shooting big man (Bosh), and just do Pick and Rolls, Iso's and Pick & Pops allllll day. Like I said, he'll make everything going to the lane, but he's also a great passer, hence why he can be put at PG. In defense, mainly the only thing he can do is steal the ball, so don't try and make him guard the opposition's best player. He's been averaging around 16 PPG and 9 APG with 2 SPG for me so far.
Recommended Badges: Dimer, Master of In and Out, Limitless Range.
Strengths: Going to the lane, Passing, Steals, Ball Handling.
Weaknesses: Defending, Rebounding, 3 Point Shooting.
Use Monta if: You need a speedy Guard who can go the lane, and pass if necessary. Pick & Roll Maestro.
Don't use Monta if: You need a defending Guard that can play without having the ball in his hand, and can shoot 3's.
Examples on how to use him:
Iso #1 
Iso #2 
---
BOSH AND MONTA TOGETHER:
Pick n Pop 
Pick n Roll 
I'll be bringing you more NBA 2K15 MyTeam Tips and NBA 2K player reviews here on SGO.