As we quickly approach the release of EA Sports' NBA LIVE 19 on September 7, it's time to take a look at some of the best players, according to the game's ratings. Here are the top five players at each position in this year's game. All subsequent quotes are from EA Sports' Rahul Lal.
POINT GUARDS
1. Steph Curry, Golden State Warriors
94 Overall
"What can you say about Wardell Curry that we don't already know?"
2. Russell Westbrook, Oklahoma City Thunder
93 Overall
"Westbrook is one of the most unique players this league has ever seen."
3. Kyrie Irving, Boston Celtics
93 Overall
"With speed and a killer scoring touch, Kyrie is one of the top point guards in NBA LIVE 19."
4. Chris Paul, Houston Rockets
92 Overall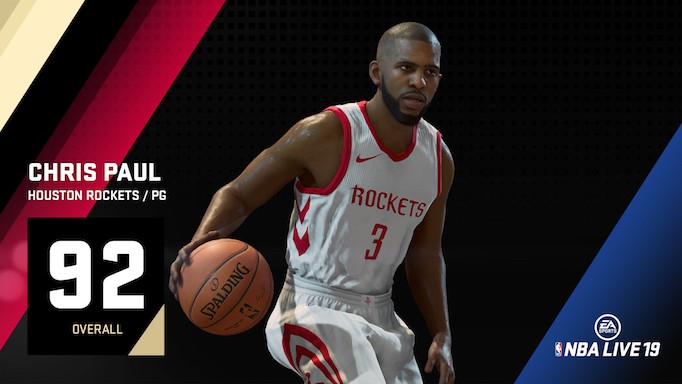 "The point gawd himself checks in with the third highest point guard rating – a number that testifies that he's aging like fine wine."
5. John Wall, Washington Wizards
90 Overall
"You don't want to be back-pedaling on a fast break against Wall, as his handles, passing, and athleticism are setting you up to be embarrassed."
SHOOTING GUARDS
1. James Harden, Houston Rockets
94 Overall
"Is it a coincidence that Harden was the MVP and NBA LIVE 18 cover? I think not."
2. Klay Thompson, Golden State Warriors
91 Overall
"He's proven himself to be an elite defensive player and is the jelly to Steph's peanut butter as it relates to the Splash Brothers."
3. DeMar DeRozan, San Antonio Spurs
90 Overall
"DeMar is one of the most gifted scorers in the league but has a bit of an old-school game."
4. Jimmy Butler, Minnesota Timberwolves
90 Overall
"If you want to talk about a guy who has done whatever it takes to win, talk about the late first-round pick who is now a bonafide superstar."
5. Victor Oladipo, Indiana Pacers
89 Overall
"If you want a guy who can quickly rise into the 90's, Oladipo seems like the prime pick."
SMALL FORWARDS
1. LeBron James, Los Angeles Lakers
97 Overall
"Sometimes, love him or hate him, you need to just sit back and be astonished at the durability and ability he has at this point in his career. Heading into season number 16, LeBron is NBA LIVE 19's highest rated player."
2. Kevin Durant, Golden State Warriors
95 Overall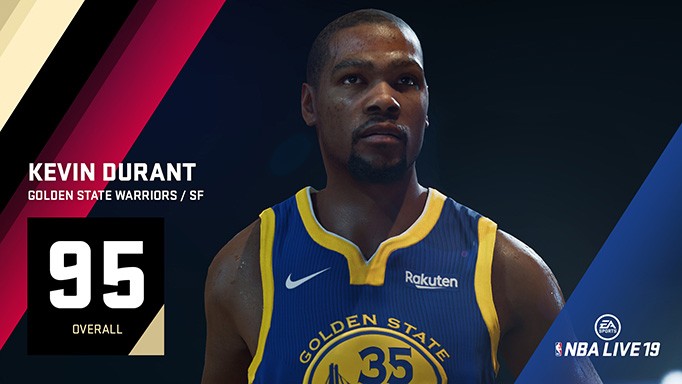 "One of the many things that make Durant so special is his length and size mixed with his fluidity and athleticism. The biggest improvement was made on the defensive end for Durant last year, as he averaged 1.8 blocks per game."
3. Kawhi Leonard, Toronto Raptors
92 Overall
"With this trade to Toronto, expect Kawhi's usage to go up and, assuming he's healthy, we might see an MVP-worthy season as he makes his push toward 2019's free agency."
4. Paul George, Oklahoma City Thunder
90 Overall
"Paul George shocked the world by staying in Oklahoma City rather than switching over to a bigger market or joining to create a super team like the Houston Rockets or the Philadelphia 76ers. George put up 21.9 points, 5.7 rebounds, and shot 40.1% from three-point range last year."
5. Gordon Hayward, Boston Celtics
85 Overall
"Over a number of years in Utah, Hayward's game grew into that of an all-star caliber player. Throwing away last year, Hayward averaged above 19 points, five boards, and three assists in three-straight seasons while rarely missing games."
POWER FORWARDS
1. Giannis Antetokounmpo, Milwaukee Bucks
90 Overall
"His defense is impeccable, his offense includes being able to handle the ball, drive, and use his length to convert typically impossible shots. But don't forget about the unreal highlights – he's a walking poster."
2. Draymond Green, Golden State Warriors
88 Overall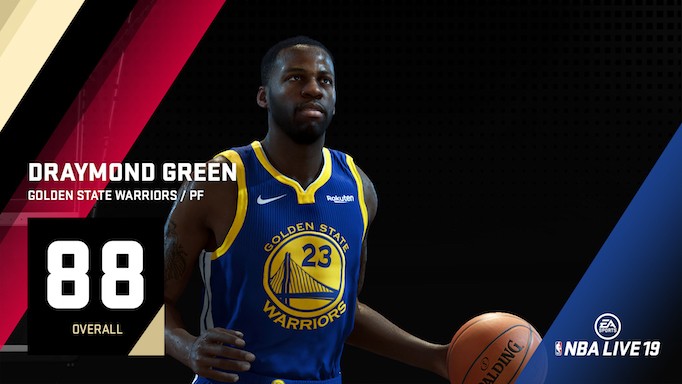 "Green's numbers don't stand out the same way other all-stars' numbers may, but that doesn't mean they aren't impactful. In fact, each of the last two seasons, Green has averaged seven-plus boards and assists while putting up great defensive block and steal numbers."
3. LaMarcus Aldridge, San Antonio Spurs
87 Overall
"Fittingly, while Kawhi was going through his own drama, Aldridge handled his business on the court and put up his highest scoring average since he was in Portland at 23 per game. He also averaged 8.5 rebounds per game, shot 51% from the field, and tied his career high in blocks per game."
4. Kevin Love, Cleveland Cavaliers
87 Overall
"He's got the size, he's got the strength, and he's got the shot to be an elite three-point shooter (41.5% last season) and big option – it's just about how effective he can be. The other aspect of his game that's so special is his passing ability."
5. Kristaps Porzingis, New York Knicks
86 Overall
"He carries big man stats scoring around the rim and block shots, but he also is on the fluid side running the court like the unicorn he is. His ability to create out while on the break is eye-opening, as we've only had a handful of players able to dish like him at seven-feet tall."
CENTERS
1. Anthony Davis, New Orleans Pelicans
94 Overall
"It honestly feels like we've been seeing AD play for a decade, but that's just a testament to how good of a player he is and how quickly he rose to that stature. Spending his entire career in New Orleans, everyone knew from the jump that he would be incredible."
2. Joel Embiid, Philadelphia 76ers
92 Overall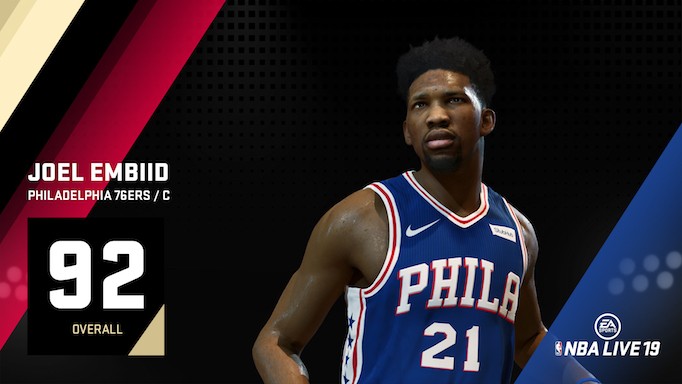 "His unbelievable mix of size, strength, and athleticism make for a cocktail of previously unknown physical dominance. In his 94 career NBA games, Embiid has averaged 22 points, 10 rebounds, three assists, and two blocks."
3. Karl-Anthony Towns, Minnesota Timberwolves
91 Overall
"The defense may still be a work in progress, but he has the tools, and it wouldn't be a stretch to see him overtake the second spot in this list if he can boost his stats on D."
4. DeMarcus Cousins, Golden State Warriors
90 Overall
"Whenever Cousins is healthy enough to come back, it's going to be worrisome for the rest of the NBA."
5. Rudy Gobert, Utah Jazz
89 Overall
"At only 26, Gobert is still learning his own game. He took home this year's NBA Defensive Player of the Year award and was close to winning it the year before when he led the league in blocks."
What do you think of these player ratings for NBA LIVE 19? Do you think EA got it right? What would your top five be for each position? Let us know in the comment section below, and don't forget to subscribe to SGO.
---
Want to talk sports and/or games with the fastest growing community in gaming? Join the conversation by registering at the official Sports Gamers Online Forums, and check out our Twitter and Facebook pages as well as our growing YouTube Channel!