EA Sports' Madden NFL Challenge has a new champion. Christian "Chritobin" Lomenzo won five straight games to earn his first Madden Championship Series (MCS) title and $35,000. Chritobin took down some of the best players in the competitive Madden community en route to the belt. Each of the 16 finalists were playing Madden NFL 19 for a share of $190,000 in prize money. Here's a complete breakdown of the tournament, which was held in Redwood City, California.
Chritobin's Path to Victory
Chritobin held all six of his opponents to 13 or fewer points, a feat unheard of in today's Madden. He stymied his competitors for the entire weekend, using a variety of blitz concepts to force errant throws and turnovers. Here's a look at Chritobin's tournament.
Group Stage: Lost to BeastModeMac, 13-7
Group Stage: Defeated Siah, 38-13
Group Stage: Defeated Pavan, 19-7; won Group A and received bye to Quarterfinal
Quarterfinal: Defeated Spoto, 13-7
Semifinal: Defeated Boogz, 19-11
Final: Defeated Drini, 16-10 (OT)
Madden 19 Challenge Results 
Below is the final bracket for the Madden Challenge, including all results.
You can see EA's bracket, including all scores, by clicking here. Below are the payouts for the top eight finishers in the tournament.
Chritobin – $35,000
Drini – $75,000
Boogz, VY Electrify – $40,000
Spoto, JSTheBest, Joe Rice, Prodigy  – $20,000
Other Notable Tournament Headlines 
Newcomers Impress Once Again – Chritobin and VY Electrify were both making their live event debuts at the Madden Challenge, and both delivered. Chritobin obviously took home the belt, and VY made the final four. Many of the top names in Madden, namely Problem Wright, haven't had success in Madden 19. Instead, younger unknown players seem to emerging every live event.
Gos Eliminated in Group Stage – Gos was a heavy favorite (and my champion pick) heading into the tournament, but underachieved greatly in the Group Stage. Gos finished 0-3 in Group C, losing to VY Electrify, Drini and Joe Rice.
EA Broadcast Center Debut – This weekend's Madden Challenge marked the test run for the brand new EA Broadcast studio in Redwood Shores, CA. By all accounts, the studio was a major success. The studio features two spacious gaming stations, a player's lounge and a large broadcast desk. EA said during the event that it plans to host all major tournaments there moving forward.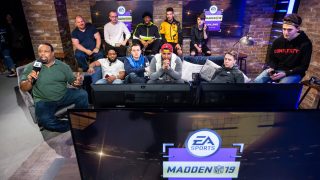 You can read more about the Madden 19 Challenge here.
What did you think of the Madden 19 Challenge? Who do you think is the favorite to win it all at the upcoming Madden Bowl? What was the best card you pulled from Twitch drops? Be sure to let us know in the comment section below, and don't forget to subscribe to SGO.
---
Want to talk sports and/or games with the fastest growing community in gaming? Join the conversation by registering at the official Sports Gamers Online Forums, and check out our Twitter and Facebook pages as well as our growing YouTube Channel!