EA Sports has revealed full details for Madden 23 Franchise Mode, and it includes a number of much needed changes to add depth to the beloved mode.
This year, the mode adds new free agent negotiations based on player's desires and the type of player they are. In addition to that, scouting has been upgrading to find the best possible free agents for your team as you build a Super Bowl contender.
There's also been updates to the game's full scouting mechanics in Madden 23 Franchise Mode, including how player ratings are revealed.
Full details can be found below, courtesy of EA Sports. Madden 23 launches on August 19 for PlayStation 5, Xbox Series X|S, PlayStation 4, Xbox One, and PC.
FREE AGENCY
Free Agency is one of the most critical aspects of team building in the NFL. With players and teams constantly negotiating with each other, one move can change the entire landscape of the NFL. In Madden NFL 23, we focused on developing systems to bring our players closer to the excitement and strategy of this period of the NFL season. From all new screens, to additional evaluation periods, player motivations and added salary cap functions there is a whole new dynamic to engage with when trying to put together the ideal roster.
New Free Agent Hub
A full visual overhaul to the Offseason Free Agency Hub is coming with Madden NFL 23.Within the new Hub, an emphasis is being made on keeping information accessible and clear as well as improving the quality of flows throughout the experience. The details of the player, how your team aligns with their Motivations as well as the Interest from other teams are front and center as you navigate through all players active in Free Agency.
Along with the new Free Agency Hub screen, we have added two more additional new features that help support our Free Agency revamp: Active Negotiations and Evaluations. In the NFL, Free Agency is a whirlwind of activity with players and teams negotiating deals the second they are allowed to start talking. Before players choose who they will be signing with, there is usually a lot of back and forth between them and the different teams that are trying to sign that player.
To create a sense of pressure within Madden NFL 23, we are introducing the Active Negotiations feature. During the first stage of free agency, each team will only be able to offer up to 5 players a contract during each Eval Period. This will help ensure that a few teams can't just come in and sign all the top free agents right away. It's also now no longer just all about the money – but we will get into that later. In the first stage of free agency, you will need to be calculated on whom you make offers to as you won't be able to go after everybody you want. In Stage two of free agency, you can offer up to 10 players in each Eval period and then in Stage 3, you can make an unlimited amount of offers to the remaining Free Agents.
While this is more limiting in early stages, it is compensated for by the second feature, Evaluations. Within every week of Free Agency, 3 Eval Offers can be made; when triggered all offers are run allowing players to accept/decline contracts or not make a final decision without the need for the week to be advanced. This will give each team more opportunity to go back and forth with a player during negotiations and/or possibly allow you to change direction if you get feedback that the player is not interested in signing with you. You will need to pay close attention to all of the factors that go into how a player decides on where he will sign. With the added information, improved flows, and the mix of limitation and opportunity, we hope to bring a more strategic and rewarding experience to one of the most impactful aspects of the offseason.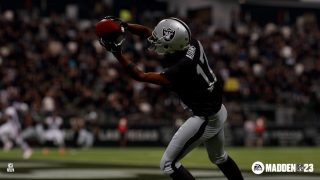 Player Motivations
In previous years, players simply signed with the teams offering the most money. Now, every player has three Motivations describing the type of team they want to play for. These conditions can range from location, coach prestige, team composition and more. All players will begin with a set of 3 Motivations but with every year a player continues with a Franchise, these may update to better align with their current situation.
Below is a breakdown of the Player Motivations you can expect to see:
Super Bowl Chase
Evaluated throughout the season, the teams in position to contend for the Super Bowl will be the prime destination for these players.
Ex. Von Miller, Buffalo Bills.
Historic Championships
A priority toward Franchises with a winning culture that have shown their ability to bring home the Lombardi trophy over time.
Head Coach Historic Record
Top tier coaches that have proven their contribution to winning games will better recruit players to come on board.
Scheme Fit
Players will look to match the team's offensive or defensive Scheme to best showcase their talent on the field.
Top the Depth Chart
These players are looking to be starters at their position, plain and simple.
Team Has Franchise QB
Taking the field with an elite Quarterback is a dream to many. If your QB has the "Franchise QB" Player Tag, they'll be helping you bring these players into the mix.
Ex. Russell Gage, Tampa Bay Buccaneers.
Mentor at Position
Developing players can look to find their mentor to help them break through to the next level. They want to see a player on your team at their position with the "Mentor" Player Tag.
Close to Home
Does your city bring a player close to his family? The distance between your stadium and a player's Home state can be a big draw.
Ex. Jarvis Landry, New Orleans Saints.
Big Market
Opportunities off the field can be as appealing as those on. Big Market players are looking to showcase themselves in the largest cities in the world.
Tax Free State
Paydays aren't always the same when taxes are involved. Teams in states with no income tax provide an extra incentive for some.
Warm Weather State
Sun and fun. States that stay warm throughout the winter will be welcoming to these players.
Highest Offer
Sometimes it is all about the money. Players will think less of how you fit their interests and are simply looking for the biggest deal.
How your team aligns with the motivation of a player sets their overall Interest in your team. This Interest factors heavily in contract negotiations. A player with no Interest in your team would require massive financial compensation to consider signing, while a player who perfectly aligns with your Franchise may take a pay cut to guarantee you bring them aboard.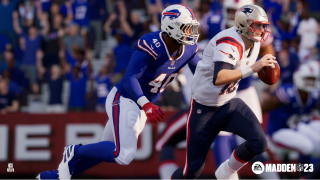 Player Tags
Many players have roles on a team that exceeds their direct positions and assignments. Tags add a new layer to how these players fit with their team, bringing unique effects that not only apply to the team but also to teammates and the player themselves. Player Tags are dynamic, updating weekly; how the players, teams, and league progress will all impact roles across your Franchise.
Look for the following Tags to see how your players fit the landscape of the league:
Award Winner
Players who have won yearly awards will draw more interest during Free Agency, creating heated competition to land the biggest available names.
Franchise QB
The top QBs and those poised to take the league by storm will hold a prized position with their team. Not only will they appeal to certain Motivations, teams will not look to replace them via Free Agency or the Draft.
Bridge QB
Journeyman Quarterbacks filling the most important role for a team. These players will keep the seat warm as the team looks to Draft the next heir to the throne.
QB of the Future
Recently drafted and ready to take the reins. These Quarterbacks will be given starting roles as they get close in OVR to the current starter.
Day 1 Starter
Elite players ready to make a difference on the field the moment they are drafted. They will be given starter priority and will secure their position, causing the team to look elsewhere in future Drafts.
Future Starter
These developing players have high ceilings, but may not be ready to play right away. While they wait for their turn to start, they will gain extra XP during Weekly Training.
Bridge Player
Filling in the gaps across the roster, these players will either allow for split time with up and comers or signal the need for the team to upgrade this position in the Draft.
Mentor
Veteran leadership cannot be understated. Weekly Training XP boosts will be given to all players that share a position with a Mentor.
Ex. Bobby Wagner, Los Angeles Rams.
Trade Target
Whether a young player without a realistic shot at a starting spot or a veteran without a needed hole to fill, these players will be placed on the team's Trade Block in search of a better fit.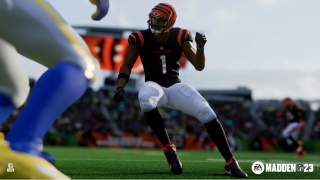 New Contract Negotiation Screen
Crafting the perfect contract is key to building your team during both the re-signing and Free Agency periods. With our newly introduced Motivations system we've included a revamped Contract Negotiation screen to highlight important information and make offering deals easier than ever.
New information includes: a breakdown of Motivations including a player's overall Interest in your team, a yearly breakdown of the offer, depth chart information at that position
In addition to being able to craft a Custom Contract offer, there will be 4 new preset offers that you can choose that include: Team Friendly, Neutral, Player Friendly and Very Player Friendly. This allows an easy way to to offer varied contracts without the need to punch in the numbers.
Rollover Cap
The NFL Salary Cap rules have many intricacies most fans may not be aware of. This year we incorporated what is often referred to as the Rollover Cap. This allows teams to carry over unused cap money from one year to the next, giving teams with low total salaries the ability to spend heavily in the upcoming offseason.
FRANCHISE HUB
As every franchise player knows, you can spend just as much time off the field as you spend on the field. For that reason, we wanted to make the franchise hub feel more connected to your team and now whether you're at the main hub, adjusting your depth chart or scouring the trade block, the background will feature both your team's primary color and logo.
Streamlined Activity Feed
At times the Activity List could feel overwhelming. In Madden NFL 23, a focus was made to improve the ease of use for this critical piece of the Hub. Text has been shortened, spam reduced, and all new icons have been made to make every action stand out. In the end, we optimized your activity feed so you can easily navigate to where you need to go.
Improved Usability
An often overlooked aspect of how easy a menu system is to use is the font itself. Across Franchise new fonts have been introduced to improve readability and thus usability of all features. Given the hundreds of screens present, this quality of life improvement can be felt everywhere.
SCOUTING
We have received a ton of great feedback since we completely rehauled Scouting in Madden 22 with a post launch Title Update. All of our Scouting improvements we're talking about today are driven by that feedback.
Scout Updates
Over 50 scouts have been added in Madden 23, doubling the number of free agent scouts from 50 to 100 and bringing the total number of scouts to 260. In addition, we've ensured that every position has at least one scout in each tier with that particular expertise. With a few exceptions, each position grouping is covered by multiple scouts at each tier.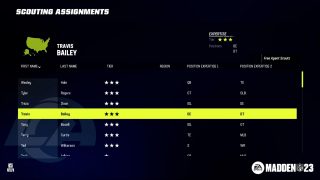 Team scouts have also been updated. Each scout assigned to a team now reflects their team needs, with the higher tier scouts reflecting the bigger needs.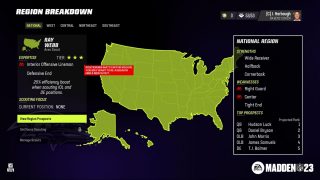 Scout Multiple Positions at Each Stage
In Madden 22, Focus Scouting was limited to singular positions and the amount of information you would receive on a draft class wasn't enough to make confident decisions. This year, we've grouped similar positions together so when you're Focus Scouting, you'll get information on all players in that grouping rather than just one. These groupings are:
RB: Running Backs (Halfbacks and Fullbacks)
OT: Offensive Tackles (Left Tackles and Right Tackles)
IOL: Interior Offensive Linemen (Left Guards, Centers and Right Guards)
DE: Defensive Ends (Left Ends and Right Ends)
OLB: Outside Linebackers (Left Outside Linebackers and Right Outside Linebackers)
S: Safeties (Free Safeties and Strong Safeties)
Attribute Reveal Improvements
One of the largest pieces of feedback we received with last year's scouting update was regarding the reveal of information for college prospects. It was entirely random and would often leave you guessing on the most important attributes that you would care about most for a certain prospect. Based on that feedback, we've made multiple improvements to those reveals to get you the information you want faster as well as leave you less in the dark about any prospects while still maintaining some mystery.
We've significantly increased the weight of reveals in favor of core attributes making it far more likely than Madden 22 for an attribute reveal to be a core attribute rather than a secondary attribute.
Additionally when you reach 50% scouted on a prospect, any remaining unknown attributes will convert from a question mark to a three-letter range. As you continue to gather more information on a player and reach 70% scouted, any remaining three-letter ranges will then convert into a two-letter range.
Draft Class Improvements
Draft classes have been completely overhauled in Madden NFL 23. We did a complete tuning pass on every legacy prospect template which all have been updated so that the prospects and classes align more with how their real-life counterparts typically come into the game. In addition to our legacy prospect templates, we've added over 30 new templates created from the ground up. Some of these templates include:
Generational Prospects
Generationals are just as they sound. These templates are based on once in a generation prospects that take the league by storm. These players will come into the league rated incredibly high by prospect standards and will also come with a guaranteed X-Factor DEV trait. With that being said, these players will have the lowest chance of generating out of all of our templates, so they will be hard to find but well worth the wait.
99 Club Prospects
No, these will not be 99 overall players. 99 Club Prospects are players that will bring an elite skill to the NFL. We wanted these players to be fun but also reasonably realistic. For that reason, you won't see any players coming into the league with a 99 rated pass accuracy or 99 awareness. You may however see a QB with 99 Throw Power, a receiver with 99 Spectacular Catch, or a safety with 99 Hit Power. However, that doesn't automatically mean these will be elite players, just that they excel at a particular skill.
High Variance Prospects
HIgh Variance prospects are true boom or bust prospects. These prospects have wider than typical ranges on their intangible attributes increasing the volatility of their OVR. This thought process also extends to their DEV trait where we've given these players essentially a 50/50 chance of being either Normal or Superstar with a very small chance at Star or Superstar X-Factor.
Specialist Prospects
Specialist Prospects are players that are a bit outside the box and break the mold of our typical archetype prospects and are either unique to their position or specialize in a certain area. These types of prospects include quarterbacks who excel at play action, edge and interior rushers that lack size as well as linebackers that excel as a run stopper or in pass coverage but offer very little in the alternative.
IMMERSION AND TUNING
Draft and Trade Logic
The addition of new features drew focus to Draft and Trade Logic in Madden 23. Big strides were made in creating more intelligent and authentic decisions across both systems. While the edges have been smoothed out, a foundation has also been set allowing for continued progress in these spaces. With the combination of this improved logic and the Player Tags feature, we focused on solving immersion breaking situations. For example, teams will now recognize when they have a Franchise QB, or QB of The Future, on their roster and will look to draft a position of need.
Awards Tuning
The logic for several awards has been tuned including Most Valuable Player, Offensive and Defensive Player of the Year, Offensive and Defensive Rookie of the Year, Best Quarterback, Best Offensive Lineman and Best Kicker. The goal with this tuning pass was to ensure that the most deserving players are winning each of these awards.
DEV Trait Progression and Regression
Along with adjusting the logic on several awards, we've also adjusted how awards play into a player's DEV trait progression. If a player has a Normal DEV trait and wins an award, he will now be guaranteed to increase in DEV trait. Additionally, players that win offensive or defensive Rookie of the Year or are first-time winners of the Best OL and Best K awards will also receive a guaranteed DEV trait increase now as well.
Immediate Offers in Trades
Trades within Madden have not favored casual NFL fans. Such a fun and dynamic interaction was held back by a manual trial and error approach. Without pre-existing knowledge of value and depth it was overly difficult to find the best deal out there. Now only one side of a Trade needs to be constructed. Once determining who you want to get or who you'd like to give away an option is presented that will automatically generate a list of options from CPU controlled teams for the player to choose from. Whether you're trying to find what it takes to grab your favorite player or how much value one of yours has, all possibilities are available at the click of a button.