Today, EA Sports released another edition of Gridiron Notes for Madden NFL 20. Today's entry covers the pre-order editions of Madden 20, which will be available on PS4, Xbox One and PC on August 2. Here is a complete breakdown of all three versions of Madden NFL 20.
MADDEN NFL 20 PRE-ORDER DETAILS
There are three versions of Madden NFL 20: Standard Edition, Superstar Edition and Ultimate Superstar Edition. Pre-ordering any of these editions guarantees one 82 overall gold player card for Madden Ultimate Team (MUT). Per EA, you can choose one player from the list below.
Bears: Eddie Jackson (FS)
Bengals: A.J. Green (WR)
Bills: Tre'Davious White (CB)
Broncos: Von Miller (LOLB)
Browns: Odell Beckham (WR)
Buccaneers: Mike Evans (WR)
Cardinals: Patrick Peterson (CB)
Chargers: Philip Rivers (QB)
Chiefs: Travis Kelce (TE)
Colts: Andrew Luck (QB)
Cowboys: Ezekiel Elliott (HB)
Dolphins: Kenny Stills (WR)
Eagles: Fletcher Cox (DT)
Falcons: Julio Jones (WR)
49ers: Richard Sherman (CB)
Giants: Saquon Barkley (HB)
Jaguars: Calais Campbell (LE)
Jets: Le'Veon Bell (HB)
Lions: Damon Harrison Sr (DT)
Packers: Aaron Rodgers (QB)
Panthers: Christian McCaffrey (HB)
Patriots: Tom Brady (QB)
Raiders: Antonio Brown (WR)
Rams: Aaron Donald (DT)
Ravens: Earl Thomas III (FS)
Redskins: Trent Williams (LT)
Saints: Alvin Kamara (HB)
Seahawks: Bobby Wagner (MLB)
Steelers: David DeCastro (RG)
Texans: DeAndre Hopkins (WR)
Titans: Kevin Byard (FS)
Vikings: Adam Thielen (WR)
By pre-ordering any edition, you're also given a choice of one unique Superstar ability for your created player in the brand new Face of the Franchise: QB1 mode. Per EA, the abilities you can choose from are below.
Gift-Wrapped: Kurt Warner was the quintessential field general, whose poise and accuracy changed offensive football forever. Passers with Gift-Wrapped have a better chance to complete passes to uncovered receivers.
Gunslinger: John Elway built his legend by making impossible throws with one of the strongest arms in NFL history. Passers with Gunslinger have faster passing animations and increased velocity on bullet passes.
QB Playmaker: Steve Young's combination of athleticism and accuracy allowed him to improvise his way out of any bad situation. Passers with QB Playmaker can elicit immediate and precise reactions from any receiver on the field.
Gutsy Scrambler: Randall Cunningham's elite speed, agility, and vision set a new standard for scrambling quarterbacks. Passers with Gutsy Scrambler won't be adversely affected by pass rush pressure while throwing on the run.
Each edition has a different cost. Ultimate Superstar Edition is $99.99, Superstar Edition is $79.99, and the Standard Edition is $59.99. Each edition comes with additional packs for MUT. Also, if you pre-order the Ultimate Superstar or Superstar Edition, you will be able to play the game three days early, starting on July 30th. Standard Edition access begins on August 2.
Below are full breakdowns for each individual edition of Madden NFL 20.
MADDEN NFL 20 ULTIMATE SUPERSTAR EDITION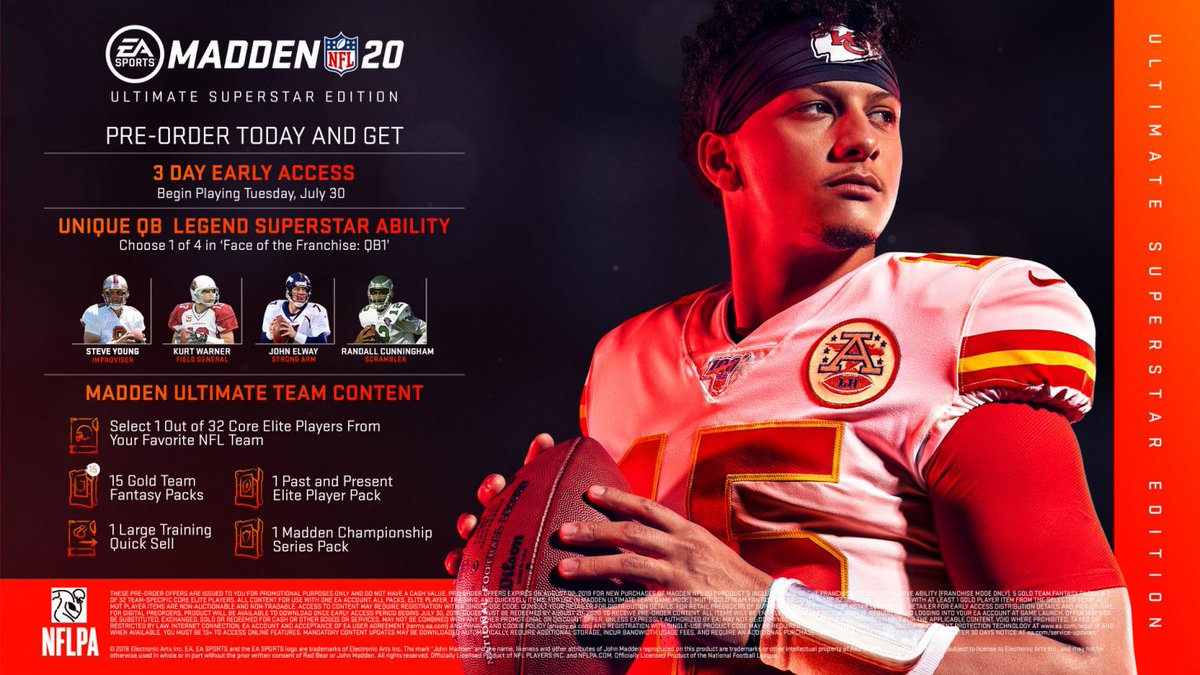 MADDEN NFL 20 SUPERSTAR EDITION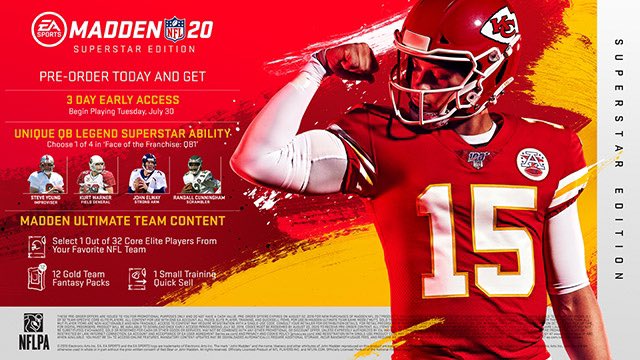 MADDEN NFL 20 STANDARD EDITION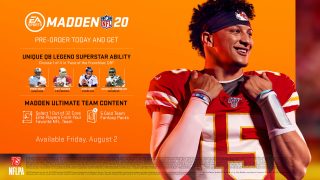 You can read more about the Madden NFL 20 pre-order notes here.
Are you planning to pre-order Madden NFL 20, or have you already? Which version do you think gives gamers the best value? Let us know in the comment section below, and don't forget to subscribe to SGO on YouTube.
---
Want to talk sports and/or games with the fastest growing community in gaming? Join the conversation by registering at the official Sports Gamers Online Forums, and check out our Twitter and Facebook pages as well as our growing YouTube Channel!