While everyone is focused on the main entry of the Madden NFL series this summer, EA Sports is also working on a major update to the popular Madden NFL Mobile series.
Launching on August 15, Madden NFL Overdrive will see major improvements that will undoubtedly make it feel like a brand new game. EA Sports states that the game has "been rebuilt from the ground up."
The game will feature a brand new game engine that brings with it new graphics, animations, and in-game presentation.
Full first details can be found below via EA Sports:
A New Way To Play
Madden NFL Overdrive transforms the way you play the game with the introduction of Player vs. Player (PvP). These are quick-hitting, fierce offensive battles with one simple goal – outscore your opponent.
You'll earn Fantasy-like scores, meaning you get points for everything you do on the field. From every rushing and passing yard to each touchdown, all of it adds to your score. There are no kickoffs, just short drives for big points. This fresh take real-time, PvP experience is the heart of Madden NFL Overdrive.
While there are a lot of exciting changes coming to Madden NFL Overdrive, you'll still find some of your favorite modes, like Live Events, the return of NFL 24/7, and our tried-and-true Leagues. These experiences will all be elevated by everything you do in PvP. You'll earn fans, increase your XP, and rank up for rewards that can be redeemed in each of those game modes.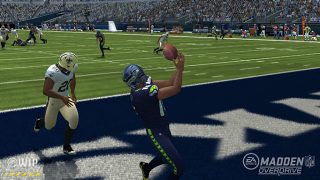 WHAT'S OVERDRIVE?
So why the name Overdrive? Well, there will be a new Overdrive meter that will fill up as you play a match. As your meter fills you'll unlock Tactics, which can provide boosts for your offense or defensive challenges to your opponent.
Several things factor into how quickly your Overdrive meter fills. There are four classes in the game that determine some of the stats and playstyles of players like vertical, spread, etc. Having a lineup of players with the same class boosts your team chemistry and can also impact your Overdrive. Your Captain, the leader of your team as well as your Coach, also factors into how quickly your Overdrive meter fills during a Vs match.
Each Captain has a specific scoring bonus. For example, you might have a QB Captain who gives a bonus if he throws for 200 yards in a match. Coaches determine your playbook and the Overdrive Tactics available to you.
What Else Is New
Here are some other new features you'll be hearing about in the coming days and weeks:
The all-new Live Events that will help improve your team
New kicking meter for improved accuracy
More details on Captains, including who is available on August 15
And more!