EA Sports' Madden NFL Club Championship has crowned a new champion. Michael "Volterax" Bryant, representing the Arizona Cardinals, ran the table to capture his first Madden Championship Series (MCS) belt and $100,000. Volterax dominated throughout the tournament, taking down some of the best players in the competitive Madden community along the way. Each of the 32 individual club champions were playing Madden NFL 20 for a share of over $700,000 in prize money. Here's a complete breakdown of the tournament, which was held in Redwood City, California.
VOLTERAX'S PATH TO VICTORY
Four of Volt's five wins were by at least 10 points, the outlier being his Round of 16 match against zTreKingz. Volterax controlled each game with a dominant ground attack and a stacked defensive roster. Here's a look at Volt's tournament.
Round of 32: Defeated DCroft (Seahawks), 24-14
Round of 16: Defeated zTreKingz (49ers), 10-3
Quarterfinal: Defeated NickHacko (Saints), 17-0
Semifinal: Defeated Schemin (Packers), 17-7
Final: Defeated Drini (Jaguars), 35-13
Just before halftime in the title match against Drini, Volterax pulled off one of the most incredible touchdown runs in MCS history. You can watch it below.
We just witnessed one of the greatest runs in MCS history. WOW. 😳

Halftime 🚨@VoLTeRaX 21@drini 10#MaddenClubChampionship pic.twitter.com/nqxF9uFwmq

— Madden Championship Series (@MaddenLeagueOps) December 21, 2019
MADDEN 20 CLUB CHAMPIONSHIP RESULTS
Below is the final bracket for the Club Championship, including all results.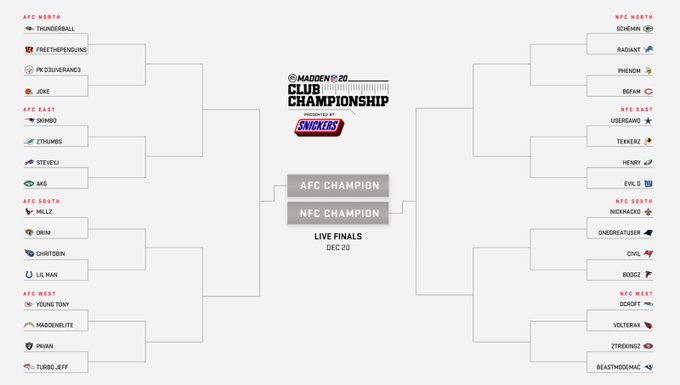 You can see EA's bracket, including all scores, by clicking here. Below are the payouts for the top eight finishers in the tournament.
Volterax (Cardinals) – $100,000
Drini (Jaguars) – $75,000
Schemin (Packers), Joke (Browns) – $40,000
Skimbo (Patriots), Pavan (Raiders), Tekkers (Redskins), NickHacko (Saints) – $20,000
OTHER NOTABLE TOURNAMENT HEADLINES
Overpowered Run Game – Tournament champion Volterax did not attempt a single pass in any of his five games. Many of the 32 competitors featured a run-heavy offense. The constant running is a way to exploit the game's clear AI logic flaws when defending the run.
Favorite Henry Falls in Round of 16 – Representing the Eagles, Henry was expected to make a deep run in what most considered a weak NFC half of the bracket. After finishing in second place at the Madden Classic, Henry simply didn't play his best Madden, squeaking past Evil O (Giants) in the Round of 32 before falling to Tekkers in the Round of 16.
Tekkers and Schemin Impress – Tekkers (Redskins) and Schemin (Packers) both solidified their reputation as one of competitive Madden's best with terrific runs in the Club Championship. Tekkers knocked off Henry (Eagles), a heavy favorite to win the NFC.
Serious Moe Shines in the Booth – Eliminated in the Chiefs Club Championship well before this weekend's tournament kicked off, Serious Moe was seemingly forgotten heading into the Club Championship. However, EA Sports brought Moe to the broadcast desk as a color commentator for much of the tournament. He impressed viewers with in-depth and predictive analysis not typically seen during MCS broadcasts.
You can read more about the Madden 20 Club Championship here.
What did you think of the Madden 20 Club Championship? Do you expect Volterax to win the upcoming Madden Challenge? What was the best card you pulled from Twitch drops? Be sure to let us know in the comment section below, and don't forget to subscribe to SGO.
---
Want to talk sports and/or games with the fastest growing community in gaming? Join the conversation by registering at the official Sports Gamers Online Forums, and check out our Twitter and Facebook pages as well as our growing YouTube Channel!