NHL 19 is set to drop on September 14 for Xbox One and PS4. As the anticipation continues to build following a successful beta, EA Sports is releasing the top 50 rated players in the upcoming installment of the NHL series.
Yesterday, we covered numbers 40-31. Now, let's take a look at numbers 30 through 21.
NHL 19 Top 50 Players Countdown
30. Mark Scheifele, C, Winnipeg Jets – 89 OVR
Mark Scheifele is unfortunately overlooked by many hockey fans because he plays in a small Canadian market. Scheifele's skills are serious and at 6'3″ with 90 speed, he's bound to wreak havoc in NHL 19.
29. Phil Kessel, RW, Pittsburgh Penguins – 89 OVR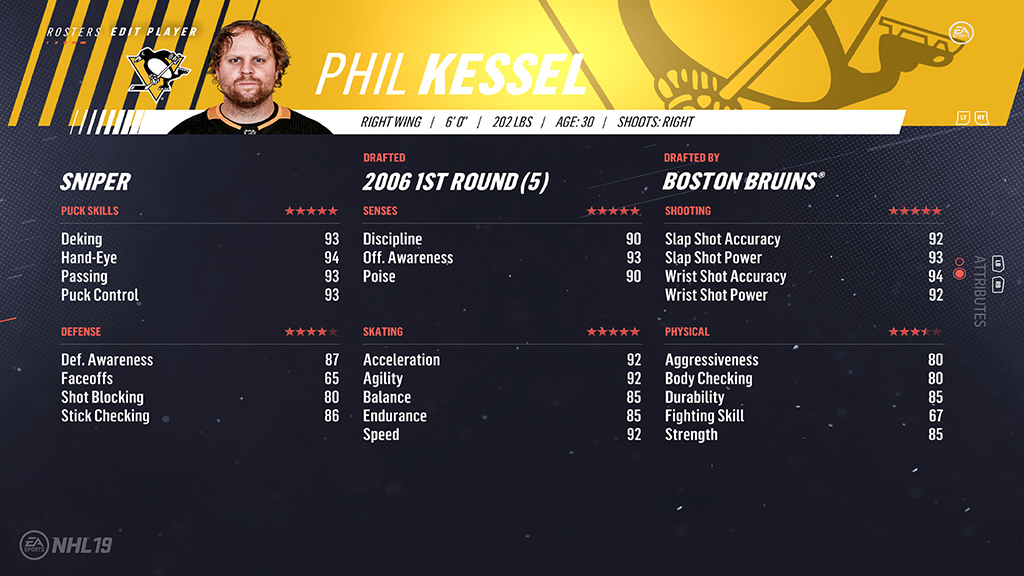 Phil Kessel is a one-dimensional player; that one dimension is scoring. Kessel boasts one of the best shots in real life and in the game with all four shooting ratings 92 or higher. Pair that with elite speed, acceleration and agility (all rated 92), Kessel is the best wing in NHL 19 not named Alex Ovechkin.
28. Blake Wheeler, RW, Winnipeg Jets – 89 OVR

Blake Wheeler checks in at 89 overall after posting career highs in assists (68) and points (91) last season. Wheeler is a mountain standing 6'5″, 225lbs. He also happens to have a great shot and solid playmaking ability.
27. Brent Burns, D, San Jose Sharks – 89 OVR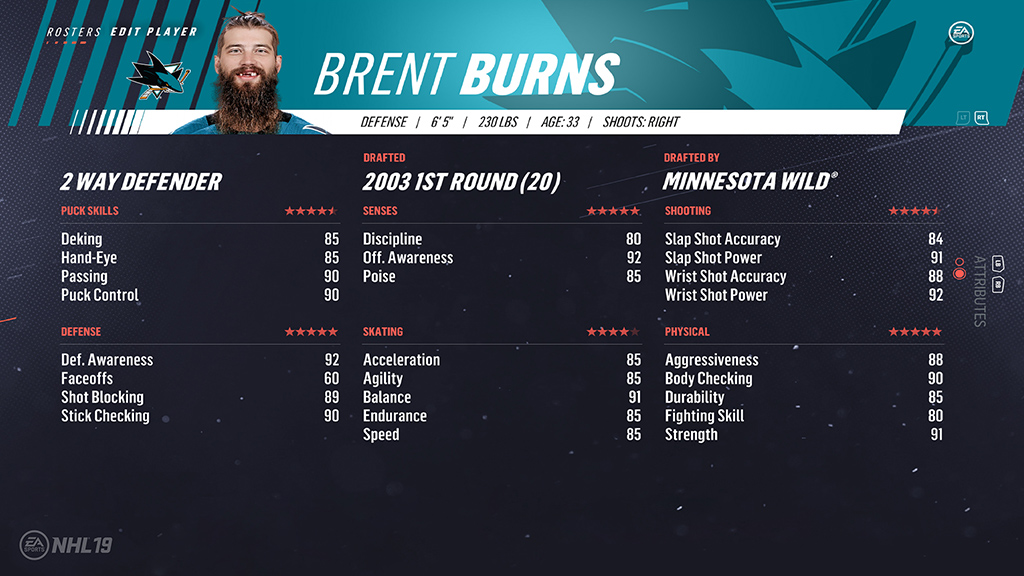 Brent Burns has the best beard in hockey and also does a great job actually playing too. Burns was initially drafted as a forward giving him great ratings across the board. He's a bit slow (85 speed), but with a lengthy 6'5″ frame, should be able to make up for it.
26. Auston Matthews, C, Toronto Maple Leafs – 89 OVR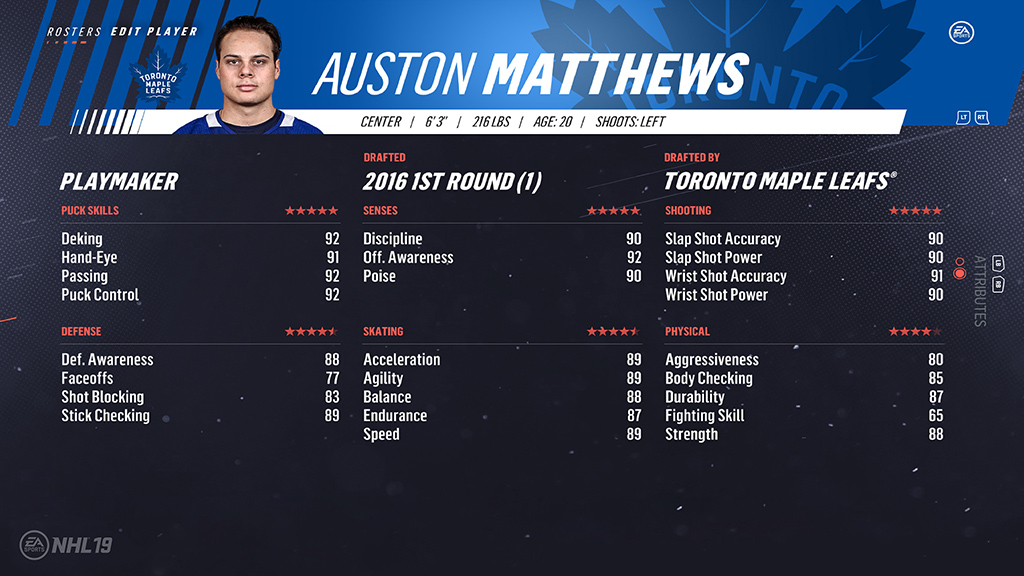 Auston Matthews is only 20 years old, but is already one of the league's best centers. Matthews has been a force for Toronto since his very first game and his ratings in NHL 19 reflect just that.
25. Patrik Laine, RW, Winnipeg Jets – 89 OVR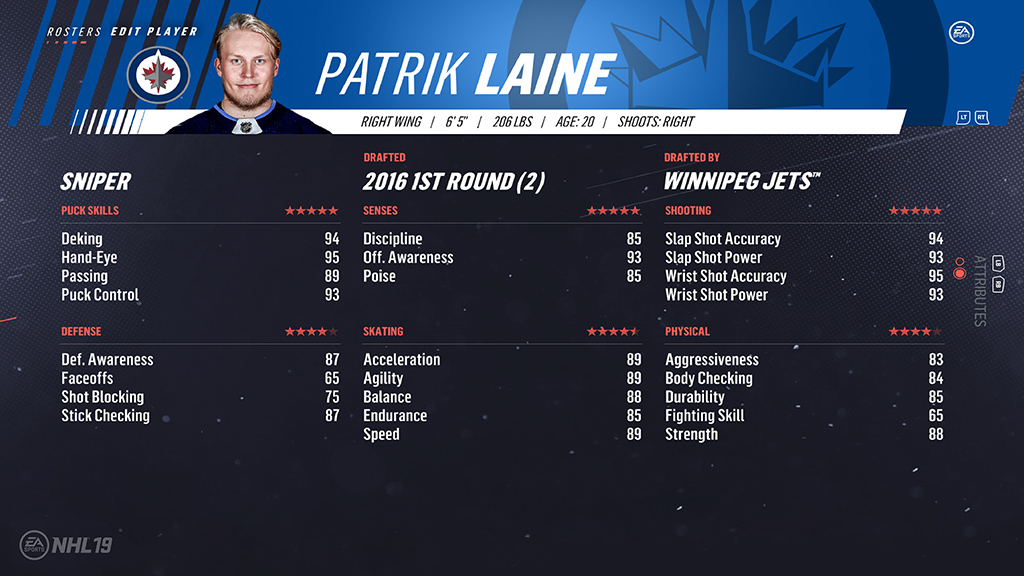 Patrik Laine finished second in the NHL in goals last season and was rewarded with a lofty 89 overall rating in NHL 19. Simply put, Laine has the best shot in the game with all four shooting attributes rated 93 or higher.
24. Claude Giroux, C, Philadelphia Flyers – 89 OVR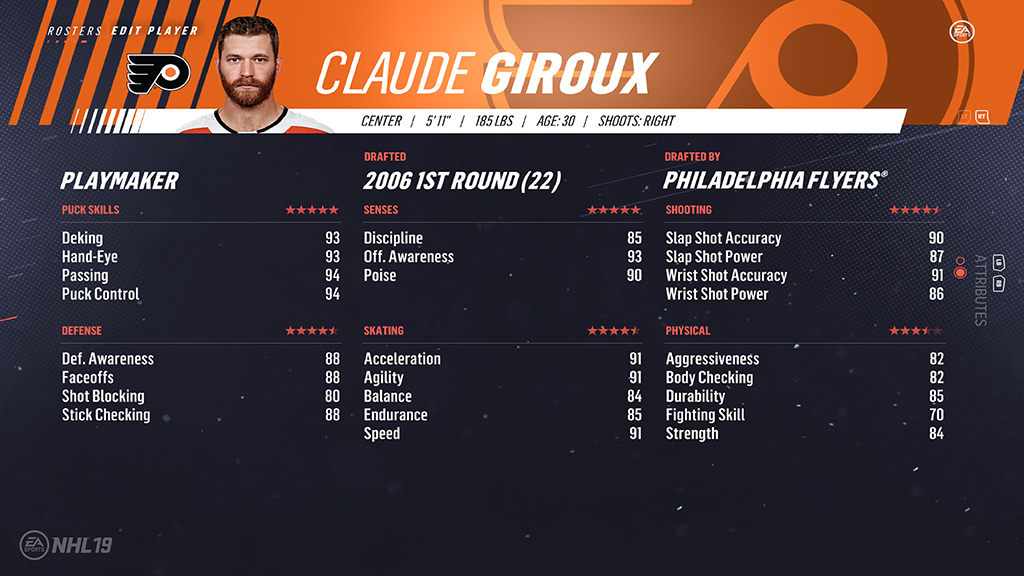 Claude Giroux continues to impress, amassing 102 points in the 2017-18 campaign. Giroux may not have a great shot, but he's one of the league's best passers. With 94 passing and 88 faceoffs, he's a good fit on any HUT team.
23. Tuukka Rask, G, Boston Bruins – 90 OVR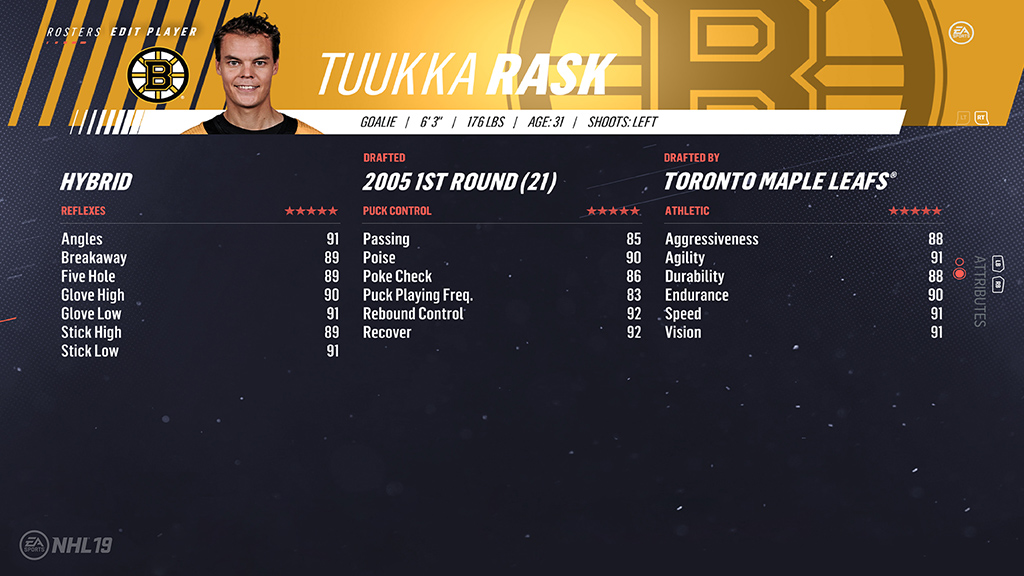 Tuukka Rask has been a standout goaltender for the better part of a decade now and a 90 overall rating in NHL 19 is very appropriate. Rask seemingly has no weaknesses on his player card and his 6'3″ frame should make him a popular player in Hockey Ultimate Team.
22. Tyler Seguin, C, Dallas Stars – 90 OVR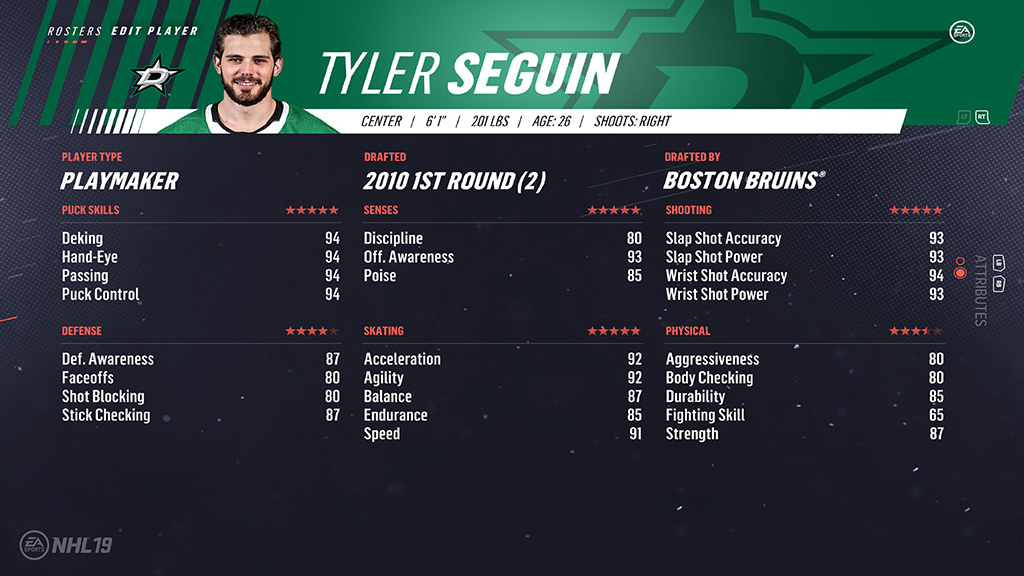 Tyler Seguin is a dominant offensive force and boasts absolutely filthy scoring ratings in NHL 19. Seguin's career-high 40 goals last year set him up with a 90 overall rating.
21. Jamie Benn, LW, Dallas Stars – 90 OVR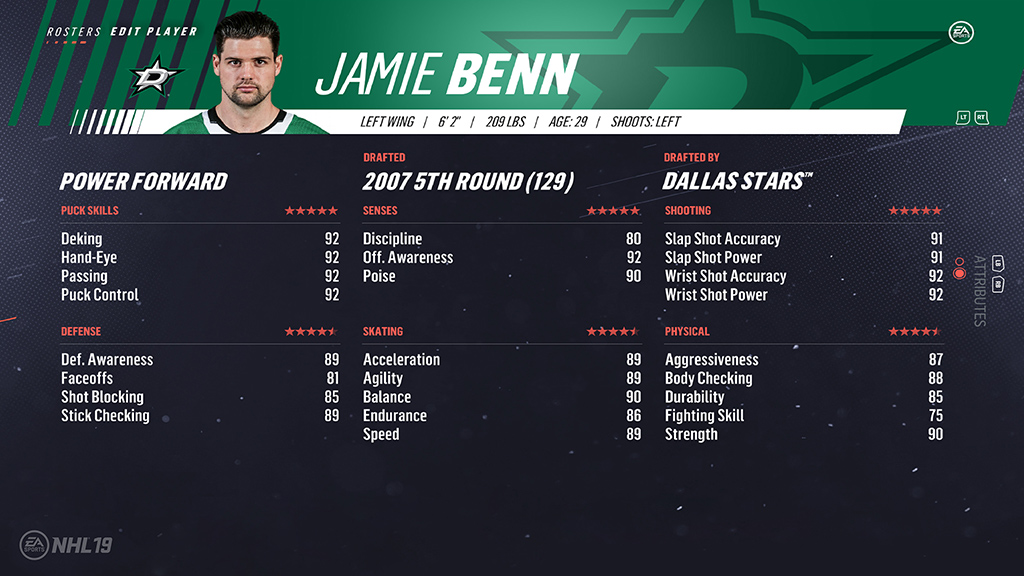 The Dallas Stars' leaders find themselves next to each other on the countdown. Jamie Benn is a sniper in a defenseman's body (6'2″, 209lbs, 90 strength). His elite shot and puck handling makes him a legitimate 90 overall in NHL 19.
Are you excited for NHL 19? Did EA get these ratings right? Let us know in the comment section below and don't forget to subscribe to Sports Gamers Online.
---
Want to talk sports and/or games with the fastest growing community in gaming? Join the conversation by registering at the official Sports Gamers Online Forums, and check out our Twitter and Facebook pages as well as our growing YouTube Channel!