NHL 19 is set to drop on September 14 for Xbox One and PS4. As the anticipation continues to build following a successful beta, EA Sports is releasing the top 50 rated players in the upcoming installment of the NHL series. Yesterday, we covered numbers 20-11. Now, let's take a look at the top ten.
NHL 19 Top 50 Players Countdown
10. Steven Stamkos, C, Tampa Bay Lightning – 91 OVR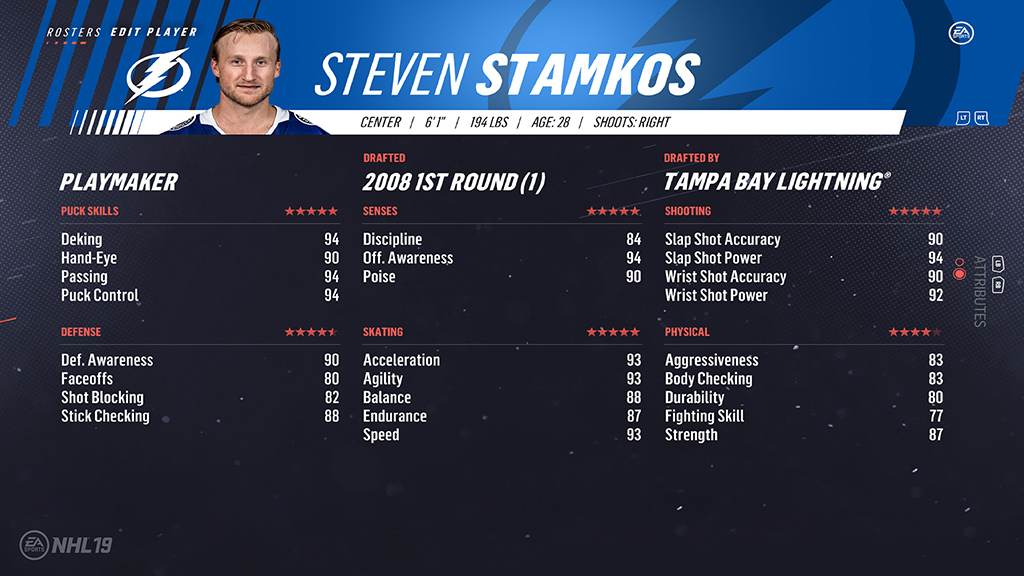 Steven Stamkos is one of the most complete players in the league and deserves to be a bit higher on the countdown. Stammer checks in at number ten with a 91 overall and does just about everything possible on the ice for Tampa Bay.
9. Evgeni Malkin, C, Pittsburgh Penguins – 91 OVR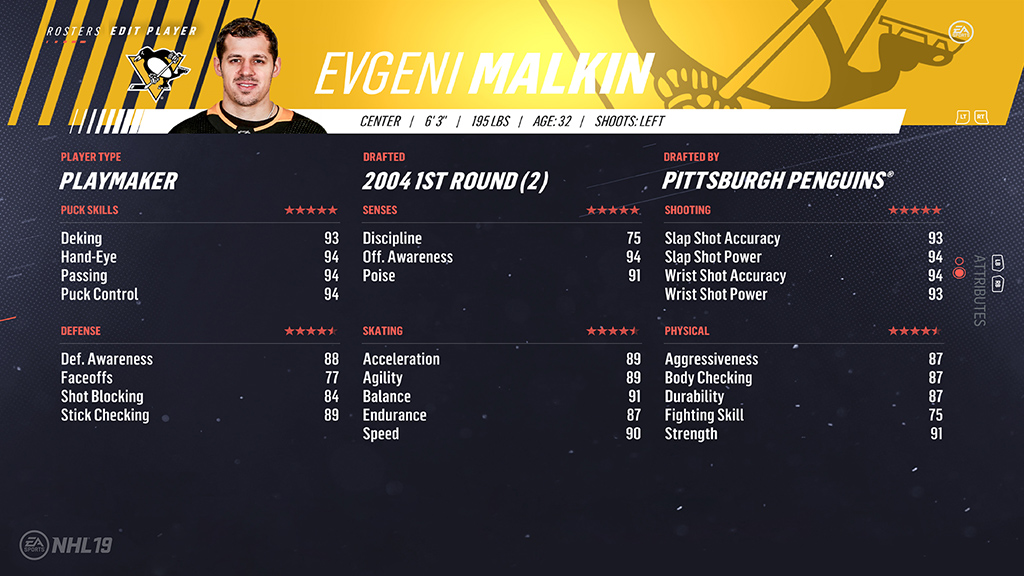 Evgeni Malkin is a big six foot three and talented enough to play anywhere on the ice for the Penguins. He's lined up on the wing next to Sidney Crosby and has quarterbacked the Pittsburgh powerplay, but is maybe the best second-line center of all-time. Geno carries lofty shooting ratings and devastating speed with skating expertise.
8. Patrick Kane, RW, Chicago Blackhawks – 91 OVR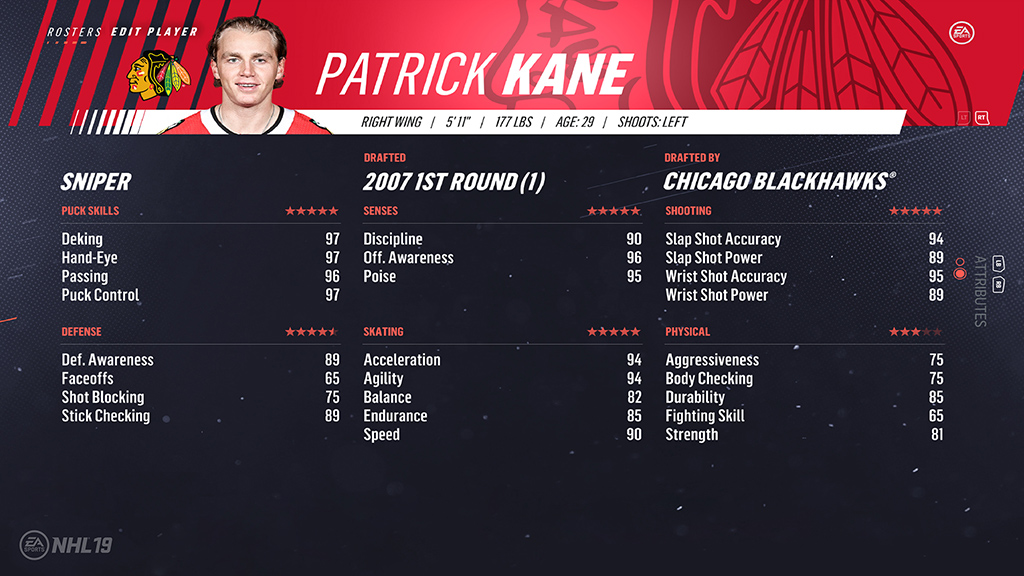 There's no one better in a 1-on-1 situation than Patrick Kane of the Chicago Blackhawks. Patty lands at number eight on the list and it's extremely appropriate. Kane has won three titles since 2010 and is the best puck handler in the sport.
7. Victor Hedman, D, Tampa Bay Lightning – 91 OVR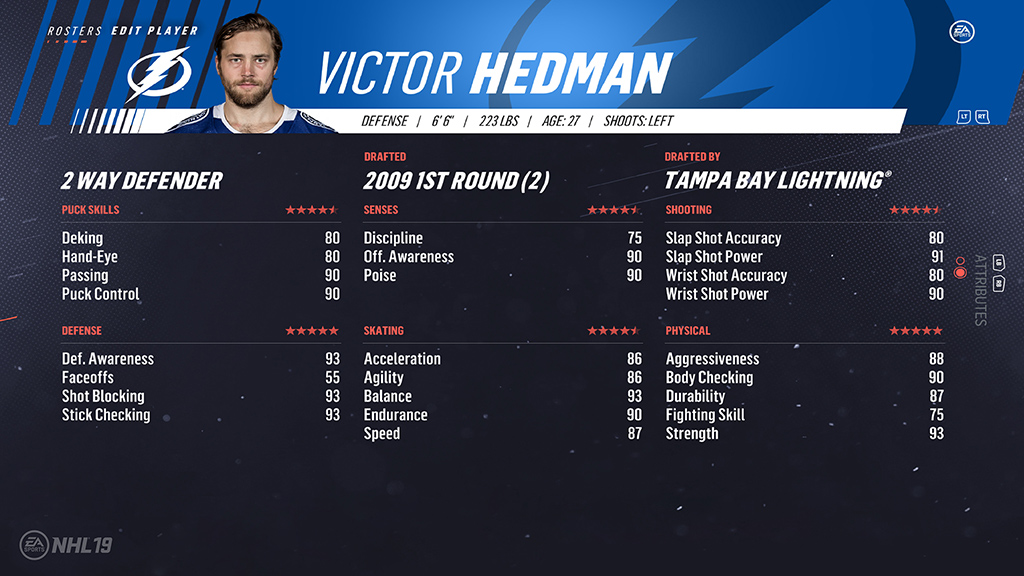 "Awarded last year's Norris Trophy as the league's top defenseman, Victor Hedman enters NHL 19 with a 91 overall rating," EA said in their countdown reveal. Hedman is still only 27. He is the defensive anchor for Tampa, a strong contender for the Stanley Cup.
6. Nikita Kucherov, RW, Tampa Bay Lightning – 91 OVR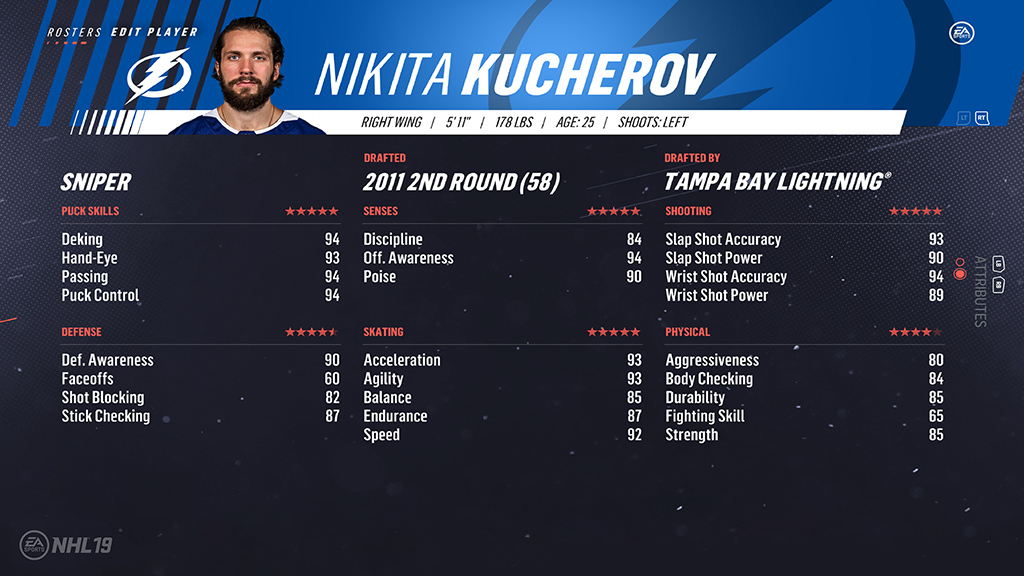 Nikita Kucherov is a dominant winger. After tallying 100 points last sesason, Kucherov is the 6th-best player in NHL 19. "A 93 slapshot accuracy and 94 wrist shot accuracy highlight Kucherov's ability to fire off precise shots while passing," said EA.
5. Carey Price, G, Montreal Canadiens – 92 OVR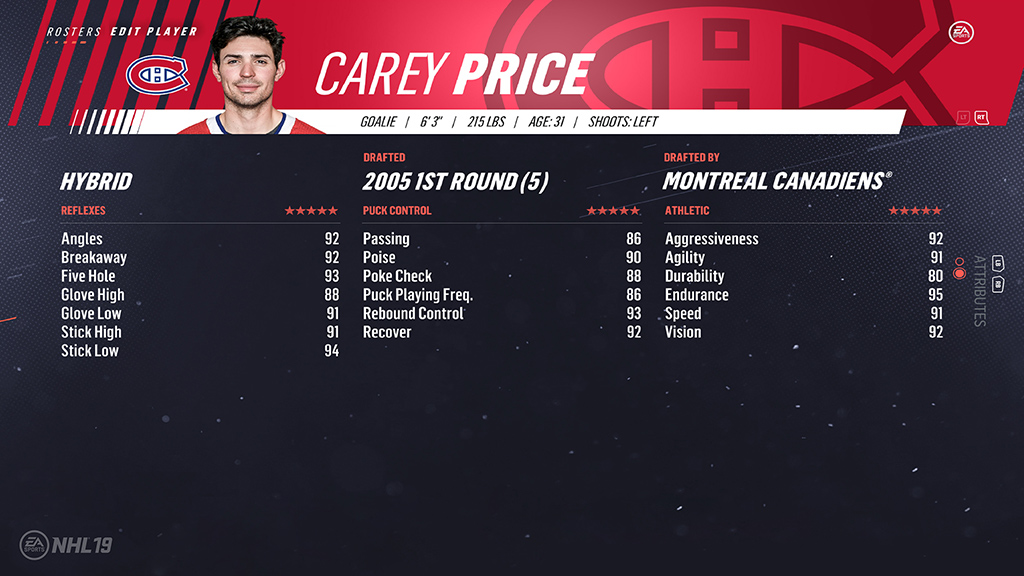 At 92-overall, Carey Price is the best goalie in NHL 19. This is shocking, as Price posted his worst professional season in 2017-18 with a goals against average of 3.11. Price is vulnerable high, but has no other weaknesses in the game.
4. Drew Doughty, D, Los Angeles Kings – 92 OVR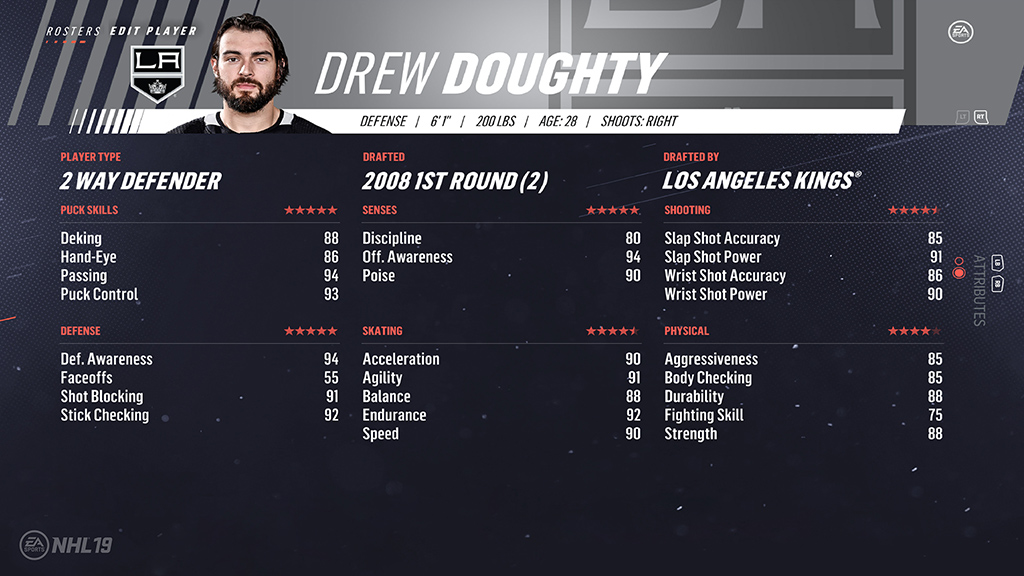 Drew Doughty coming in at #4 on the countdown is another surprising turn of events. Doughty is undoubtedly one of the best defensemen in the game, but to be rated higher than Kucherov, Stamkos and Kane just doesn't compute.
3. Alex Ovechkin, LW, Washington Capitals – 92 OVR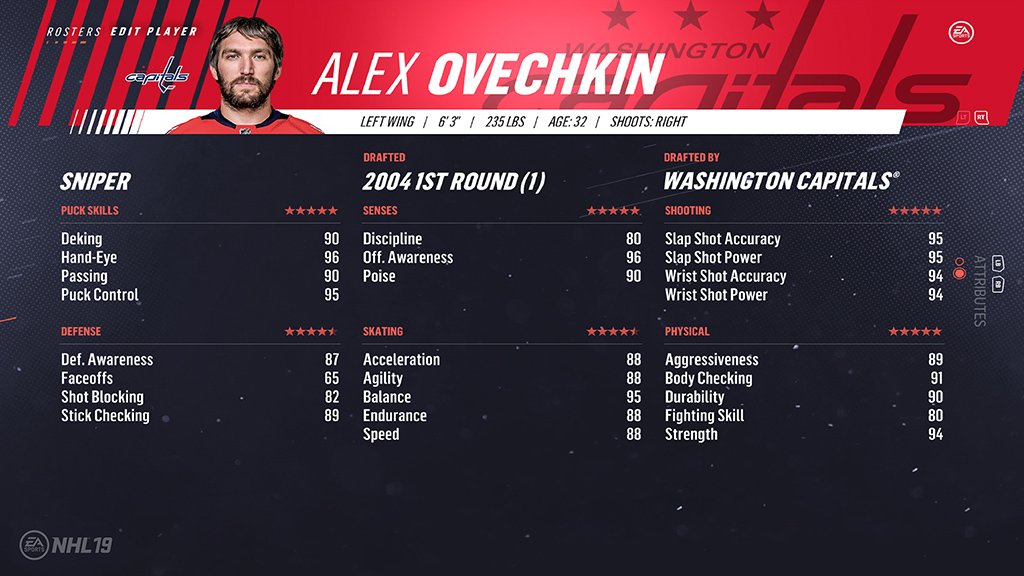 Alex Ovechkin is the best sniper in NHL 19, and has been for some time. With 95 slap shot power and accuracy, his wicked slapper is given the ultimate justice. At 92 overall, Ovi comes in at #3 on this list.
2. Sidney Crosby, C, Pittsburgh Penguins – 93 OVR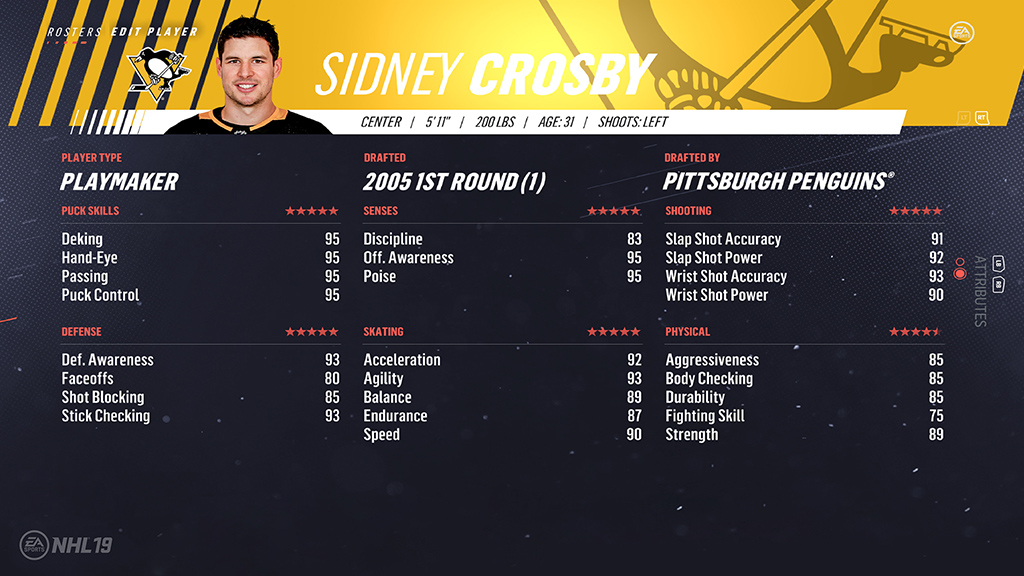 It's Sidney Crosby. What else needs to be said?
1. Connor McDavid, C, Edmonton Oilers – 94 OVR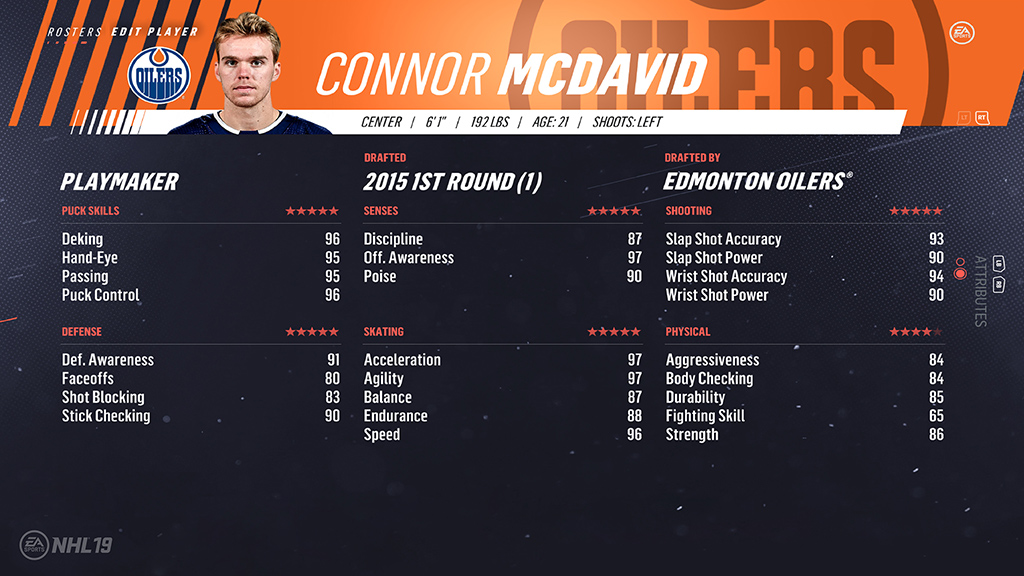 For the first time in what seems like an eternity, a player not named Sidney Crosby falls at #1 on the countdown. Connor McDavid is a generational superstar. With 96 speed, 97 acceleration and 97 agility, you get a speed demon, sniper and dangler all in one. McDavid is the best offensive player in the world today.
Check out the entire top 50 countdown
here
.
Are you excited for NHL 19? Did EA get these ratings right? Let us know in the comment section below and don't forget to subscribe to Sports Gamers Online.
---
Want to talk sports and/or games with the fastest growing community in gaming? Join the conversation by registering at the official Sports Gamers Online Forums, and check out our Twitter and Facebook pages as well as our growing YouTube Channel!