Today, EA Sports released an October title update (Patch 1.30) for NHL 20, introducing a brand new Hockey Ultimate Team (HUT) game mode, HUT Rivals. NHL 20 is available now for PS4 and Xbox One. Here's everything you need to know about the new mode.
NHL 20 ALL-NEW HUT RIVALS
HUT Rivals is a brand new mode that gives HUT players another option to compete online. In this mode, you player similarly-ranked players in order to level up, earn rewards and qualify for HUT Champions. Per the patch notes, these are the three types of progress made by playing a HUT Rivals game:
Skill Rating: this rating determines the division you compete in, ensuring you are competing against players of a similar skill level. After each game your skill rating will increase or decrease, based on your performance.
Rivals Points: these points will determine the weekly rewards that you get – for example, accumulate points in the top 15% of your division to earn the top rewards. You earn Rivals Points after every game. Your Rivals Points refresh at the start of every week.
HUT Champions Points: these points accumulate over time, progressing you towards HUT Champions qualification. After you reach 2,000 HUT Champions points, you can redeem them for access to a weekend league of your choosing.

First, you must play five placement games to determine which Division you will start in. Your division will determine the best possible rewards you can earn each week. The system is very similar to FIFA's FUT Rivals, which promotes and relegates players between divisions based on performance and opponent skill.
HUT Rivals is a weekly competition. According to EA, "When you play your first HUT Rivals game each week, you'll be placed in a Weekly Competition based on your current Division. Each Division has its own its own leaderboard which contains all players in the Division." If you are promoted or relegated, the change will not affect your HUT Rivals status until the following week. Here's how each player will be ranked within each division:
Diamond: Top 15% of Users in Division
Platinum: Top 40% of Users in Division
Gold: Top 75% of Users in Division
Silver: Top 90% of Users in Division
Bronze: Bottom 10% of Users in Division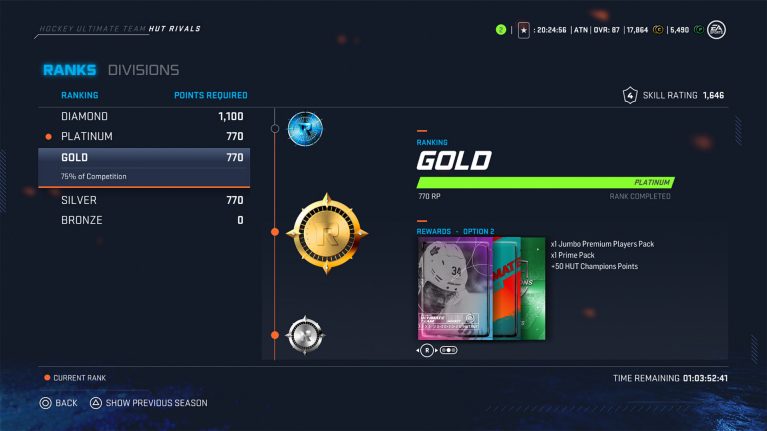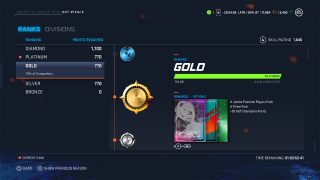 A new HUT Rivals week begins on Tuesdays at 2pm PT, meaning the previous week ends at that time as well. Rewards for the previous week's competition will be available to claim by Thursday at 2pm PT. If you finish in the Diamond, Platinum or Gold ranks for your division, you will get the following reward options to choose from.
Tradeable Packs – Pack Rewards that are tradeable
Untradeable Packs – Double the Pack Rewards as above but untradeable
Coins – Half of the value from Option #1, but all coins to spend how you choose
Each Rivals week you'll be able to play up to 50 games per week earning Rivals Points. Each game played in HUT Rivals will also earn HUT Champions Points. Once you reach 2,000 HUT Champions Points, you'll be able to redeem them for to enter HUT Champions. This can be redeemed at any time, meaning you don't have to use it for the current week.
You can read more about HUT Rivals and today's NHL 20 title update here.
Are you excited for NHL 20 HUT Rivals? Will you be playing this mode as soon as the competition starts? Do you like the setup and rewards format? Let us know in the comment section below, and don't forget to subscribe to Sports Gamers Online.