NHL 20 is set to drop on September 13 for Xbox One and PS4. As the anticipation continues to build following the NHL 20 open beta, EA Sports is releasing the top 50 rated players in the upcoming installment of the NHL series. Let's take a look at numbers 50 through 41.
NHL 20 TOP 50 PLAYERS COUNTDOWN
50. Dylan Larkin, C, Detroit Red Wings – 88 OVR

Dylan Larkin is the franchise cornerstone for what's been an ugly rebuilding period for Hockeytown. His well-rounded skillset is a sign that Detroit's darkest days could be behind them.
49. Frederick Andersen, G, Toronto Maple Leafs – 88 OVR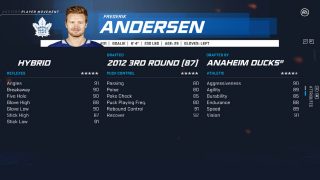 Frederick Andersen came in at #49 on this countdown last year as well. After another solid season, the Leafs' netminder enters NHL 20 as an 88 overall.
48. PK Subban, D, New Jersey Devils – 88 OVR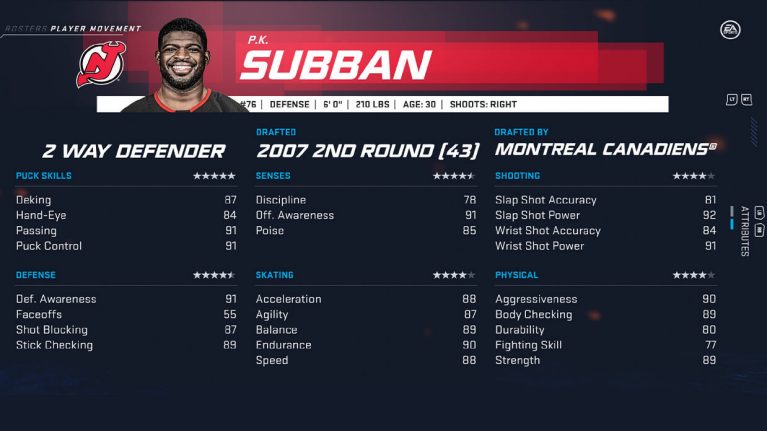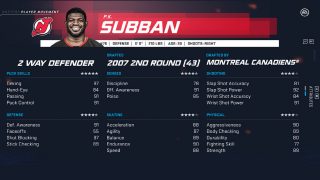 P.K. Subban's trade to New Jersey was one of the offseason's biggest storylines. With elite speed, athleticism and shooting for a defenseman, Subban is still one of the game's best.
47. Sebastian Aho, C, Carolina Hurricanes – 88 OVR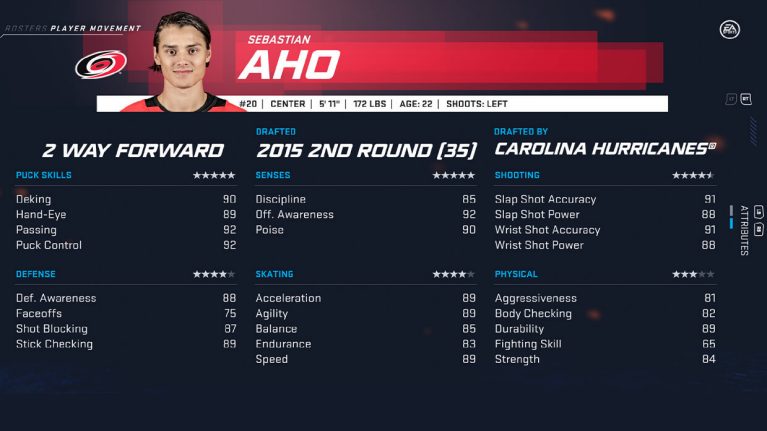 Sebastian Aho is a dynamic scoring center, and one of the biggest reasons for Carolina's sudden rise to the top of the Eastern Conference in 2018-19. He checks in at 88 overall.
46. Jordan Huberdeau, LW, Florida Panthers – 88 OVR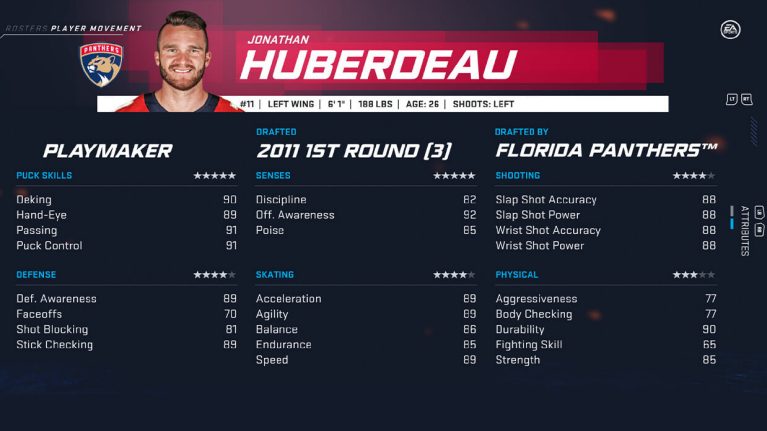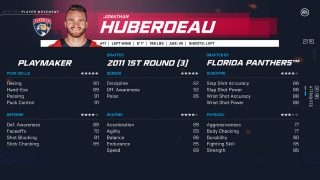 Jonathan Huberdeau can do a little bit of everything, and at age 26, he should be a Florida Panther for a long time. Huberdeau remains one of the better left wingers in NHL 20.
45. Morgan Reilly, D, Toronto Maple Leafs – 88 OVR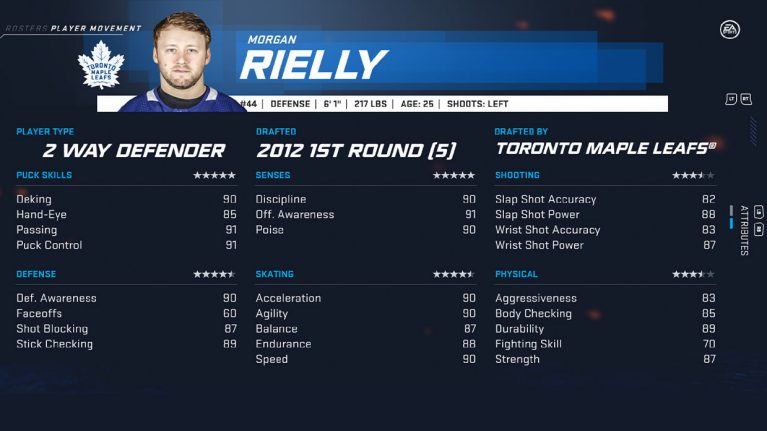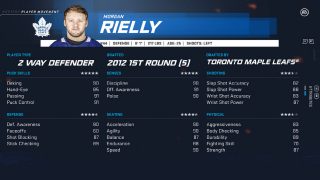 Morgan Reilly (90 speed) is one of the fastest defensemen in the NHL. His dynamic skillset is just one of many reasons the Maple Leafs have such a lethal roster in NHL 20.
44. Jack Eichel, C, Buffalo Sabres – 88 OVR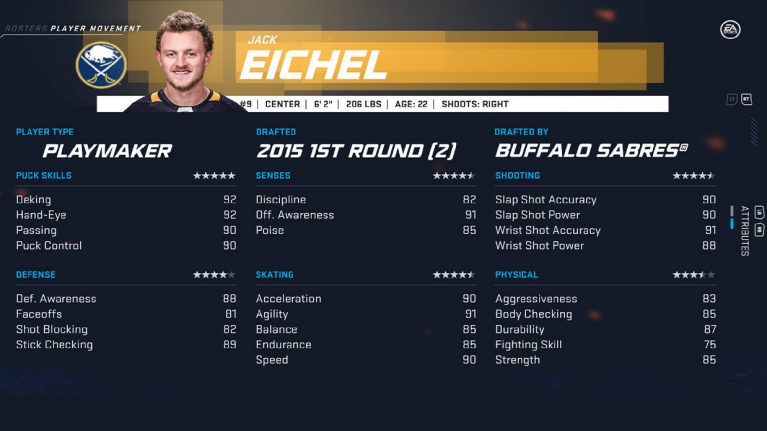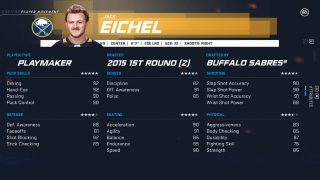 Jack Eichel is one of the league's best young centers, but is unfairly punished by being in a small market. With the #44 ranking and an 88 overall rating, more people should take notice of Eichel.
43. Phil Kessel, RW, Arizona Coyotes – 88 OVR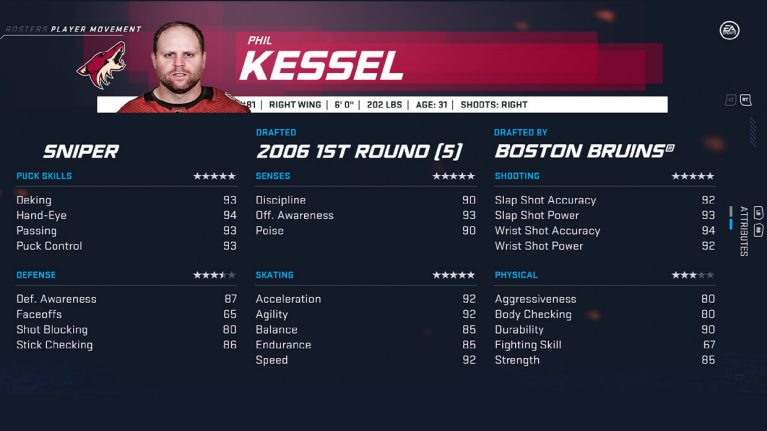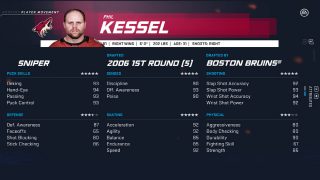 Phil Kessel, now 31, saw his time in Pittsburgh come to an abrupt end. Still, he is one of the game's best snipers (94 wrist shot accuracy, 92 slap shot accuracy).
42. Jonathan Toews, C, Chicago Blackhawks – 88 OVR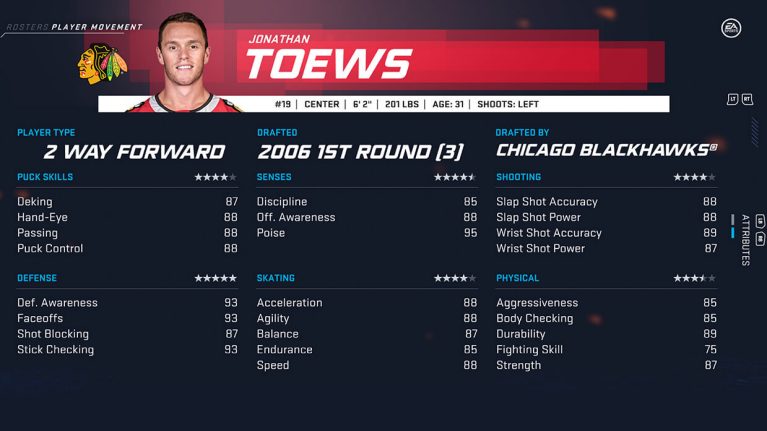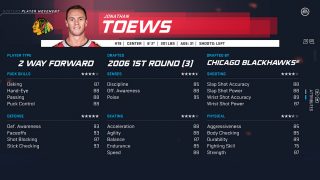 Jonathan Toews may be in the second half of his career, but he is still incredibly balanced at the center position. With a 93 faceoff rating, he's sure to win draws in NHL 20.
41. Brayden Point, C, Tampa Bay Lightning – 89 OVR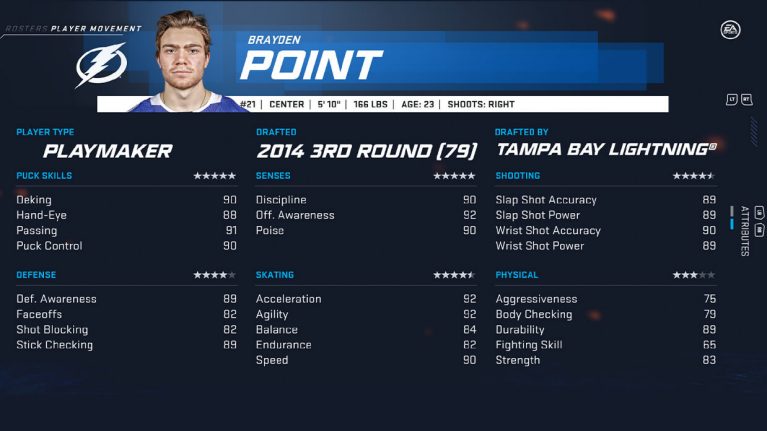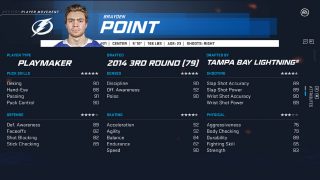 Brayden Point already had his breakout season in 2017-18, but officially arrived as a dominant offensive force last season (92 points). At 88 overall, there are no weaknesses in Point's game.
Are you excited for the NHL 20? Did EA get these ratings right? Which teams do you think will be the most heavily used in online play? Let us know in the comment section below, and don't forget to subscribe to Sports Gamers Online.
---
Want to talk sports and/or games with the fastest growing community in gaming? Join the conversation by registering at the official Sports Gamers Online Forums, and check out our Twitter and Facebook pages as well as our growing YouTube Channel!