San Diego Studio (SDS) just released yet another sizable content update for MLB The Show 19 Diamond Dynasty. This update includes nearly a dozen new cards (including signature series Albert Pujols and Mike Trout), the new 10th Inning program, new collection rewards, a new conquest map, new moments and more. Here's a complete breakdown of all the new content.
10TH INNING PROGRAM
The 10th Inning Program is now open. Earn 300 points in the program to select one of the following Signature Series players from a choice pack: 99 Mike Schmidt, 99 Albert Pujols or 99 Mike Trout. Below is a look at all three players' attributes and card art.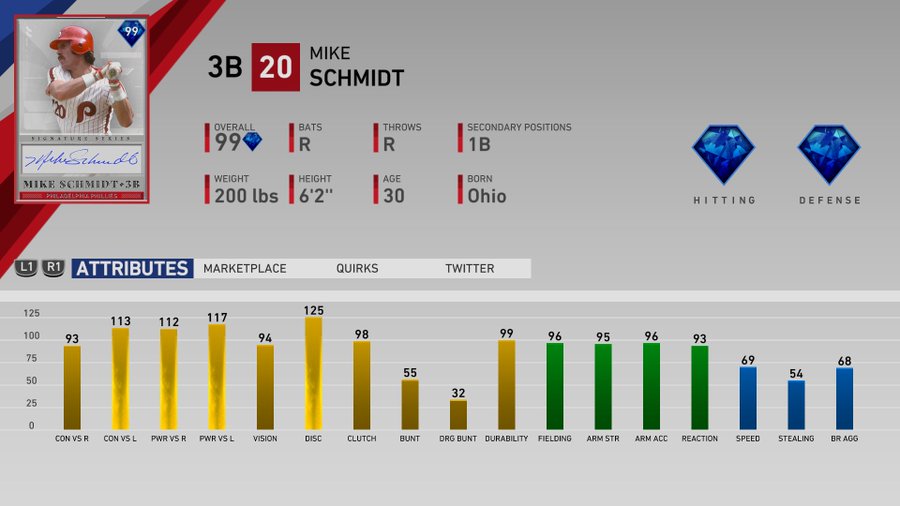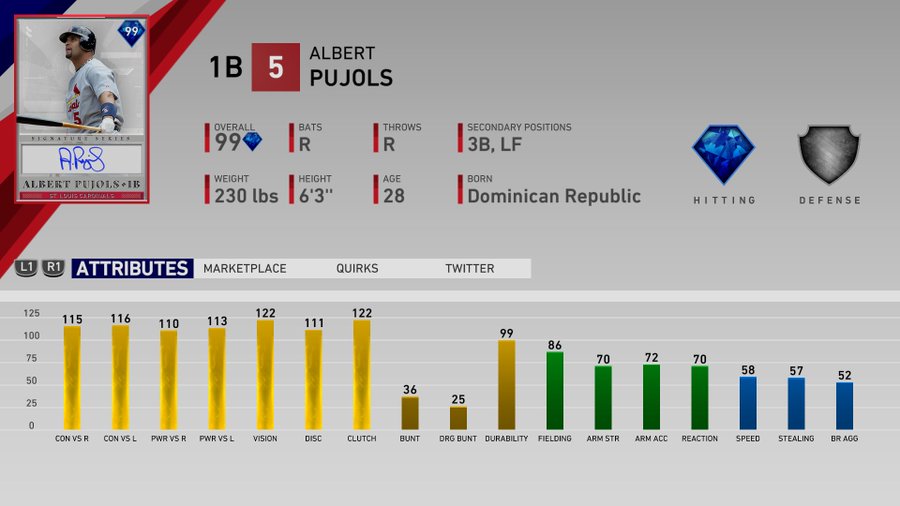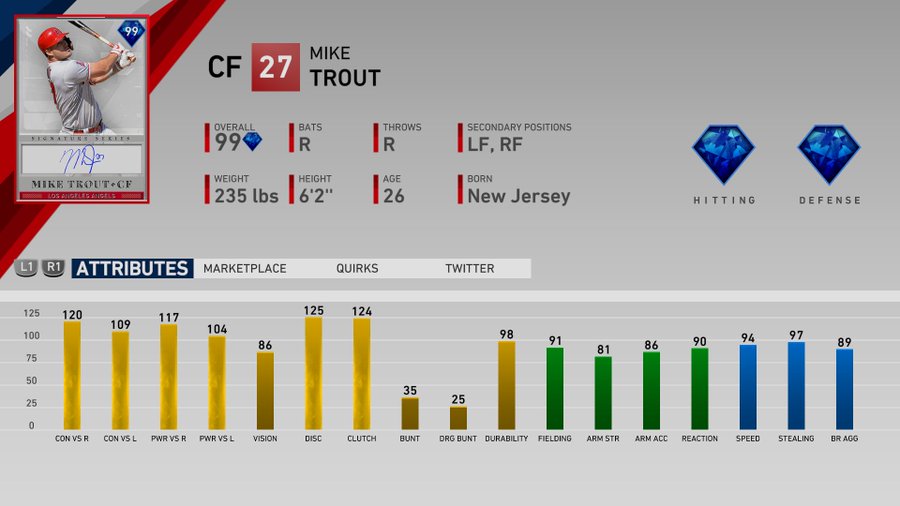 After a long eight months, SDS has finally released Signature Series cards for Schmidt, Pujols, Trout and Jimmie Foxx, who was added as a 12-0 Battle Royale reward last week. Only a few big names haven't received a Signature Series card to this point, including Cy Young and Joe Torre.
Overall, Diamond Dynasty is welcoming nine new cards, and all of them are Signature Series. Each of these cards are obtainable by either completing 10th Inning Program milestones, completing new moments, opening packs or buying them from the marketplace. Here's a list of new cards that haven't been mentioned so far.
Barry Larkin, Diamond 99 overall, Signature Series, Reds SS
Christy Mathewson, Diamond 99 overall, Signature Series, Giants SP
Dale Murphy, Diamond 99 overall, Signature Series, Braves CF
Freddie Freeman, Diamond 99 overall, Signature Series, Braves 1B
Shawn Green, Diamond 99 overall, Signature Series, Dodgers OF
A.J. Burnett, Diamond 99 overall, Signature Series, Marlins SP
HEADLINERS PACK BUNDLE
The new Headliners pack bundle is available now in the pack store. Each bundle costs 7,500 stubs and contains three random Headliners packs from sets 1-25. Each pack guarantees at least a silver player with a chance to receive diamonds from the list below.
Set 1: Joe Torre, Mark Prior
Set 2: Eloy Jimenez, Fernando Tatis Jr.
Set 3: Eddie Murray, Andre Dawson
Set 4: Jake Arrieta, Bill Mazeroski
Set 5: Vladimir Guerrero Jr., Adam Dunn
Set 6: Adam Jones, Bert Blyleven
Set 7: Zack Greinke,Wade Boggs
Set 8: Dellin Betances, Ernie Banks
Set 9: Brian McCann, Enos Slaughter
Set 10: Dustin Pedroia, Larry Doby
Set 11: CC Sabathia, Jimmie Foxx
Set 12: Dennis Eckersley, Lou Brock
Set 13: Justin Upton, Jim Palmer
Set 14: Corey Kluber, Monte Irvin
Set 15: Richie Ashburn, Roy Oswalt
Set 16: Willie Stargell, Benito Santiago
Set 17: Evan Longoria, Troy Percival
Set 18: Paul Goldschmidt, Ken Griffey Sr.
Set 19: Nelson Cruz, Fergie Jenkins
Set 20: David Price, Luis Aparicio
Set 21: Robinson Cano, Carlos Gonzalez
Set 22: Buster Posey, Luis Gonzalez
Set 23: Ryan Zimmerman, Dave Parker
Set 24: Jon Lester, Harmon Killebrew
Set 25: Jose Reyes, Rollie Fingers
Lastly, MLB The Show released a schedule for upcoming content drops, live streams and much more. There will be just one more SDS live stream for the rest of MLB The Show 19. In a broadcast Thursday, developers confirmed there will be an 11th Inning program. Here is the full schedule for the upcoming month.
You can read more about all of the new content here.
What do you think of the recent content updates? Are you already grinding the 10th Inning Program? Which of the new cards do you need on your team right away? Let us know in the comment section below, and don't forget to subscribe to SGO.
---
Want to talk sports and/or games with the fastest growing community in gaming? Join the conversation by registering at the official Sports Gamers Online Forums, and check out our Twitter and Facebook pages as well as our growing YouTube Channel!