Horse riding is one of the most exciting sports in the world. This game aims to test the limits of both the rider and the horse. Whether on the screen or in real life, you will enjoy a thrilling experience watching these for-legged athletes race down the track. Engaging in horse racing games is an inexpensive and fun way to immerse oneself in this dynamic world. Following the tremendous growing popularity of horse racing over the past years, numerous game developers have started working on some great games.
These games have different graphics that guarantee some of the most enjoyable events on your PC or console. With the incredible popularity and developments in horse racing, more fans are becoming enthusiasts daily. These horse racing games are one perfect way to get these fans closer to action. While you enjoy playing or watching horse races, you can also place a bet and win. Skybet Cheltenham offer for 2023 will provide you with mind-blowing offers for your horse racing bets. Check out the top 5 horse racing video games you should try out.
Phar Lap Horse Racing Challenge
Phar Lap horse racing game is available on iOS, Android, Nintendo Switch, Xbox, and PlayStation. While there are various racing challenges in the market, Phar Lap is one of the most elaborate horse racing games. This game was created by PikPok and released by Home Entertainment supplies. It provides both console and mobile versions so you can play on the go or in the comfort of your home. The racing and horses in this game are as real as it gets. Additionally, the graphics of the game are excellent and were developed using motion capture, thus accurately representing the horse's movements.
If you are a horse racing fan, you will definitely love this game, and your eyes and mind will remain glued to your gadget for long hours. The good thing about Phar Lap is that you can break your own foals, establish a schedule for your horses, manage your racing facility, and control the entire training. You can also play with friends since Phar Lap allows you to race up to 8 players in real-time.
Melbourne Cup Challenge
The Melbourne Cup Challenge is proof that 2006 was the best year for horse racing video games. This game was established in 2006 being availed in Microsoft Windows, Xbox, and PlayStation 2. This game allows gamers to edit using various methods depending on their interests. One can play as the owner, punter, or jockey. Therefore, you can learn a lot about all aspects of horse racing.
G1 Jockey 4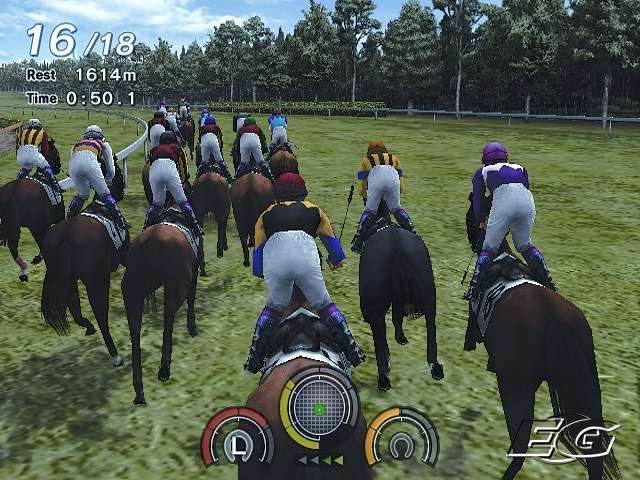 While it was developed in 2006, this game was available on PlayStation 2 only. Also, G1 Jockey 4 is perfect for horse fans wishing to bring the play home. The game includes an authentic horse racing experience with options to add controls making the game even more realistic. Players can breed and train their horses to be the best.
Derby Dollars
This game involves continuous 20 pay line slots having free spins, bonuses, a sports theme, and RTG. Horse racing fans enjoy playing this game following horse racing and spaces provided simultaneously. In simpler terms, Derby Dollars involves a decisive RTG online slot play having a horse racing theme in various designs.
Gallop Racer
This version of the game was released in 2006 for PC, PlayStation 2, and PlayStation. Gallop Racer is always old-fashioned, and the series has produced plays for years. The game allows gamers to complete professionally until retirement, create horses, and place bets. Gallop Racer is your perfect solution if you are looking for the same pleasure as horse riding. Additionally, Gallop Racer is best for gamers who want to learn about betting and horse racing