EA Sports' Madden NFL Club Championship is underway from Redwood City, California. Some of the best players in the competitive Madden community are competing, and some have been eliminated early. Each of the 32 individual club champions are playing Madden NFL 19 for a share of $700,000 in prize money. Here's an update from the first two days of the tournament, and a look ahead to upcoming games.
Madden 19 Club Championship Updated Bracket
Below is the updated bracket heading into the final two days of the Club Championship.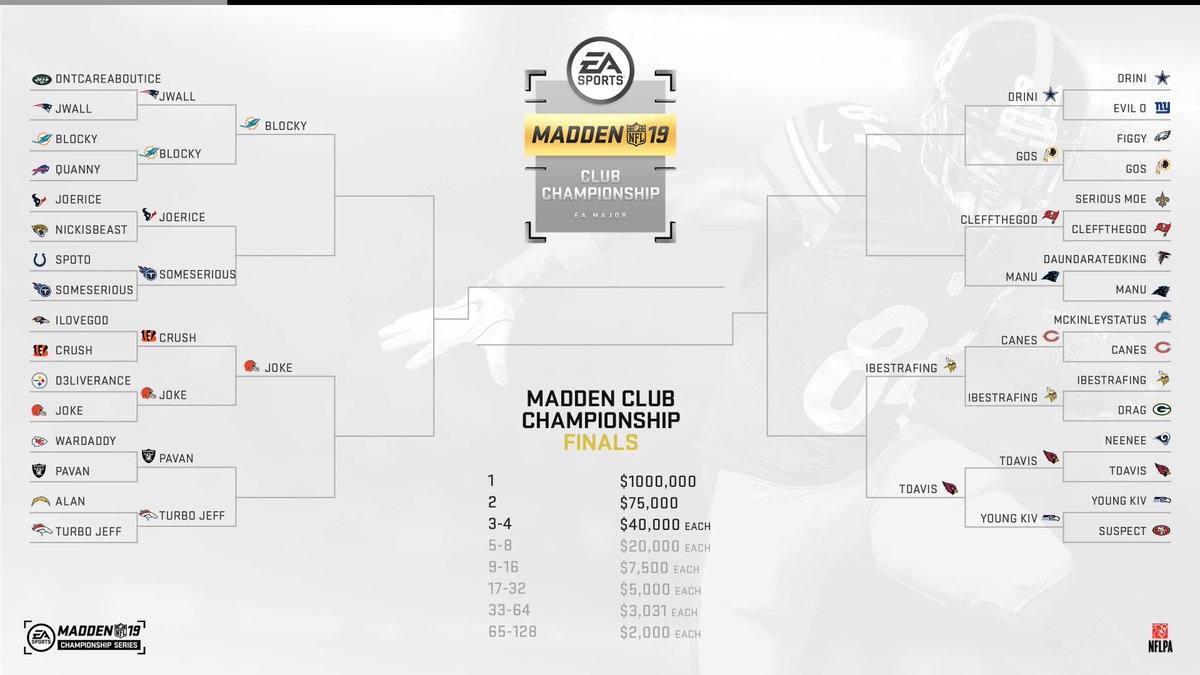 You can follow EA's live updated bracket by clicking here.
Early Round Headlines 
Cleff Outlasts Moe in OT – One of the most exciting battles in the opening round, this back-and-forth battle between Cleff (Bucs) and Serious Moe (Saints) was something to behold. Moe rallied to tie the game in regulation and even take a three point lead, but Cleff tied things up as regulation time expired and scored on the opening drive of overtime to win, 28-22.
Joke Gets Revenge, Floods Deliverance – The most anticipated first round matchup was a rematch of last year's Club Championship. This game wasn't close, however, as Joke (Browns) rattled off 24 unanswered points after Deliverance (Steelers) scored on the opening possession. Joke followed up his 24-7 win with a 27-20 triumph over Crush (Bengals).
Kiv Bounced in Second Round – Kiv looked unstoppable in his first round game against Suspect (49ers), winning 33-8. TDavis (Cardinals) came prepared in Round 2, though, stifling Kiv's offense throughout the game. TDavis advanced, 16-14.
Alan Falls in First Round – Turbo Jeff (Broncos) used an offensive assault, featuring several aggressive catches in clutch situations to push past Alan (Chargers), 31-27. Alan defeated Problem in the Chargers Club, and was a sleeper pick among many in this tournament.
Drini, Gos Set for Second Round Duel – Gos (Redskins) looks to continue his undefeated streak in the Club Championship. Last year's belt winner will have to defeat Drini (Cowboys), a dominant player who has a belt of his own.
Big Day Today. Lets get it done! #MaddenClubChampionship pic.twitter.com/NH7T89CjJt

— Drini (@Drini) February 1, 2019
Watch and Earn MUT Drops
The tournament picks back up today for the conclusion of the second round and the beginning of the quarterfinals. Covering begins at 3 p.m. EST. Twitch, YouTube, Mixer and Facebook will all be broadcasting the tournament. Linking your MUT Rewards/EA account with your Twitch account will earn you MUT drops for simply watching the stream, giving you a chance to earn exclusive cards unavailable in packs or on the auction house. Tomorrow, the championship round will air on ESPN News. Below is a breakdown of the schedule for the tournament.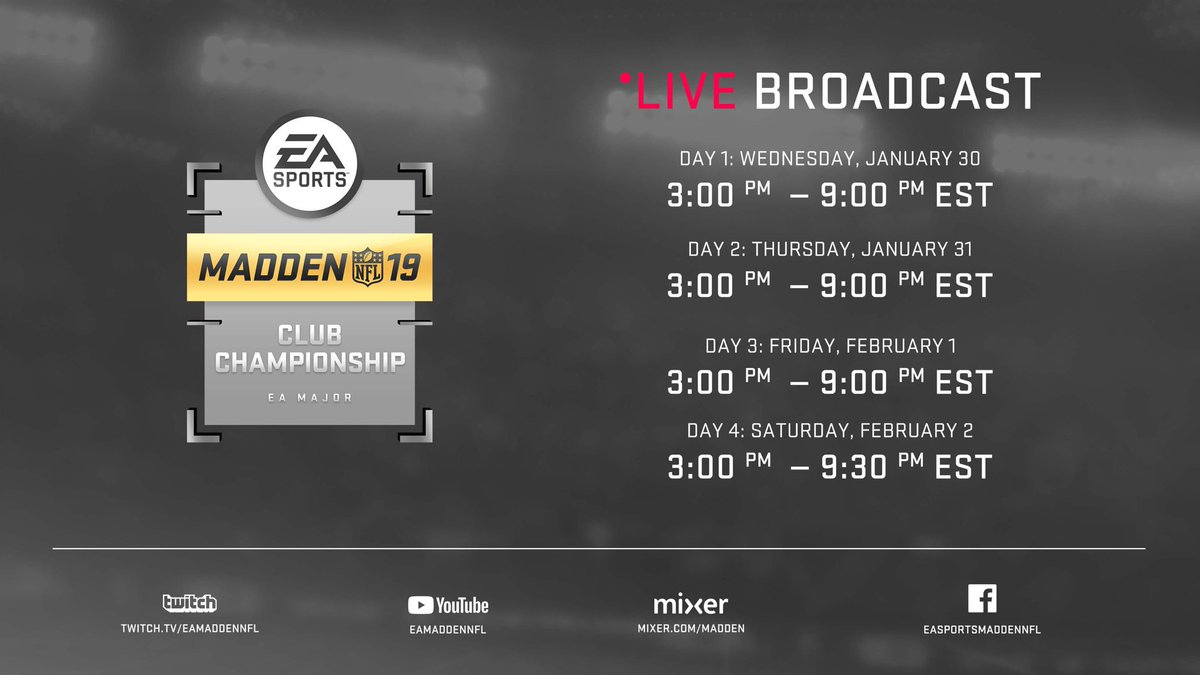 Four competitors have already reached the quarterfinals, guaranteeing themselves at least $20,000 in winnings. The remaining Round of 16 players are essentially battling today for $12,500, along with the right to move on. The overall Club Champion will take home $100,000. A full breakdown of the payouts is below.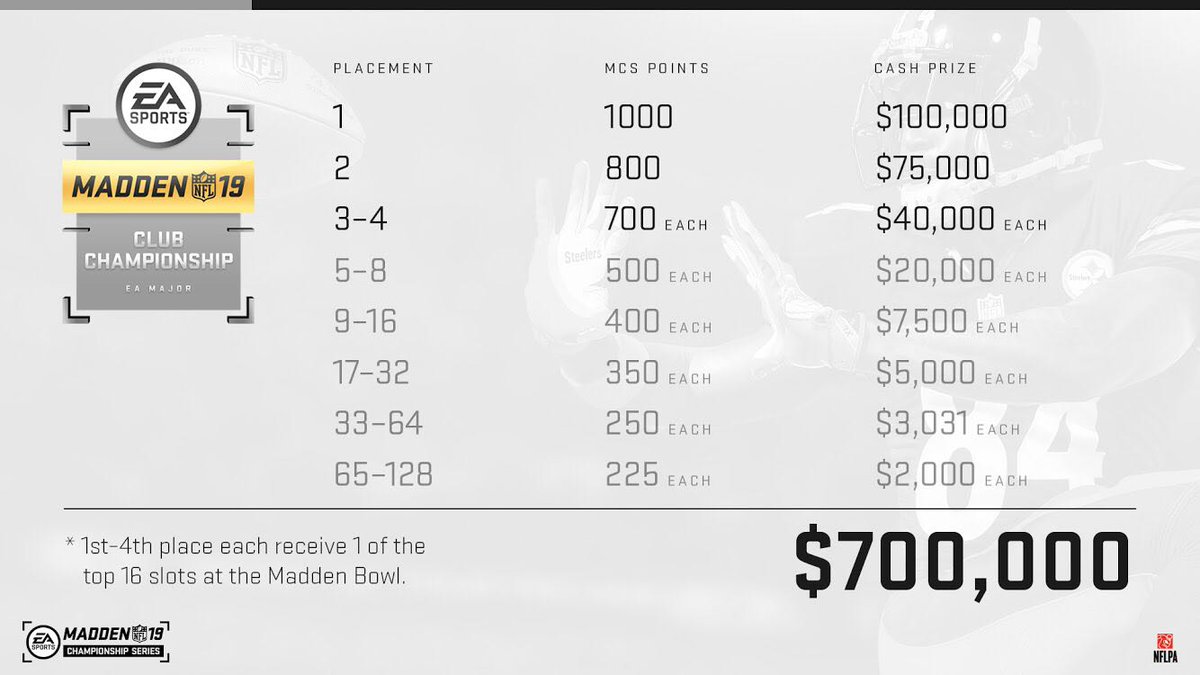 You can read more about the Madden 19 Club Championship here.
What did you think of the Madden 19 Club Championship so far? Who's your pick to win it all? Have you pulled any good MUT cards from pack drops? Let us know in the comment section below, and don't forget to subscribe to SGO.
---
Want to talk sports and/or games with the fastest growing community in gaming? Join the conversation by registering at the official Sports Gamers Online Forums, and check out our Twitter and Facebook pages as well as our growing YouTube Channel!