The Madden Club Championship is without a doubt the most competitive and entertaining eSports tournament for EA Sports' Madden NFL franchise. This week, 32 individual club champions will compete in Redwood City, California to hopefully be crowned the overall Madden NFL 20 Club Champion and take home $100,000. The overall prize pool is over $700,000. Here is a complete preview of the Madden 20 Club Championship.
MADDEN 20 CLUB CHAMPIONSHIP FINALISTS
Below is a complete list of all of the club champions and the tournament bracket.
CLUB CHAMPIONSHIP FINALISTS
New England Patriots – Skimbo
New York Jets – AKG
Buffalo Bills – SteveyJ
Miami Dolphins – zThumbsUp
Pittsburgh Steelers – Deliverance
Baltimore Ravens – Thunderball
Cincinnati Bengals – FreeThePenguins
Cleveland Browns – Joke
Indianapolis Colts – LilMan
Jacksonville Jaguars – Drini
Houston Texans – Millz
Tennessee Titans – Chritobin
Los Angeles Chargers – MaddenElite
Kansas City Chiefs – Young Tony
Oakland Raiders – Pavan
Denver Broncos – Turbo Jeff
Philadelphia Eagles – Henry
New York Giants – Evil O
Dallas Cowboys – UserGawd
Washington Redskins – Tekkerz
Green Bay Packers – Schemin
Chicago Bears – BG Fam
Minnesota Vikings – Phenom
Detroit Lions – Radiant
Atlanta Falcons – Boogz
New Orleans Saints – Nick Hacko
Carolina Panthers – OneGreatUser
Tampa Bay Buccaneers – Civil
Seattle Seahawks – DCroft
Los Angeles Rams – BeastModeMac
Arizona Cardinals – Volterax
San Francisco 49ers – zTreKingz
The Club Championship is by far the most competitive tournament in the Madden Championship Series (MCS), as so many big names fail to even win their individual club. Problem (Chargers), Wesley/Joe Rice (Texans), Serious Moe (Chiefs), Gos (Redskins), Drag (Packers), Canes (Bears), Young Kiv (Seahawks), Cleff (Buccaneers) are just a few of the well-known names that didn't win their individual club and won't be competing this week.
Gos (Redskins) was the overall Club Champion in Madden 18, defeating Problem (Chargers). Pavan is the defending champion, however, and is back to represent his Raiders.
Since the Club Championship began in Madden 18, only four players have qualified for the live event all three years. Pavan (Raiders), Joke (Browns) and Deliverance (Steelers) are all three-peat club winners, while Drini (Broncos, Cowboys, Jaguars) has won a different club in each of the three years.
FIRST ROUND MATCHUPS TO WATCH
Deliverance (Steelers) vs. Echo Fox Joke (Browns) – For the third consecutive year, these two competitors will do battle in the first round. Both Joke and Deliverance have a win in the series, making this the rubber match. Expect a close game and a ton of trash talk.
Skimbo (Patriots) vs. zThumbsUp (Dolphins) – Skimbo is back at the Club Championship after missing the tournament by one game in Madden 19. Skim has a truly lethal offense, and looked unstoppable at the Patriots Club finals. zThumbs is a newcomer that impressed many by winning the Dolphins Club in a field that contained MCS mainstays Blocky and MattsterGamer.
Millz (Texans) vs. Drini (Jaguars) – Millz unseated Joe Rice to win the Texans club, and boasts the best defense in the tournament, a stifling blitzing attack from the 3-4 Bear formation. Drini is the most consistent player of the MCS era, and will certainly be prepared for Millz' defense. Expect a low-scoring bloodbath.
DCroft (Seahawks) vs. BeastModeMac (Rams) – DCroft took down Kiv to win the Seahawks club in one of the most memorable MCS games to date.
PREDICTIONS
Final Four: Skimbo (Patriots), Millz (Texans), Henry (Eagles), DCroft (Seahawks) 
The approach here is simple: best offense (Skimbo) and best defense (Millz) from the AFC side, and the two elite young players (Henry and DCroft) from the NFC side. Henry is basically a Final Four lock in my mind. Skimbo and Millz will face a much tougher path, as the AFC is overwhelmingly more talented and experienced than the NFC side.
Finals: Skimbo vs. Henry
While fans are talking about Skimbo and his electric offense, Henry seems to be flying under the radar at this tournament, which is alarming. Henry cruised to an Eagles Club Championship and finished second at the Madden Classic earlier this year. Henry shouldn't face much of a challenge until the Final Four, where I expect him to slow down DCroft.
Champion: Skimbo
Skimbo's offense is simply too good. He has mastered the various abilities new to Madden 20, specifically the escape artist (QB) and streak specialist (WR) abilities. While I do think the field has a lot of talented players that can get stops against Skimbo, he will simply rack up too many quick touchdowns over the course of each game and the tournament as a whole. Quick scores will force players to get uncomfortable on offense and possibly rush, resulting in turnovers and punts. Skimbo will be this year's champion.
HOW AND WHERE TO WATCH
The tournament will be live at 3 p.m. EST on Tuesday, December 17 and will continue through December 20. Twitch and YouTube will both be broadcasting, giving fans multiple ways to watch. By linking your Twitch account to your EA Sports account, you can earn free Madden Twitch Drop packs by watching the Club Championship. Below is a breakdown of the schedule for the tournament.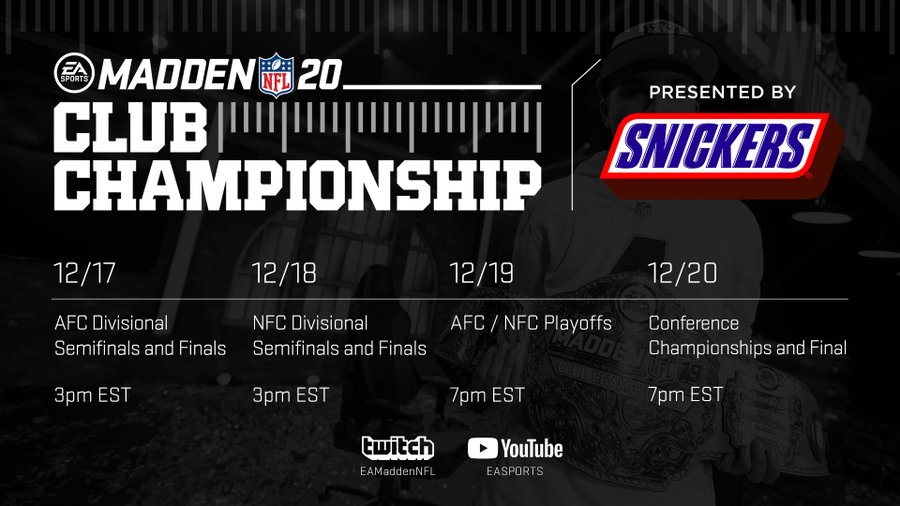 The Tuesday #MaddenClubChampionship Slate

3pm@Jokeeee_ v @mpinter9 @NGugerty_ v @ThunderbaII

4pm@Skimbooo23 v @zThumbs_
@akgkilla97 v @ImSteveyJ

5pm@Drini v @MillzTHaNaMe @EmB_LiLMan v @Chritobin

6pm
@pavan530_ v @Jayfree_ballin @tony_calloway v @MaddenEIite

(1/2)

— Donny Moore (@Donny_Moore) December 16, 2019
Each of the 32 club champions have already earned a minimum of $6,500 each. The overall Club Champion will take home $100,000, and the runner up will receive $75,000. The payout structure is so that it rewards each person in the top 128 of qualifying while still giving the biggest payouts to the finalists. A full breakdown of the payouts is below.
You can read more about the Madden 20 Club Championship here.
What did you think of the Madden 20 Club Championship bracket? Who are you picking to win the whole tournament? Will you be watching this weekend? Let us know in the comment section below, and don't forget to subscribe to SGO.
---
Want to talk sports and/or games with the fastest growing community in gaming? Join the conversation by registering at the official Sports Gamers Online Forums, and check out our Twitter and Facebook pages as well as our growing YouTube Channel!