Today, San Diego Studio (SDS) released the last of three waves for MLB The Show 19's Finest players. Every team in the MLB is now represented in Diamond Dynasty with a Finest card in this year's game. Here's everything you need to know about MLB The Show 19's Finest players.
MLB THE SHOW 19 FINEST REVEAL
This year, the Finest cards were released in a series of three waves. Each wave contained about a third of the entire Finest class. Today, Finest Set 3 arrived, bringing a plethora of incredible cards to Diamond Dynasty. Here is the complete list of MLB The Show 19's Finest players:
Baltimore Orioles: Trey Mancini, 94 overall RF
Boston Red Sox: Rafael Devers, 98 overall 3B
New York Yankees: D.J. LeMahieu, 99 overall 2B; Gleyber Torres, 97 overall 2B
Tampa Bay Rays: Charlie Morton, 97 overall SP; Austin Meadows, 96 overall RF
Toronto Blue Jays: Bo Bichette, 96 overall SS
Chicago White Sox: Tim Anderson, 96 overall SS
Cleveland Indians: Francisco Lindor, 98 overall SS
Detroit Tigers: Matthew Boyd, 94 overall SP
Kansas City Royals: Jorge Soler, 96 overall RF
Minnesota Twins: Mitch Garver, 95 overall C
Los Angeles Angels: Shohei Ohtani, 95 overall RF
Oakland Athletics: Matt Chapman, 98 overall 3B; Liam Hendriks, 97 overall CP
Seattle Mariners: Daniel Vogelbach, 93 overall 1B
Texas Rangers: Danny Santana, 95 overall 1B
Houston Astros: Alex Bregman, 99 overall 3B; Gerrit Cole, 99 overall SP; Yordan Alvarez, 96 overall LF
Atlanta Braves: Ronald Acuna Jr., 99 overall CF; Ozzie Albies, 98 overall 2B
Miami Marlins: Brian Anderson, 95 overall 3B
Washington Nationals: Anthony Rendon, 99 overall 3B; Juan Soto, 98 overall LF
New York Mets: Jacob deGrom, 99 overall SP; Jeff McNeil, 96 overall 2B
Philadelphia Phillies: JT Realmuto, 99 overall C; Bryce Harper, 97 overall RF
Chicago Cubs: Javier Baez, 99 overall SS; Kris Bryant, 97 overall 3B
Cincinnati Reds: Eugenio Suarez, 96 overall 3B
Milwaukee Brewers: Christian Yelich, 99 overall RF; Josh Hader, 99 overall CP; Yasmani Grandal, 96 overall C
Pittsburgh Pirates: Josh Bell, 98 overall 1B
St. Louis Cardinals: Jack Flaherty, 97 overall SP
Arizona Diamondbacks: Ketel Marte, 98 overall CF
Colorado Rockies: Nolan Arenado, 99 overall 3B
Los Angeles Dodgers: Cody Bellinger, 99 overall RF; Max Muncy, 97 overall 2B
San Diego Padres: Kirby Yates, 99 overall CP; Fernando Tatis Jr., 97 overall SS
San Francisco Giants: Mike Yastrzemski, 94 overall LF
COLLECTION REWARDS
7 Finest players: 99ovr Finest Kirby Yates, San Diego Padres CP
14 Finest players: 99ovr Finest JT Realmuto, Philadelphia Phillies C
21 Finest players: 99ovr Finest Gerrit Cole, Houston Astros SP
Additionally, by pre-ordering MLB The Show 20, you can earn 99 overall Finest card Javier Baez. Earlier this week, Baez was announced as the cover athlete for next year's game. Below is a look at his Finest card art and attributes.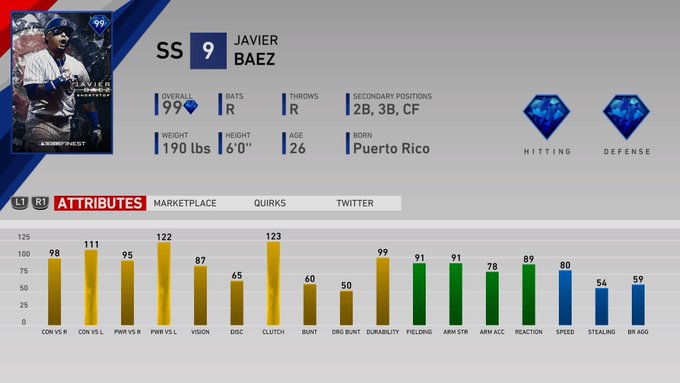 Lastly, SDS released a schedule for upcoming content over the next two weeks, including new programs, cards, live streams and more. A fourth and final collection reward is set to be released on October 31. The schedule is below.
You can read more about MLB The Show 19's Finest here.
What do you think of the recent content updates? Are you already grinding the 8th Inning Program? Which of the new cards do you need on your team right away? Let us know in the comment section below, and don't forget to subscribe to SGO.
---
Want to talk sports and/or games with the fastest growing community in gaming? Join the conversation by registering at the official Sports Gamers Online Forums, and check out our Twitter and Facebook pages as well as our growing YouTube Channel!