Today, San Diego Studio (SDS) released yet another large content update for MLB The Show 19 Diamond Dynasty. This update includes changes to roster attributes, over a dozen new cards, the new 3rd Inning program, new moments and more. Here's a complete breakdown.
Today's roster update features attribute upgrades and downgrades, as well as team changes as a result of recent trades or signings. Below are some of the major attribute changes.
https://gfycat.com/horribleripefinnishspitz
NOTABLE UPGRADES
Mike Trout, Angels CF – 94 to 95
Chris Sale, Red Sox SP – 89 to 90
Christian Yelich, Brewers RF – 88 to 89
Javier Baez, Cubs SS – 85 to 86
Andrelton Simmons, Angels SS – 84 to 85
George Springer, Astros CF – 82 to 85
Michael Brantley, Astros LF – 78 to 81
Jon Lester, Cubs SP – 79 to 80
Paul DeJong, Cardinals SS – 78 to 80
NOTABLE DOWNGRADES
Jose Ramirez, Indians 3B – 87 to 86
Joey Votto, Reds 1B – 85 to 84
Wilson Ramos, Mets C – 81 to 79
Miguel Cabrera, Tigers 1B – 81 to 79
Matt Carpenter, Cardinals 3B – 80 to 78
You can find all of this week's changes here.
Next, the 3rd Inning Program is now open. Earn 300 points in the program to select one of the following exclusive players from a choice pack: 99 Roberto Alomar, 99 Justin Verlander and 99 Rickey Henderson. All three players are Signature Series cards. Below is a look at all three players' attributes and card art.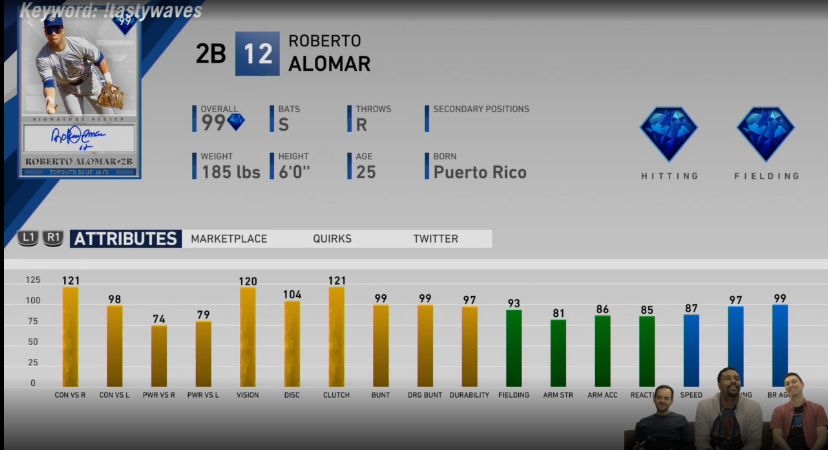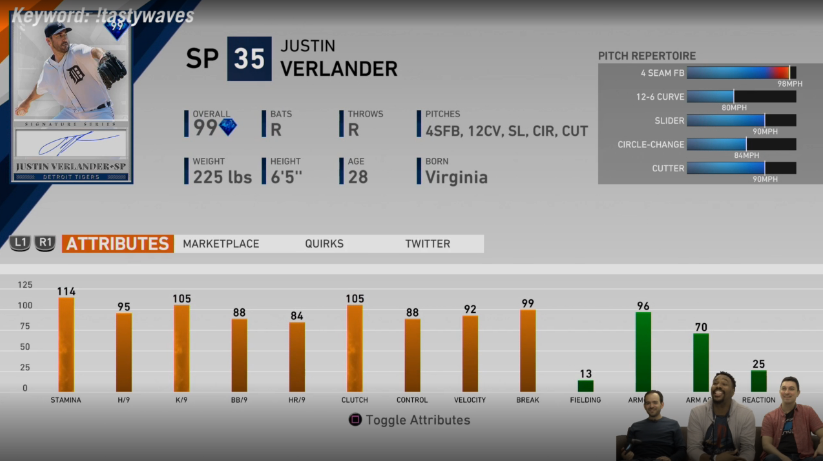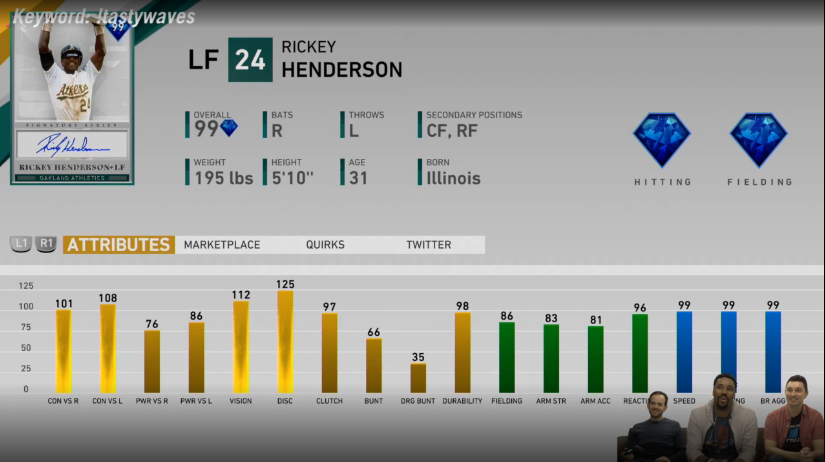 Overall, Diamond Dynasty is welcoming 14 new legends and flashback cards today. All of these cards are obtainable by either completing 3rd Inning Program milestones, opening packs or buying them from the marketplace. The nine below are from the 3rd Inning Program.
Reggie Jackson, Diamond 88 OVR, Hardware Legend, Athletics OF
David Price, Diamond 86 OVR, Hardware Flashback, Rays SP
Zack Cozart, Diamond 85 OVR, All-Star Flashback, Reds SS
Brandon Morrow, Diamond 85 OVR, Veteran Flashback, Dodgers RP
Marco Estrada, Gold 84 OVR, Breakout Flashback, Brewers SP
Justin Smoak, Gold 83 OVR, All-Star Flashback, Blue Jays 1B
Hunter Strickland, Gold 82 OVR, Rookie Flashback, Giants RP
Michael Taylor, Gold 80 OVR, Breakout Flashback, Nationals OF
Tony Watson, Gold 80 OVR, All-Star Flashback, Pirates RP
Additionally, Headliners Set 8 packs are in the pack shop, featuring two new diamonds. Ernie Banks (93 overall) and rookie flashback Dellin Betances (94 overall) are the featured players. Check out their ratings and card art below.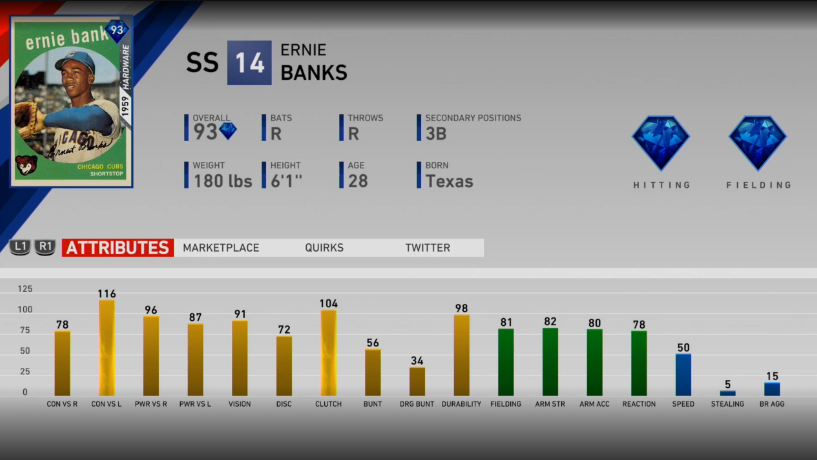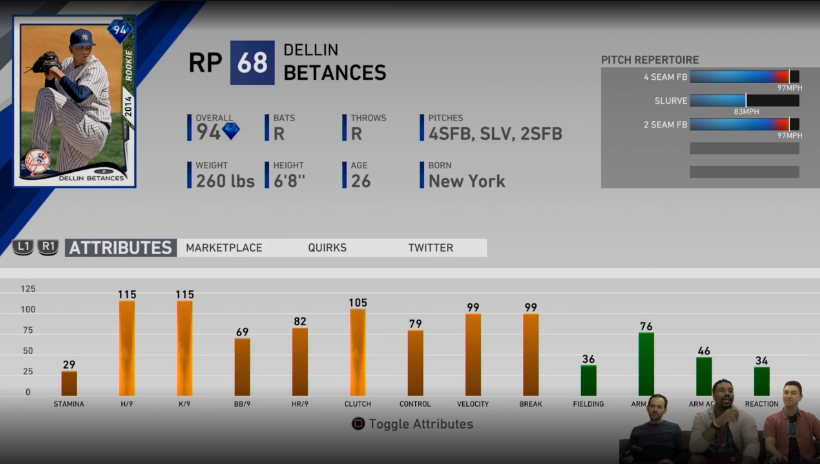 Early this morning, SDS released Patch 1.10, just two days after Patch 1.09. Today's patch is small in size, but could have a huge impact for online gameplay, specifically in ranked seasons. Per TheShowNation, here are the key points of the patch notes:
Minor gameplay tuning. This should slightly increase the line drive success rate.
Reduction in error chances for diamond infielders on additional routine type plays.
Reduction in error chances for high rated outfielders on routine type fly balls.
You can read more about Patch 1.10 by clicking here.
Lastly, MLB The Show is having a stub sale over the weekend. You can save up to 30% on a stub purchase, depending on which bundle you buy. The sale ends Monday.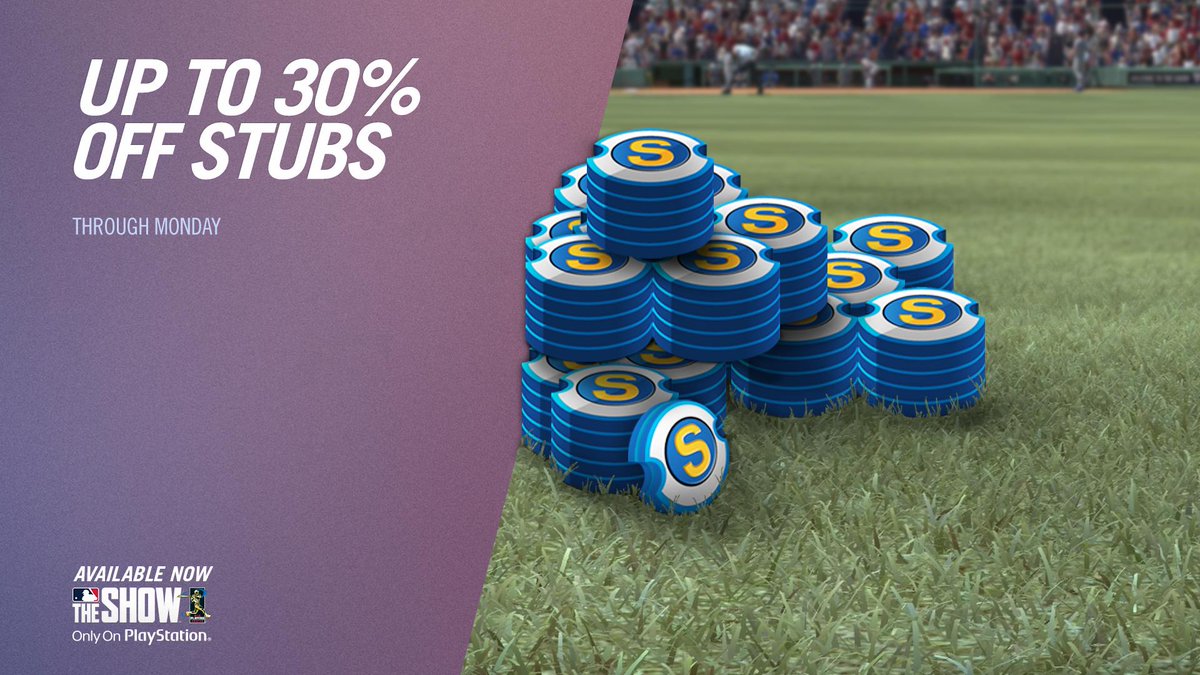 You can read more about all of the new content here.
What do you think of today's roster update? Are you already grinding the 3rd Inning Program? Which of the new cards do you need on your team right away? Let us know in the comment section below, and don't forget to subscribe to SGO.
---
Want to talk sports and/or games with the fastest growing community in gaming? Join the conversation by registering at the official Sports Gamers Online Forums, and check out our Twitter and Facebook pages as well as our growing YouTube Channel!