Today, San Diego Studio (SDS) released a massive content update for MLB The Show 19 Diamond Dynasty. This update includes changes to roster attributes, over a dozen new cards (including Tom Seaver), the new 7th Inning program, a new patch, new moments and more. Here's a complete breakdown of all the new content.
ROSTER UPDATE
Today's roster update features attribute upgrades and downgrades, as well as team changes as a result of recent call-ups. Below are some of the major attribute changes.
NOTABLE UPGRADES
Mike Trout, Angels CF – 95 to 96
Christian Yelich, Brewers RF – 92 to 93
Cody Bellinger, Dodgers RF – 91 to 93
Alex Bregman, Astros 3B – 89 to 91
Mookie Betts, Red Sox RF – 90 to 91
Anthony Rendon, Nationals 3B – 88 to 90
Justin Verlander, Astros SP – 88 to 89
Gerrit Cole, Astros SP – 87 to 89
Jose Altuve, Astros 2B – 87 to 88
Francisco Lindor, Indians SS – 87 to 88
Stephen Strasburg, Nationals SP – 86 to 87
Kirby Yates, Padres CP – 85 to 86
Ketel Marte, Diamondbacks CF – 84 to 86
Felipe Vazquez, Pirates CP – 84 to 85
Brett Gardner, Yankees LF – 79 to 81
Ryan Yarbrough, Rays SP – 79 to 80
Mike Soroka, Braves SP – 77 to 80
Wilson Ramos, Mets C – 78 to 80
Lucas Giolito, White Sox SP – 78 to 80
Yu Darvish, Cubs SP – 79 to 80
Jose Abreu, White Sox 1B – 79 to 80
Tim Anderson, White Sox SS – 79 to 80
Nicholas Castellanos, Cubs RF – 78 to 80
Mitch Garver, Twins C – 75 to 80
Lance Lynn, Rangers SP – 79 to 80
Taylor Rogers, Twins CP – 79 to 80
NOTABLE DOWNGRADES
Manny Machado, Padres 3B – 87 to 86
Paul Goldschmidt, Cardinals 1B – 85 to 84
Hyun-Jin Ryu, Dodgers SP – 85 to 84
Kyle Hendricks, Cubs SP – 80 to 79
Rhys Hoskins, Phillies 1B – 80 to 78
Joey Votto, Reds 1B – 84 to 80
You can find all of this week's changes here.
7TH INNING PROGRAM
Next, the 7th Inning Program is now open. Earn 300 points in the program to select one of the following Signature Series players from a choice pack: 99 Andre Dawson, 99 Jeff Bagwell and 99 Tom Seaver. Below is a look at all three players' attributes and card art.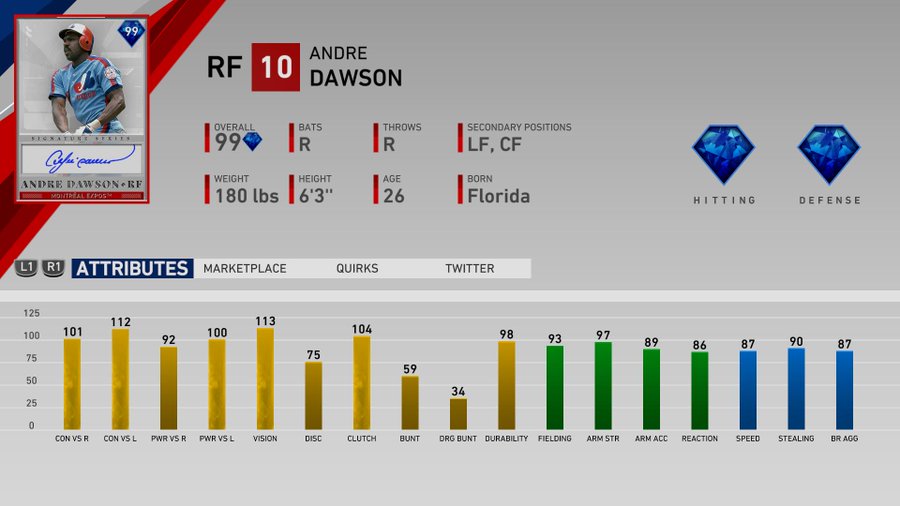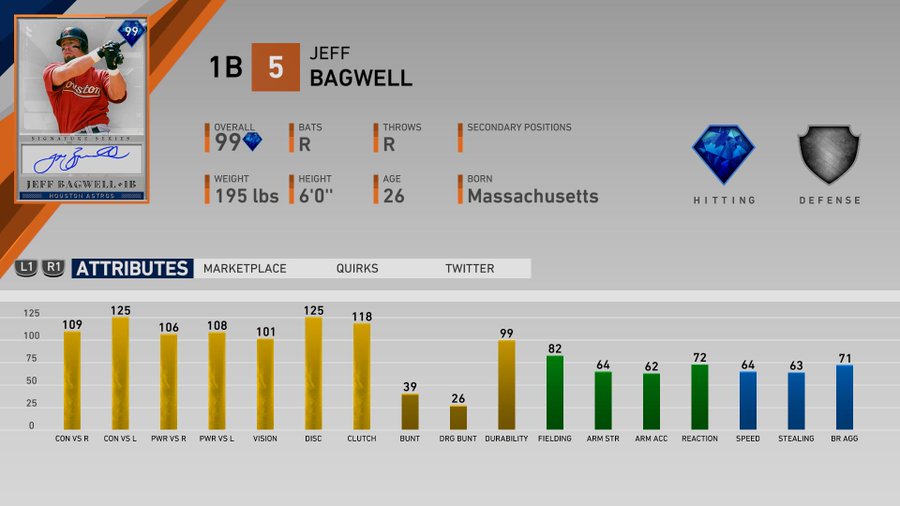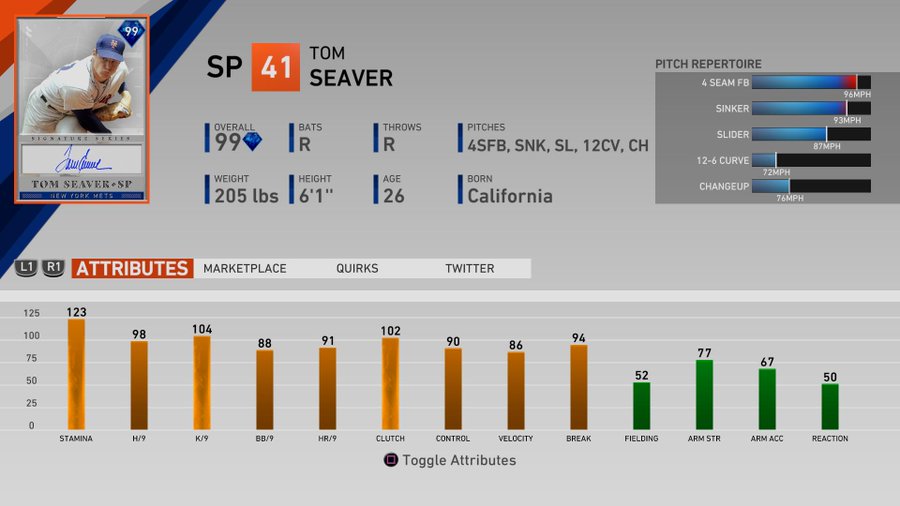 To earn points in the 7th Inning Program, start by completing the conquest map. Check out this 7th Inning Conquest guide from SGO's Ransom.
After nearly six months, SDS has released Tom Seaver, one of the Diamond Dynasty community's favorite and most-used cards. Signature Series cards like Babe Ruth, Albert Pujols and Chipper Jones, among others, have still not been released to this point.
Overall, Diamond Dynasty is welcoming 11 new legends and flashback cards today. All of these cards are obtainable by either completing 7th Inning Program milestones, completing new moments, opening packs or buying them from the marketplace.
Pee Wee Reese, Diamond 98 overall, Signature Series, Dodgers SS
Johnny Damon, Diamond 95 overall, Signature Series, Red Sox CF
Cole Hamels, Diamond 95 overall, Signature Series, Phillies SP
Tony Perez, Diamond 95 overall, Signature Series, Reds 3B
Kurt Suzuki, Diamond 88 overall, Topps Now flashback, Nationals C
HEADLINERS SET 23
Additionally, Headliners Set 23 packs are in the pack shop, featuring two new diamonds. Dave Parker (99 overall) and Ryan Zimmerman (95 overall) are this set's featured players. Both cards are Signature Series editions. Check out their ratings and card art below.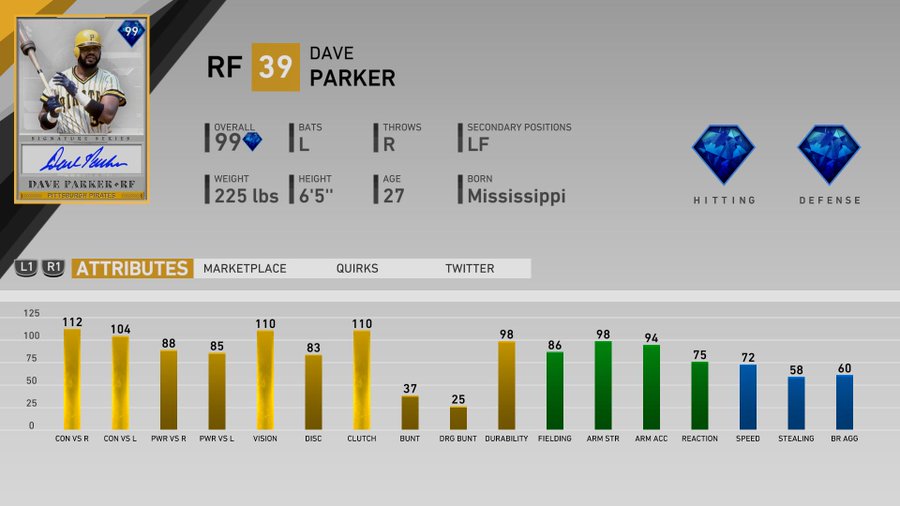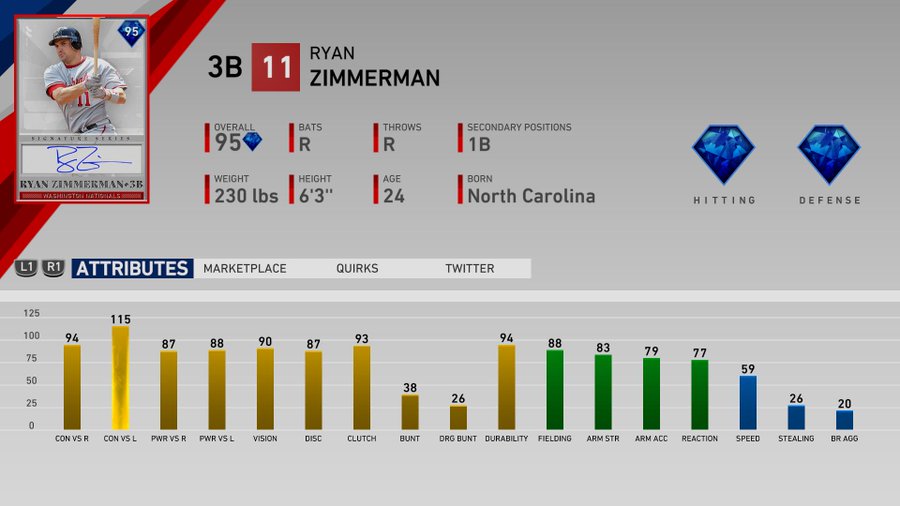 PATCH 1.19 & PATCH 1.20
Early this morning, SDS released Patch 1.16. Today's patch is small in size and unlikely to have a major impact on the game. However, it does fix a few bugs that were certainly frustrating during online play. Per TheShowNation, here are the key points of the patch notes for both patches:
Minor XP tuning.
Minor adjustments to play-by-play commentary.
Art inclusions for future live content.
Fixed an issue where XP was not being rewarded for certain Player Lock moments.
You can read more about Patch 1.19, Patch 1.20 and previous updates here.
Lastly, MLB The Show released a schedule for upcoming content drops, live streams and much more. Here is the full schedule for the next week and a timetable for the remainder of the season.
You can read more about all of the new content here.
What do you think of today's roster update? Are you already grinding the 7th Inning Program? Which of the new cards do you need on your team right away? Let us know in the comment section below, and don't forget to subscribe to SGO.
---
Want to talk sports and/or games with the fastest growing community in gaming? Join the conversation by registering at the official Sports Gamers Online Forums, and check out our Twitter and Facebook pages as well as our growing YouTube Channel!