NHL 19 is set to drop on September 14 for Xbox One and PS4. As the anticipation continues to build following a successful beta, EA Sports is releasing the top 50 rated players in the upcoming installment of the NHL series.
Yesterday, we covered numbers 30-21. Now, let's take a look at numbers 20 through 11.
NHL 19 Top 50 Players Countdown
20. Johnny Gaudreau, LW, Calgary Flames – 90 OVR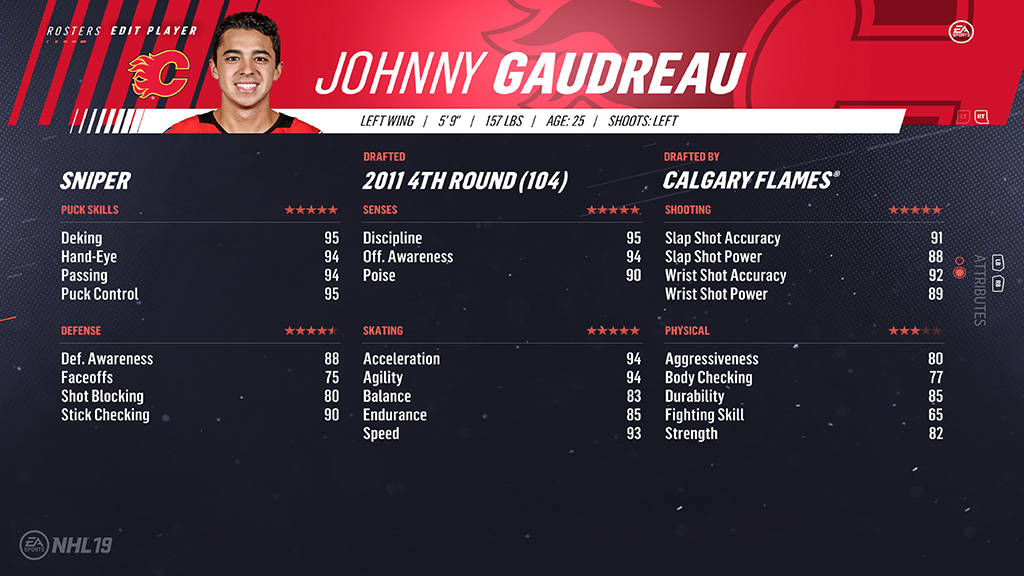 Johnny Hockey is a blur on the ice, and being physical may be the only way to slow him down. Gaudreau checks in at #20 on the list at 90 overall, and has impressive offensive ratings like  93 skating, 94 passing and 95 deking.
19. John Tavares, C, Toronto Maple Leafs – 90 OVR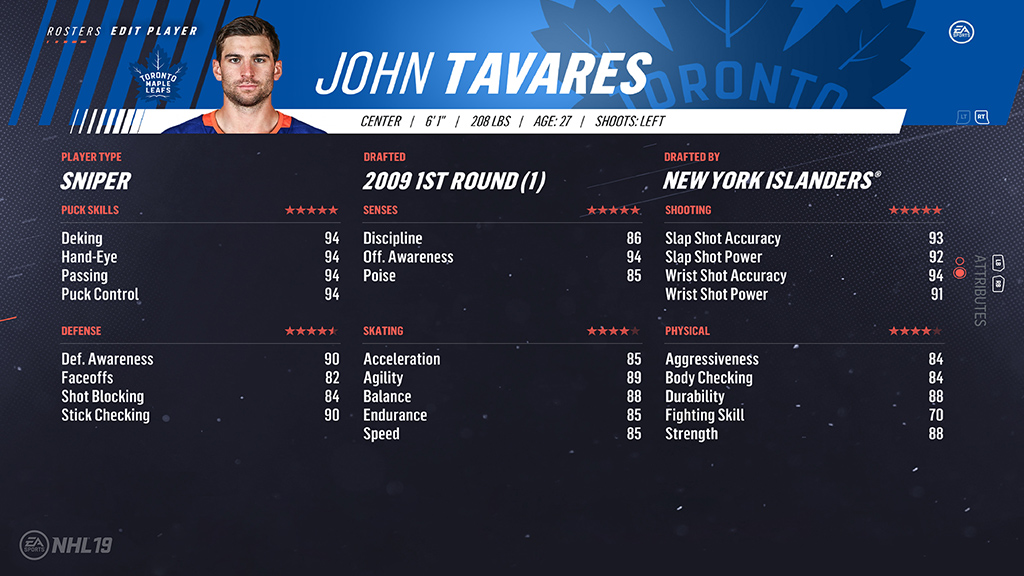 John Tavares may not have a lot of speed (85), but he's one of the deadliest snipers in the game. After one of the biggest signings in franchise history, the Leafs will look to capture another championship. Can Tavares get Toronto over the hump?
18. Patrice Bergeron, C, Boston Bruins – 90 OVR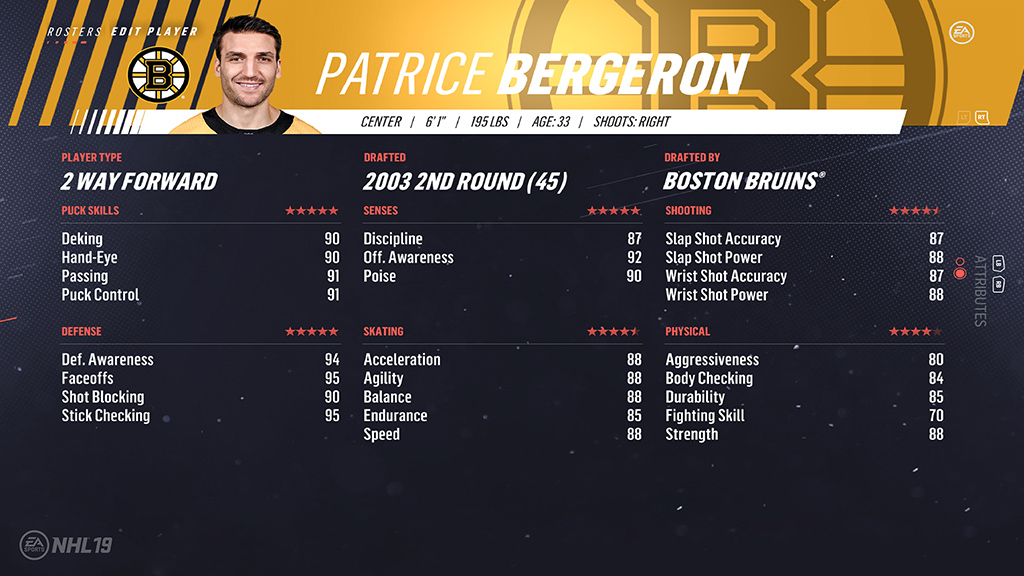 Patrice Bergeron is a defenseman that happens to be play center because of his elite faceoff skills. With a 95 face off rating, Bergy is perfect as a 3rd or 4th line center on any HUT squad.
17. Vladimir Tarasenko, RW, St. Louis Blues – 90 OVR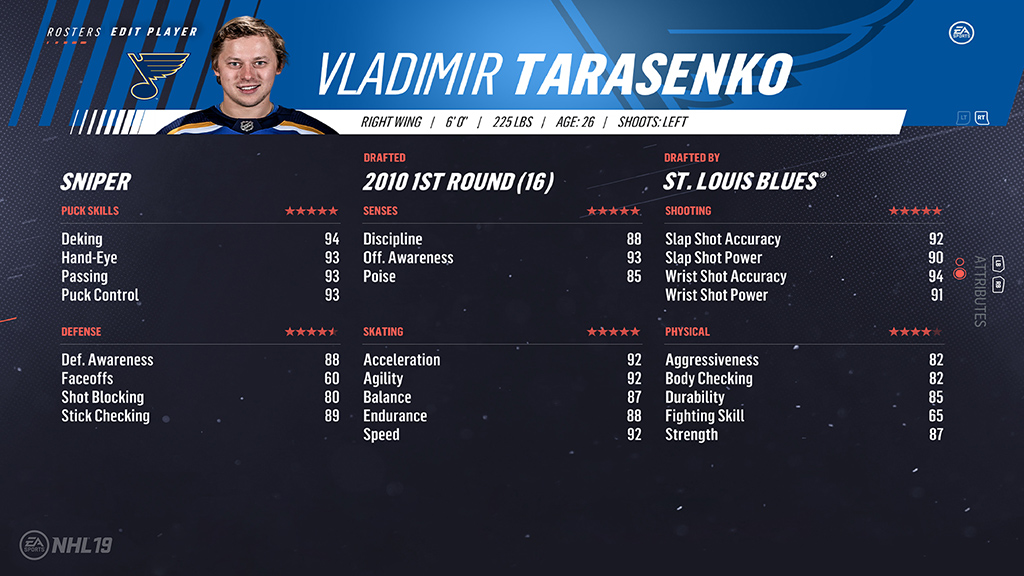 Vladimir Tarasenko is one of the most exciting young players in the NHL, and it's a shame he plays in St. Louis. More people should know about his offensive prowess. Tarasenko falls at #17 on the countdown with an overall rating of 90.
16. Taylor Hall, LW, New Jersey Devils – 90 OVR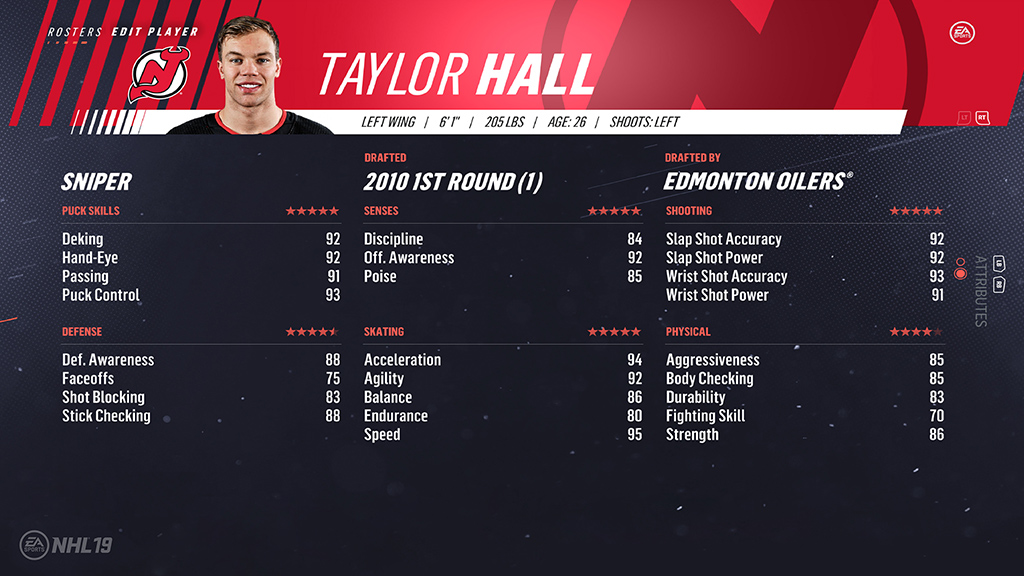 Despite carrying a young Devils team to the playoffs and earning league MVP honors, Taylor Hall is just getting started in New Jersey. Hall enters the countdown at #16, with a 90 overall rating.
15. Anze Kopitar, C, Los Angeles Kings – 90 OVR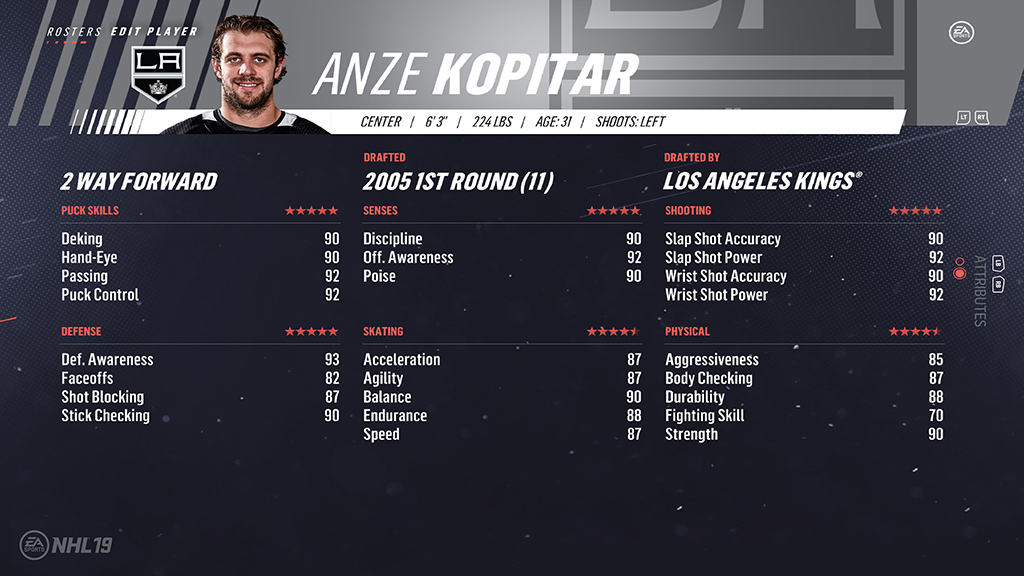 Anze Kopitar has already won two Stanley Cups and two Selke Trophies as the leagues top defensive forward. Last season, he put up a career-high 92 points in the regular season. A 90 overall for the established veteran almost seems a little low.
14. Erik Karlsson, D, Ottawa Senators – 90 OVR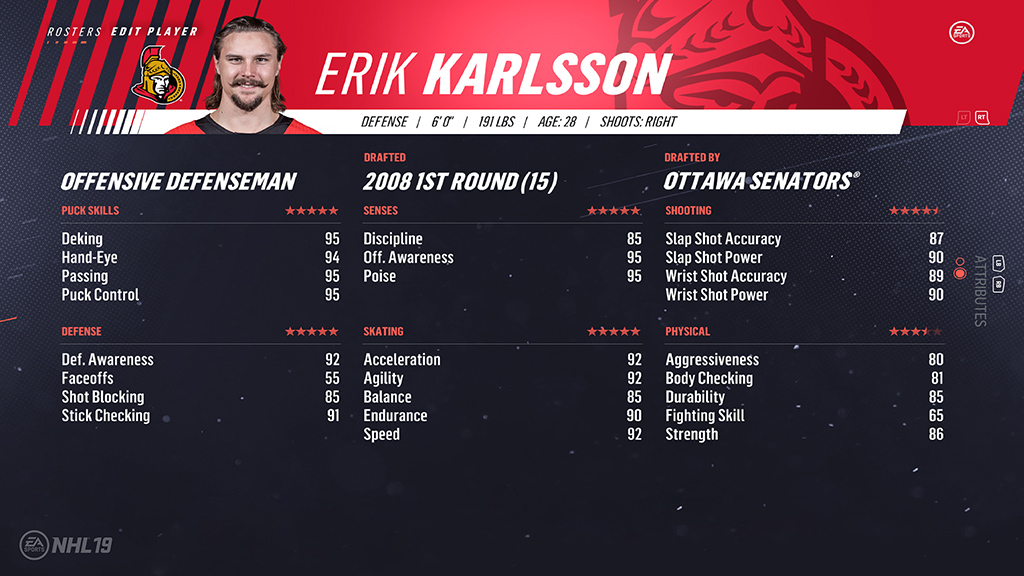 Erik Karlsson is one of the five most talented players in the game of hockey. He happens to be a defenseman, but could easily play either wing for any first line. With deking and passing ratings of 95, Karlsson is the best offensive defenseman in NHL 19.
13. Nathan McKinnon, C, Colorado Avalanche – 90 OVR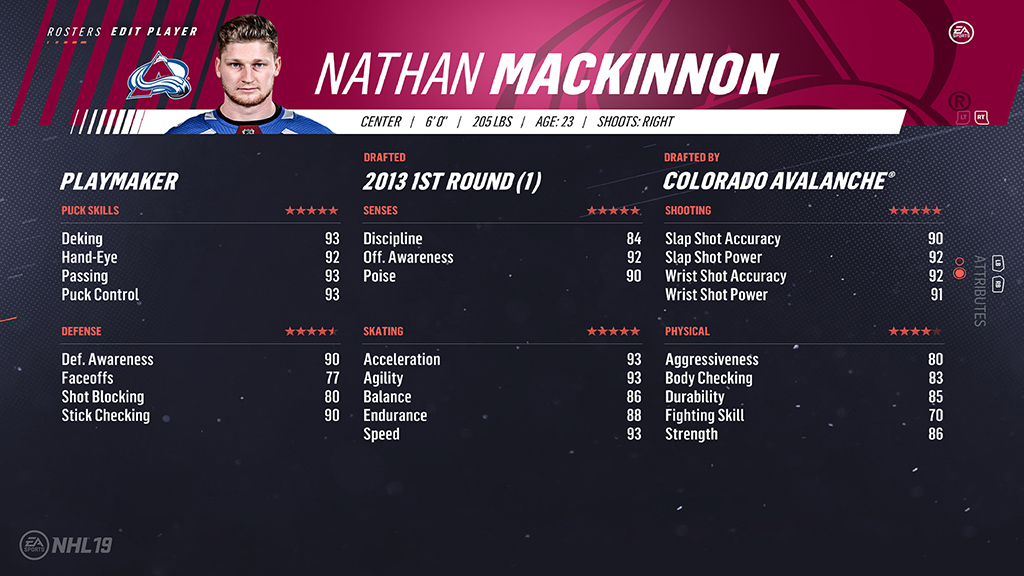 Nathan MacKinnon carried the Avalanche to the playoffs last season, posting a career-high 97 points. He comes in at #13 on the list at 90 overall.
12. Braden Holtby, G, Washington Capitals – 91 OVR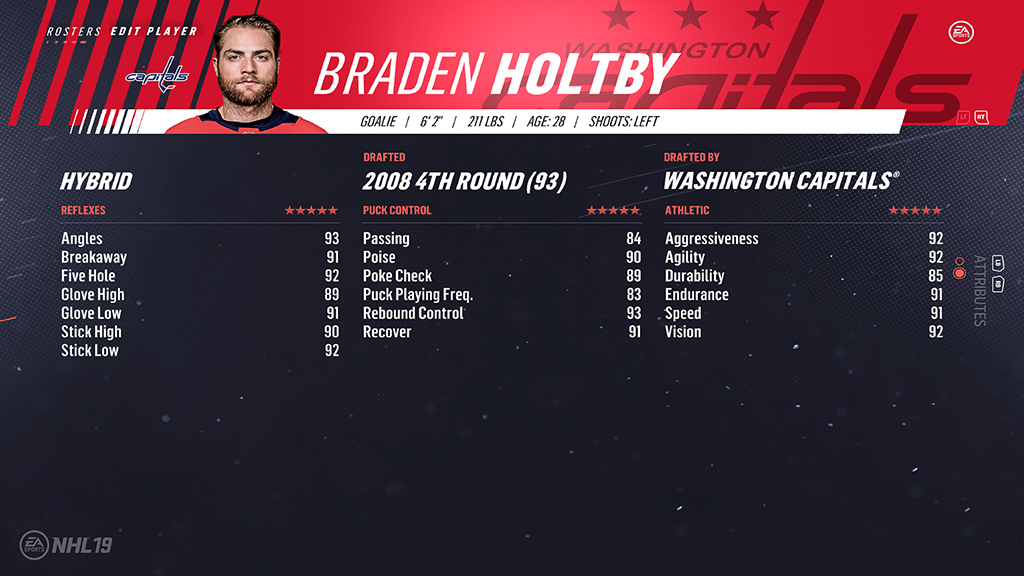 Braden Holtby was the backup goalie for the Captials to start last year's postseason. By season's end, though, he was the key to Washington capturing their first Stanley Cup. Still only 28, Holtby is still in the peak of his prime.
11. Sergei Bobrovsky, G, Columbus Blue Jackets – 91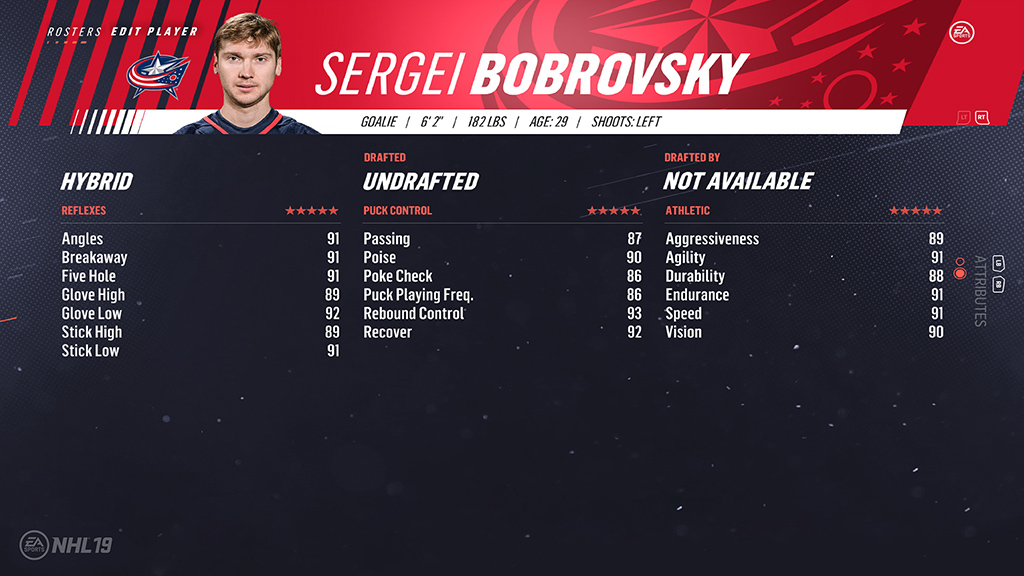 Sergei Bobrovsky is one of the few known talents from the Columbus Blue Jackets. Bob is a franchise cornerstone, and is deserving of the #11 spot on the countdown at 91 overall.
Are you excited for NHL 19? Did EA get these ratings right? Let us know in the comment section below and don't forget to subscribe to Sports Gamers Online.
---
Want to talk sports and/or games with the fastest growing community in gaming? Join the conversation by registering at the official Sports Gamers Online Forums, and check out our Twitter and Facebook pages as well as our growing YouTube Channel!