NHL 20 is set to drop on September 13 for Xbox One and PS4. As the anticipation continues to build following the NHL 20 open beta, EA Sports is releasing the top 50 rated players in the upcoming installment of the NHL series.
Yesterday, we covered numbers 40-31. Now, let's take a look at numbers 30 through 21.
NHL 20 TOP 50 PLAYERS COUNTDOWN
30. Anze Kopitar, C, Los Angeles Kings – 89 OVR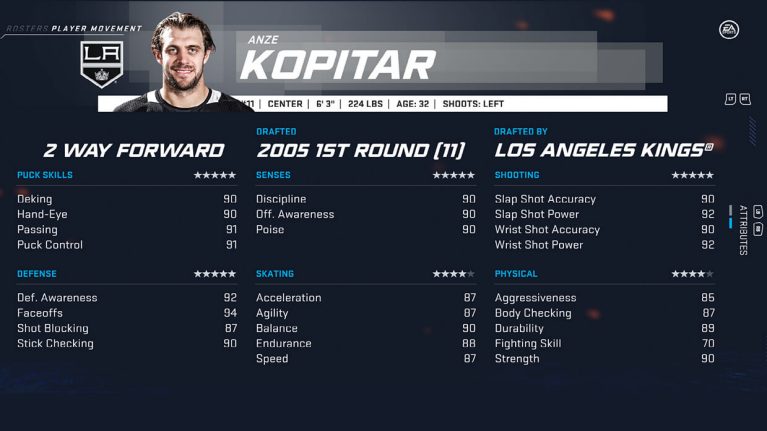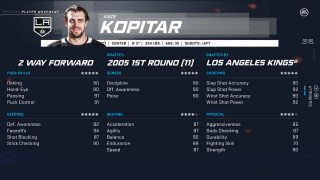 Anze Kopitar has lost speed (87) over the years, but his massive size and elite playmaking skills warrant his #30 ranking and 89 overall rating in NHL 20.
29. Ryan O'Reilly, C, St. Louis Blues – 89 OVR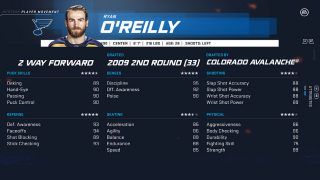 Ryan O'Reilly is one of many players that led St. Louis to their remarkable Stanley Cup title run last season. He is a dominant two-way centerman.
28. Vladimir Tarasenko, RW, St. Louis Blues – 89 OVR

Former NHL cover athlete Vladimir Tarasenko checks in at #28 on the countdown. An open ice force, Tarasenko features attributes of 94 deking, 92 speed and 93 puck control.
27. Taylor Hall, LW, New Jersey Devils – 89 OVR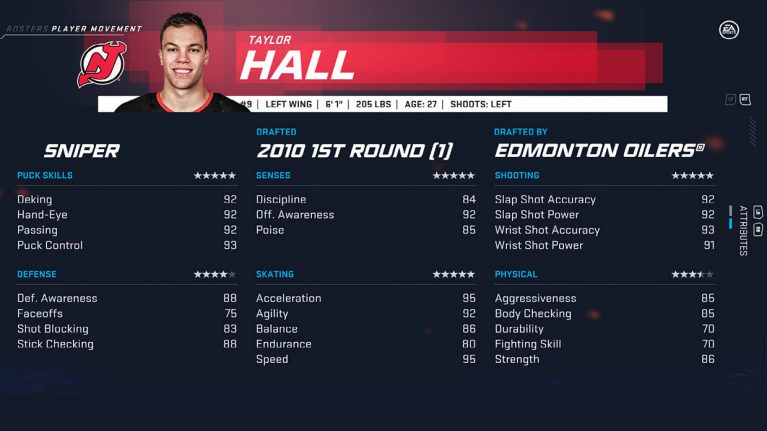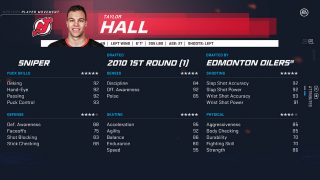 Despite injuries in 2018-19, Taylor Hall is one of the league's fastest (95 speed) and most dynamic offensive players. He won the Hart Memorial Trophy in 2017-18, helping the Devils reach the playoffs in the process.
26. Tyler Seguin, C, Dallas Stars – 89 OVR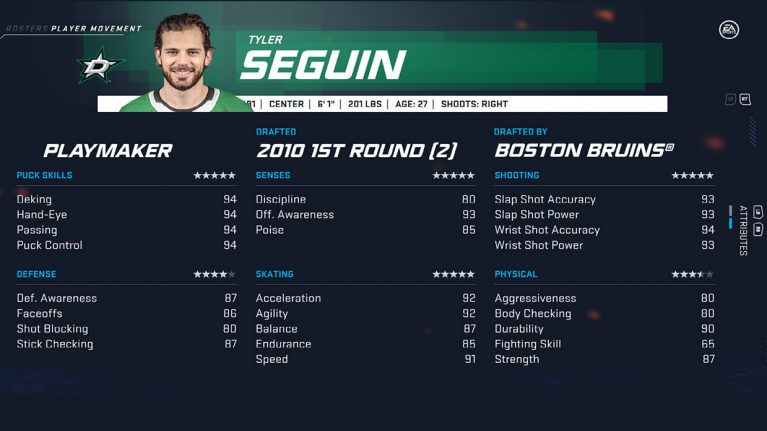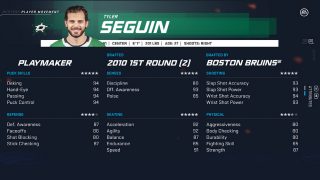 Tyler Seguin is one of the game's best shooters (93+ in all shooting attributes). Pair that with his 94 deking, 94 passing and 94 puck control, and it's a wonder that he's only an 89 overall.
25. David Pastrnak, RW, Boston Bruins – 90 OVR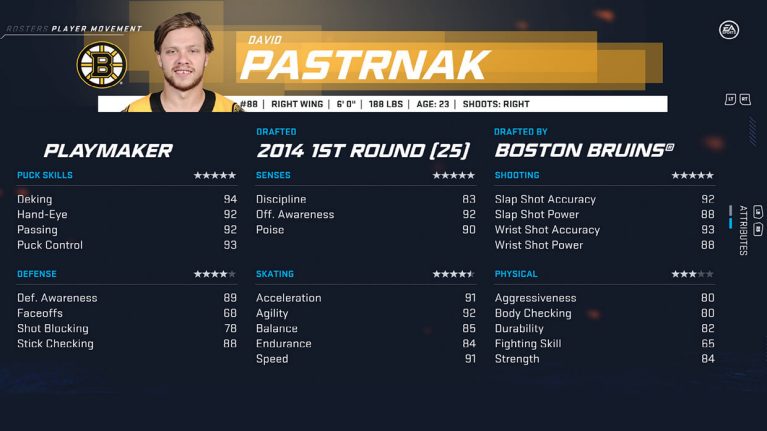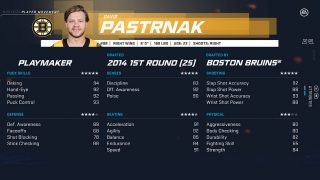 David Pastrnak nearly won a Stanley Cup with the Bruins last season, but looks poised to lead Boston back in the near future. Pastrnak checks in at #25 and 90 overall.
24. Brent Burns, D, San Jose Sharks – 90 OVR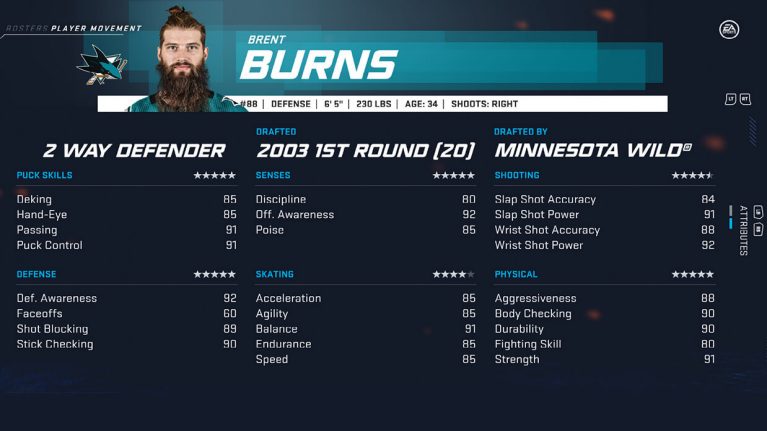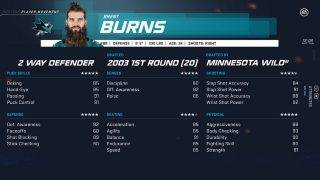 With one of the best beards in the game, Brent Burns also dominates on both ends. The 34-year-old is still an elite shooter at the defenseman position.
23. Sergei Bobrovsky, G, Florida Panthers – 90 OVR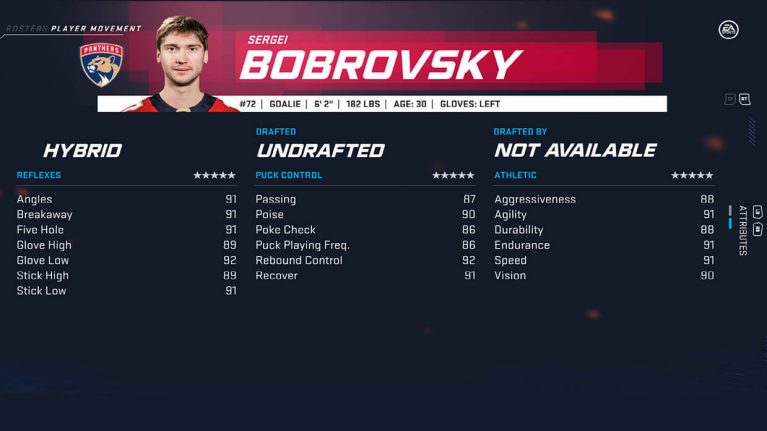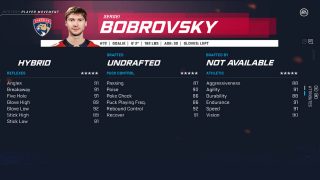 Sergei Bobrovsky was one of the biggest names in free agency this past offseason. After seven years in Columbus, Bob takes a 90 overall rating to Florida in NHL 20.
22. Tuukka Rask, G, Boston Bruins – 90 OVR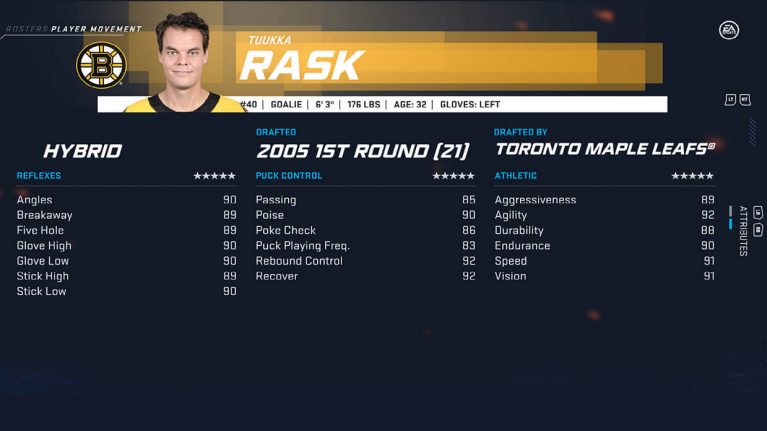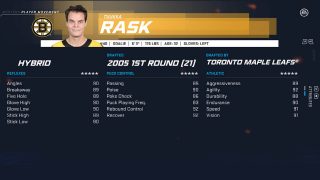 Tuukka Rask's resurgence was a key reason the Bruins came within one game of winning the Stanley Cup. Now 32, Rask has balanced attributes across the board in NHL 20.
21. Erik Karlsson, D, San Jose Sharks – 90 OVR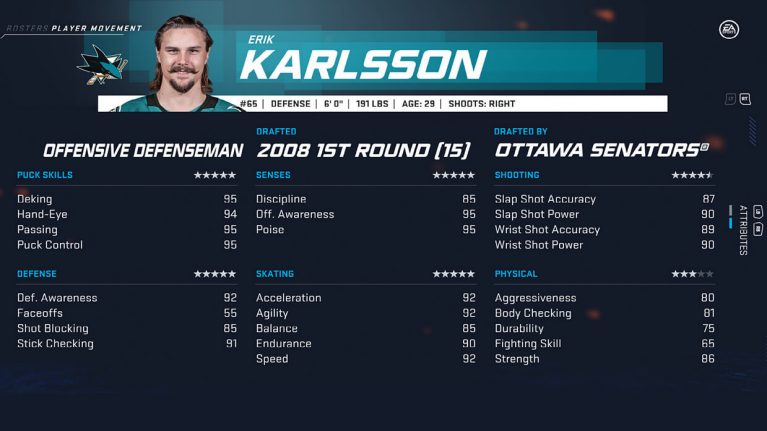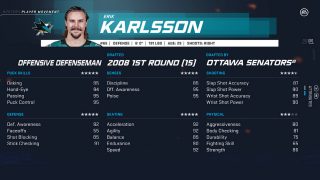 Erik Karlsson is one of the best defensemen in the NHL. The Sharks' offseason acquisition from a year ago needs no further introduction.
Are you excited for the NHL 20? Did EA get these ratings right? Which teams do you think will be the most heavily used in online play? Let us know in the comment section below, and don't forget to subscribe to Sports Gamers Online.
---
Want to talk sports and/or games with the fastest growing community in gaming? Join the conversation by registering at the official Sports Gamers Online Forums, and check out our Twitter and Facebook pages as well as our growing YouTube Channel!